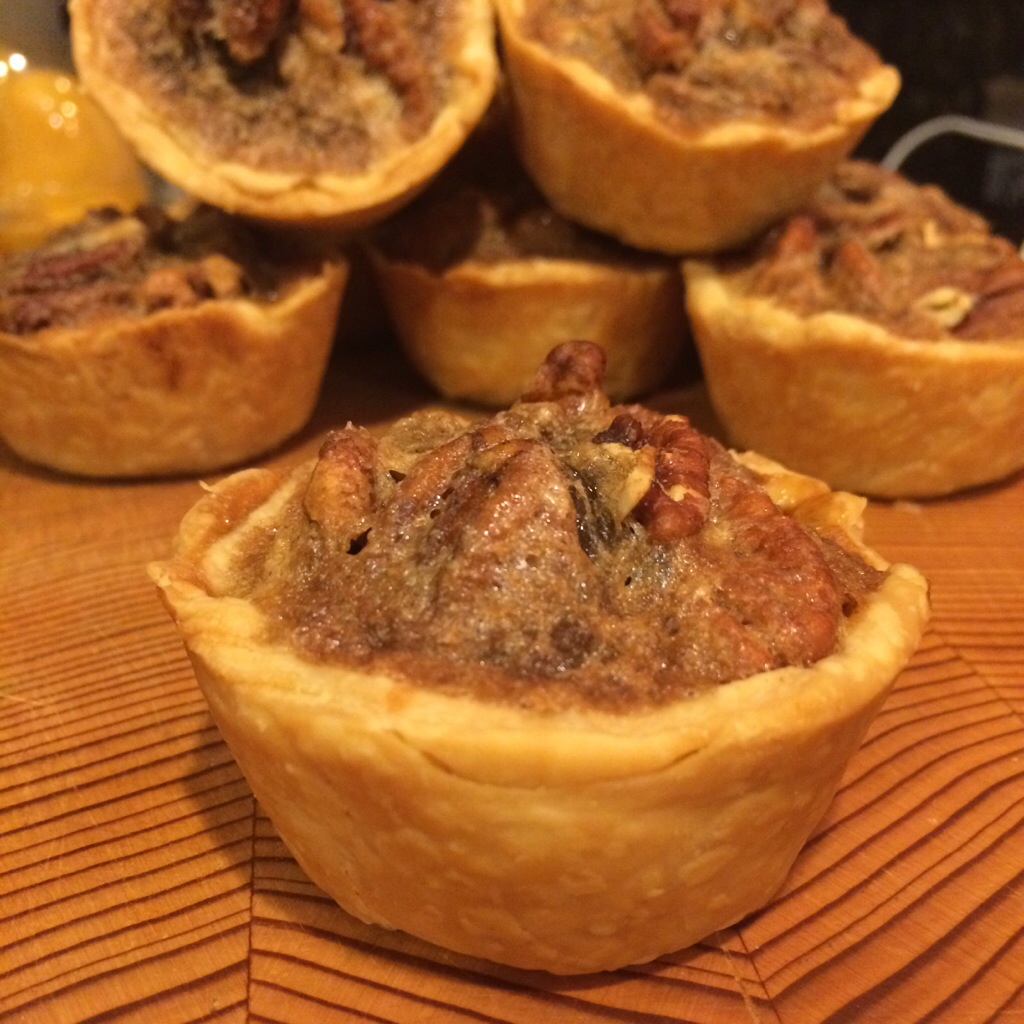 I've been making these individual pecan tarts for a while now and it's time I shared these gems with you.

They're the perfect size, with a flaky crust and just the right amount of sweetness.

I had stayed away from pecan pie for some time because every recipe I would find had a significant amount of corn syrup, and I just didn't want to include that in my version. After lots of research, tweaking and playing around with the ingredients, I found my perfect pecan tart recipe.

If you don't already know, I am a bit of a carb addict and therefore love crusts. For this reason, I decided to go with individual tartlets because you get a bigger ratio of crust to filling…. Typical Susu.

I also have a bit of a confession…. Although I usually make my own tart crust, I actually use the refrigerated, pre-rolled pie crust variety for these for a few reasons, the main one being convenience. I can whip these up and have them in the oven in less than ten minutes, which is great when you want a quick, homemade dessert. Of course, any pie dough will work for these, but I have yet to find my perfect pie crust, so for now, I'm sticking to this method.

I do add a little twist by using two sheets of dough, and sprinkling some brown sugar in between them, then rolling it out to thin the crust a bit.

The double crust combined with the lightly salted top, toffee flavored filling, and crunchy pecans, you'll find yourself coming back to this recipe time and time again.
Salted Pecan Tartlets
12 Tartlets
1 cup packed Brown Sugar
2 tbs Butter, melted
2 Eggs
1 tsp Vanilla
2 tbsp Flour
1/2 tsp Sea Salt
2 1/4 cups Pecan Halves, toasted*
1 package Refrigerated Pie crust (2 pre-rolled sheets)
2 tbsp Brown Sugar
Sea Salt for finishing
Preheat oven to 350 degrees and lightly grease a 12 cavity nonstick cupcake pan.
Start off by whisking together the brown sugar, melted butter, eggs, and vanilla until smooth.
Add the flour and salt, and whisk to combine.
Fold in the toasted pecans until they are fully coated with the brown sugar mixture.
Prepare the crust by laying out one sheet of the rolled pie dough and sprinkling it evenly with the 2 tablespoons of brown sugar. Top with the second sheet of dough and press down to seal the sheets together. Using a rolling pin, roll the dough out to about 14 inches in diameter, large enough to cut twelve 3.5 inch circles.
Using a round 3.5 inch cookie cutter, cut out twelve circles. Press them into the cavities of the prepared cupcake pan, stretching the dough slightly if needed.
Divide the filling into equal parts (about 2 tbsp of filling each) among the 12 prepared crusts. Lightly sprinkle the tops of the tarts with Sea Salt.
Bake for about 18-20 minutes until the crusts are golden brown and the tops have risen.
Allow to cool, then carefully remove the tarts from the cupcake pan. Serve with coffee or tea and enjoy!
*To toast the pecans, place in a 350 degree oven until fragrant, about 6 minutes, checking often to make sure they don't scorch. Remove from oven and allow to cool before adding them to the filling.