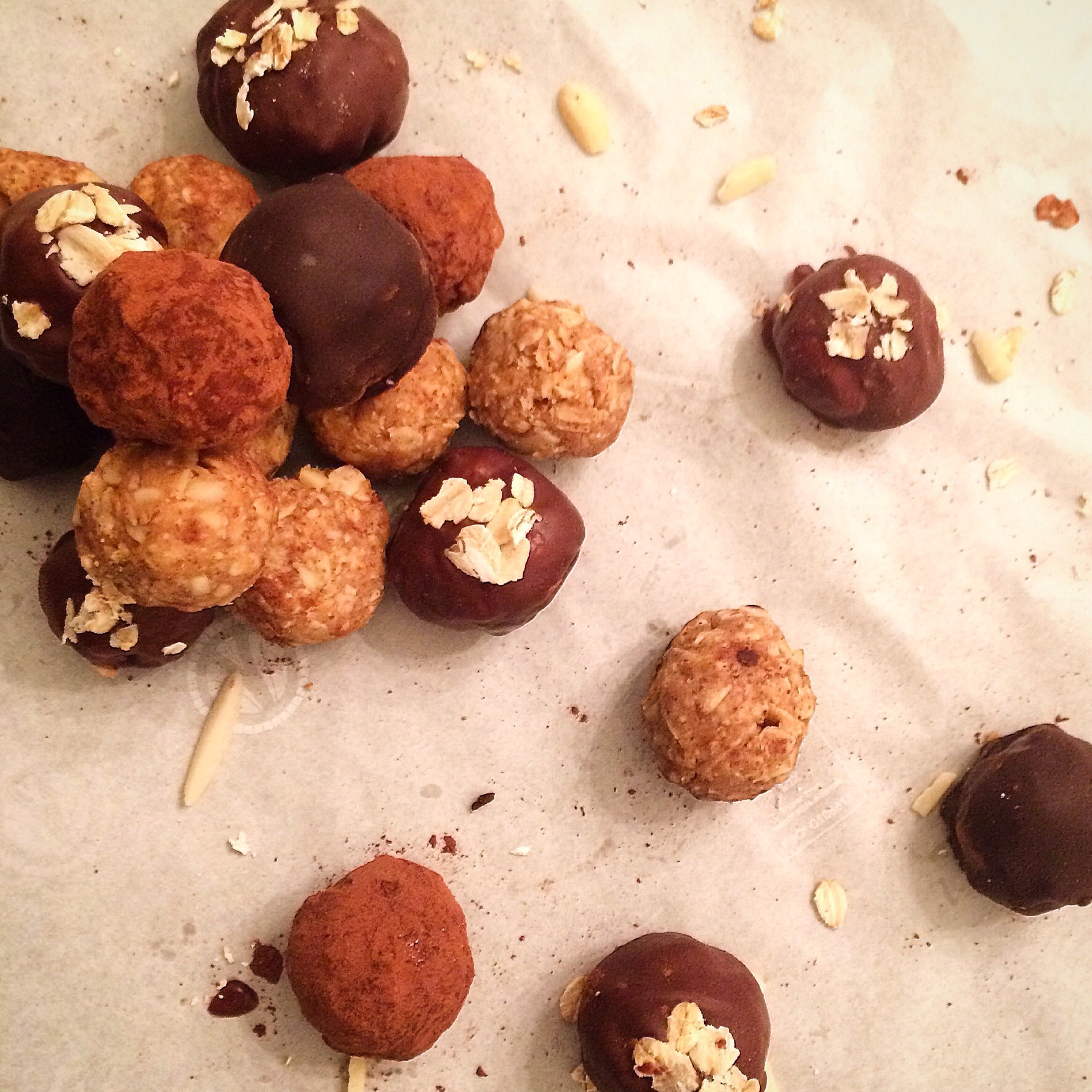 The first time I tried the combination of maple and almond, I discovered something: Maple is to almonds as honey-roasted is to peanuts. (Remember those analogous relationship phrases from grade school?). I loved the way the sweetness of the maple played with the butteriness of the almonds and was instantly hooked!
That combination was what lead me to come up with these yummy little bites. They are a perfect snack anytime of the day and are packed with protein and good fats, and for those looking for it, gluten free! A good friend even pointed out that they are a great snack for toddlers, with ingredients that are just what the doctor ordered.
I tried them dipped in chocolate, rolled in cocoa powder and powdered sugar, as well as au natural, and they were delicious in all forms. Oh, and if you needed another reason to convince you to try them, they come together in a matter of minutes. If stored in an airtight container, they will keep fresh all week, and maybe even longer if you give them the chance.
Maple Almond Oat Bites
About 30 Truffles
1 cup Old-Fashioned Rolled Oats
1/2 cup Almond Butter
2-3 tbsp Maple Syrup
1 tbsp Coconut Oil, melted
2 tbsp Almonds, chopped
Chocolate or cocoa powder for garnish
Stir together the oats, almond butter, maple syrup, coconut oil, and chopped almonds until they form a dough like consistency. You may need to use your hands to get everything to come together.
Using a tsp, roll the oat mixture into balls and refrigerate for about 10-15 minutes.
Melt the chocolate and dip the centers to coat. Allow the chocolate to set. Vegan chocolate or cocoa powder mixed with powdered sugar can be used as well. They can also be had as is for an even healthier option. Enjoy!