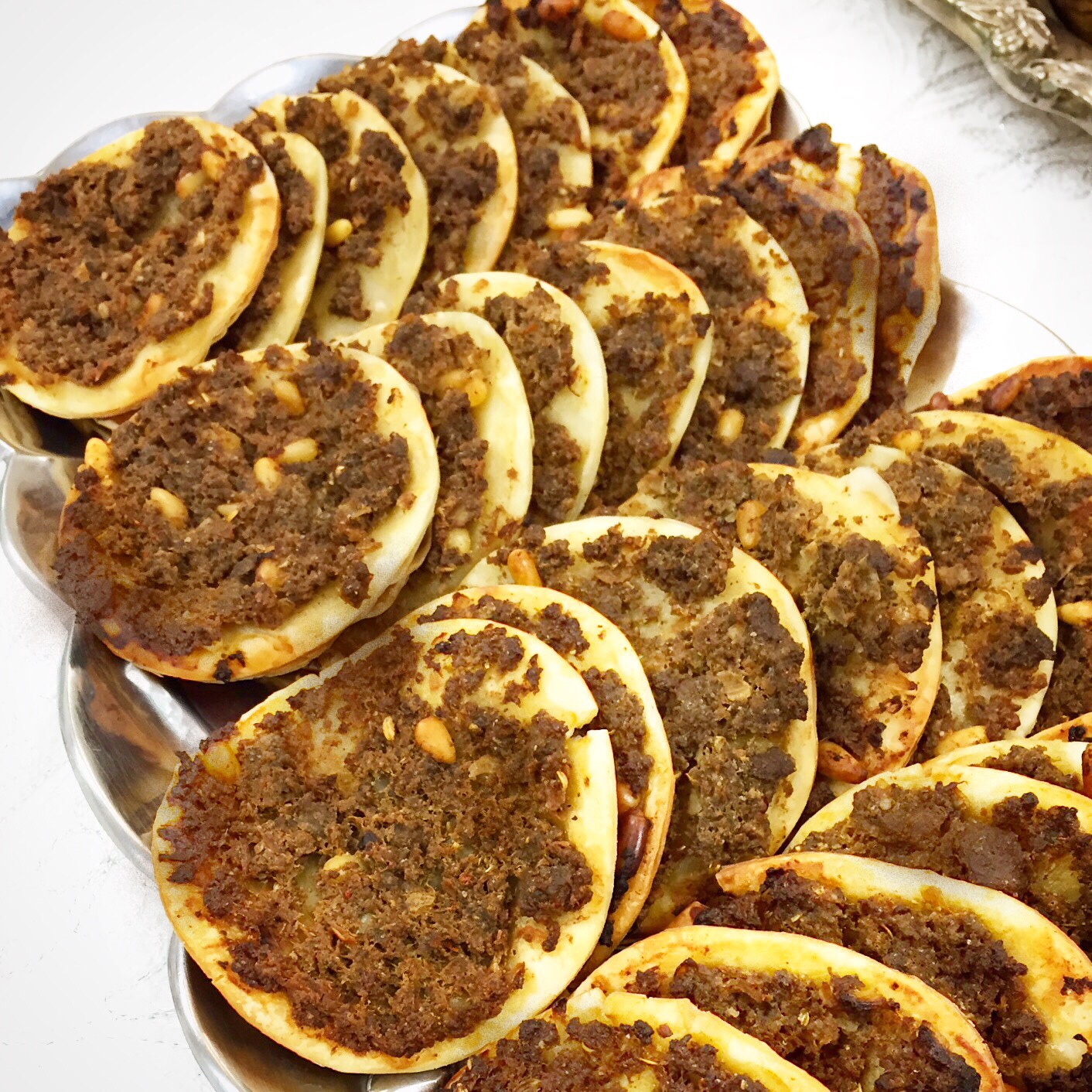 I've mentioned how much I love Sfeeha before, but just in case, I wanted to let you know...
I love Sfeeha.
Especially my Mama's Sfeeha.
You can find the recipe for that one here. Just thinking about it is making me want to get up and make some right now. But I'm going to have some self control and save that for tomorrow.
This post is more of just an alternative way to bake up the delicious, flavorful Middle Eastern Sfeeha meat pies that's perfect for parties and entertaining. This mini version is neat, portable, and already portioned off into individual servings for your guests and might even become your go to even when you're not entertaining.
These mini pies are always a hit and end up being one of the first things gone in a dinner spread. The recipe is simple enough, using the same filling as the normal sized Sfeeha but spreading it out on mini empanada wrappers, as opposed to the larger tortilla dough, and baking until done.
I find that using nonstick foil is best so that the empanada wrappers can be removed easily after the mini pies have been baked. These tend to stick more than normal dough if the pan has not been properly prepared, and with the nonstick foil, you avoid that risk.
Mini Sfeeha Meat Pies
24 Mini Pies
1 lb Ground Beef
1/4 cup Yogurt (Greek or Regular)
1 1/2 cups Minced Onion
3 tbsp Tahini
2 tbsp Pomegranate Molasses
2 tsp Coriander
2 tsp Sea Salt
1 tsp Black Pepper
1/2 tsp Safflower (optional)
1/4 cup Pine Nuts
1 24-piece package Mini Empanada Wrappers
Preheat oven to at 350° F and line a baking sheet with non-stick foil. You can grease the foil with a tiny bit of olive oil for added flavor.
For the filling, combine all the ingredients (ground beef to pine nuts) except for the dough until it all comes together.
Arrange the disks of dough on your prepared baking sheet and spread 1 heaping tablespoon, about 1 1/2 tbsp, of the meat mixture evenly on top, making sure to cover the edges as the mixture does shrink slightly.
Bake for 12-15 minutes or until meat is cooked through, being careful not to over-bake.
Serve with yogurt on the side and enjoy!