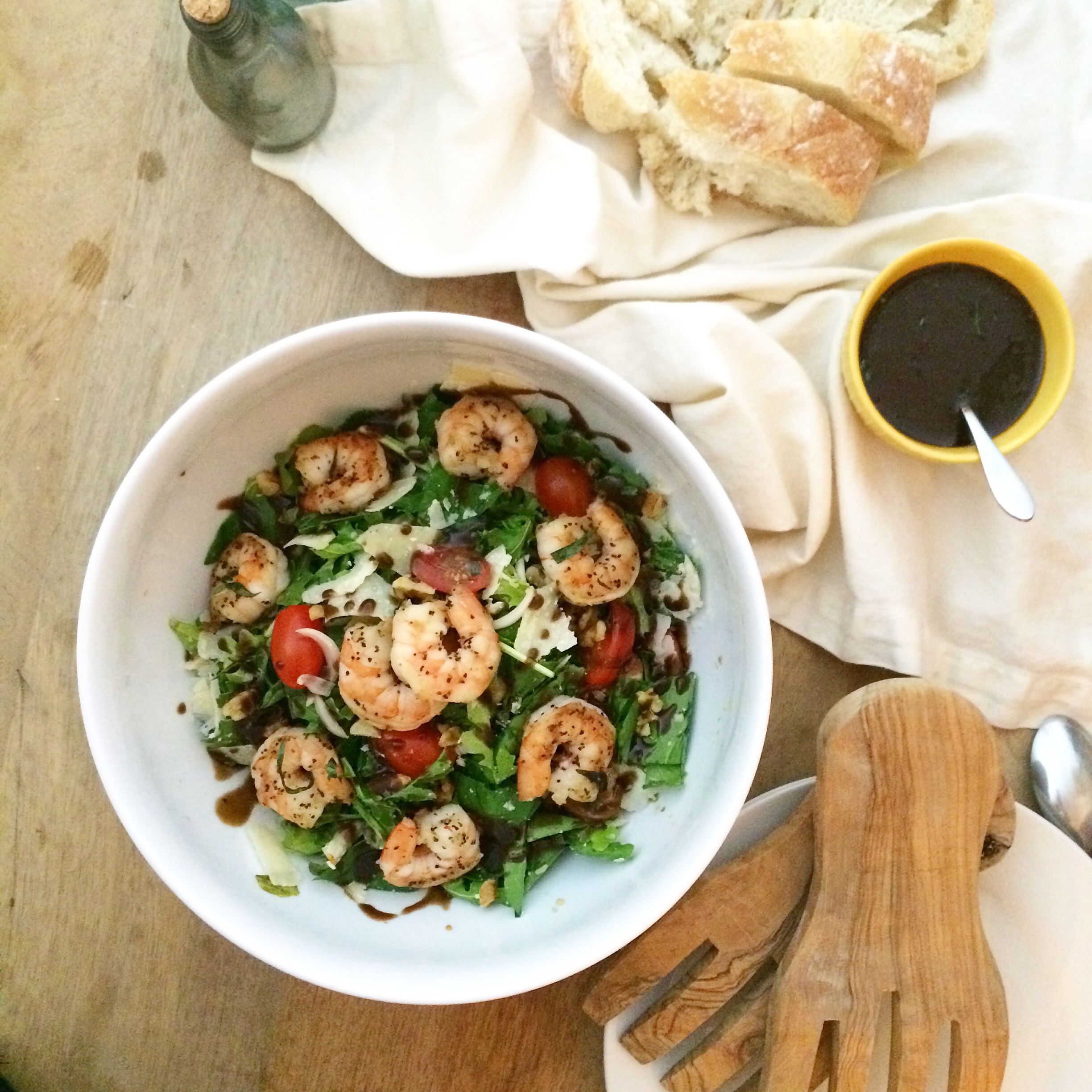 I have another delicious salad for you!
This spinach & arugula salad is one I've been making for years and is always a hit with anyone who tries it. Peppery arugula, sweet pearl onions, creamy parmesan and a sweet and tangy tarragon vinaigrette come together to make a mouth watering salad perfect as a starter, for lunch or even dinner.
It's one of my favorites to turn to when I want a complete dinner salad because of everything that's going on in it. I started out making this salad without the shrimp and after a few times, I realized grilled shrimp would be a great addition to the flavor profile as well as adding a light protein component to the salad. The flavors are delicious on their own, so don't feel like you have to add the shrimp, but if you're looking for a more filling version, shrimp is the perfect addition.
The salad itself is made of spinach and arugula, cherry tomatoes, mini pearl onions, fresh parmesan, and walnuts for a bit of crunch. It's drizzled with a tarragon vinaigrette made with Dijon mustard, honey and balsamic vinager so you can imagine the flavor party going on there.
I love the contrast of the spicy bite of the arugula with the creaminess of the fresh parmesan, the textural crunch of the walnuts and the slight tang and sweetness of the vinaigrette. This is definitely a salad you'll want to add to your arsenal and one that I think you'll come back to over and over again.
Spinach & Arugula Salad with Tarragon Vinaigrette & Grilled Shrimp
2-3 Servings
For the Vinaigrette
1 tbsp Dijon Mustard
1 tbsp Honey
1 small clove Garlic, minced (optional)
2 tbsp Balsamic Vinegar
1/4 cup Olive Oil
1 tbsp Fresh Tarragon, chopped (may also use dried)
Salt and Pepper
For the Salad
2 cups Fresh Spinach, roughly chopped
2 cups Baby Arugula, roughly chopped
1 cup Cherry Tomatoes, halved
1-2 Pearl or Boiler Onion, thinly sliced
1/4 cup Walnuts, roughly chopped
1/4 cup shaved Fresh Parmesan
1 tbsp Fresh Tarragon
For the Shrimp
1/2 lb Shrimp
Olive Oil
Salt & Pepper
Start by preparing the vinaigrette. Whisk together the mustard, honey and garlic if using. Add the vinegar and whisk to combine. Slowly drizzle in the olive oil while whisking quickly until incorporated and the dressing has thickened. Stir in the tarragon, then season with salt and pepper to taste. Set aside until ready to use.
Toss together all the ingredients for the salad. Season shrimp with salt and pepper to taste. Grill the shrimp or heat a skillet with a bit of oil and cook the shrimp until done, a few minutes on each side. Allow to cool slightly. Drizzle the prepared salad with the vinaigrette to taste* then top with the cooked shrimp. Serve immediately and enjoy!
*Note: Because everyones tastes are different, I suggest dressing the salad to taste. The recipe makes enough vinaigrette where you will likely have some left over, but it is delicious on any salad. Just store in an airtight container in your refrigerator for up to one week.