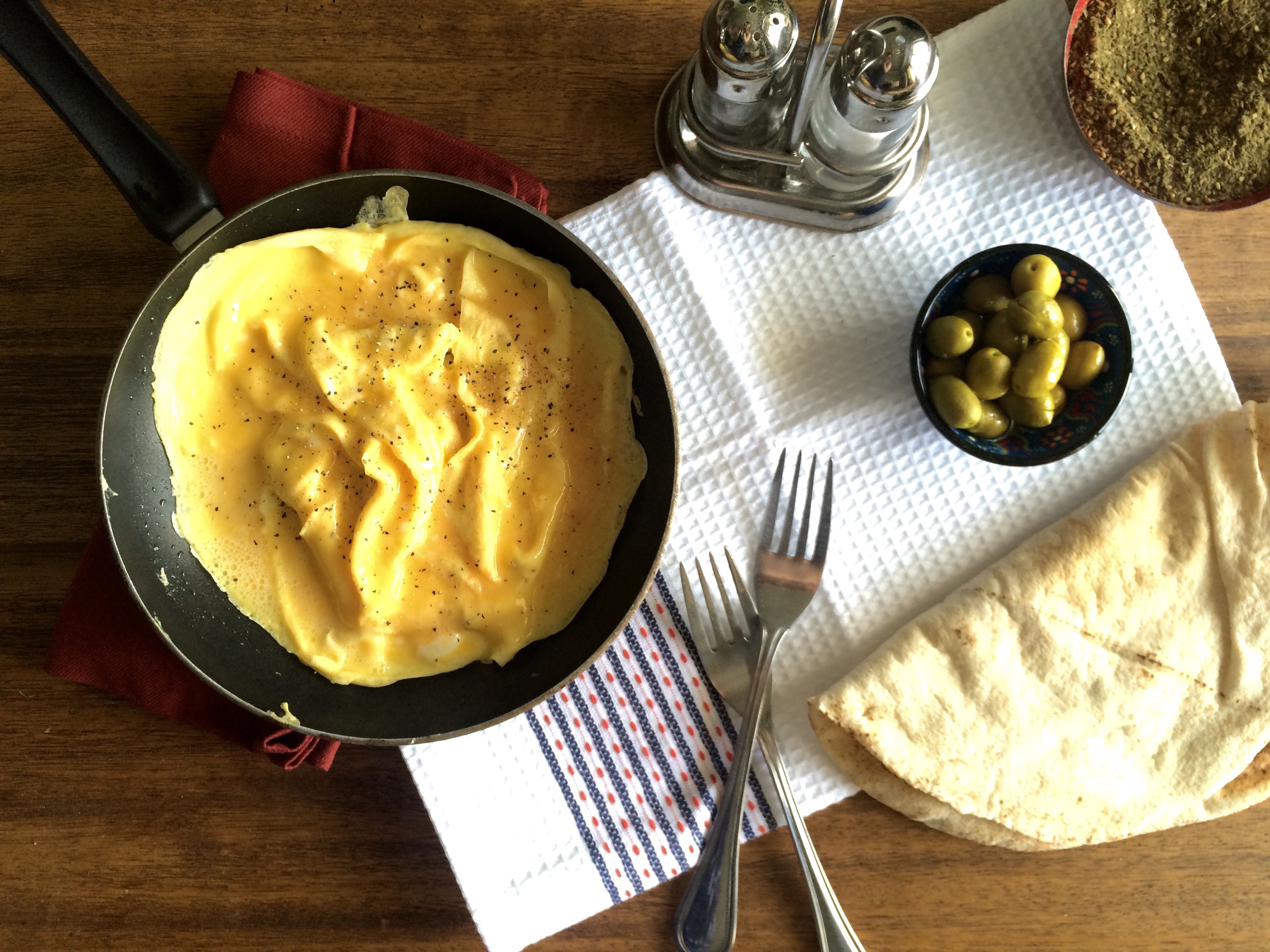 Eggs seem to be a must on most brunch menus, and for good reason. They're filling, healthy and versatile enough to where there is a delicious option for almost everyone who enjoys them.
I love all the possibilities whether it be hard boiled, in an omlett, sunny side up, poached, scrambled, and the list goes on, but the version I'm about to share with you is the one I grew up eating every weekend and easily one of my favorites.
I'm not sure where this method originated, but it's a preparation that many Syrian families are familiar with. It's known as 'Bayd Mi'li,' which translates to fried eggs, but it's nothing like the American version of fried eggs.
Growing up, a weekend wasn't complete without a large skillet of these eggs. Because they are traditionally made with a special ghee that you can only get from the Middle East, our noses would tell us when my mom was beginning to prepare it which would cause a stampede to the kitchen. No need to call us all by name over and over until we finally decided to make an appearance.
When we would visit Damascus in the summer, Bayd Mi'li was part of the breakfast spread a few times a week, which made my siblings and I very happy. My grandmother would even make us a second batch if we requested( <3 ) and there were never any leftovers.
It starts with fresh eggs that are beaten and seasoned with a bit of salt. The beaten egg mixture is then poured into a heated nonstick skillet with a dab of butter or ghee. The mixture begins to cook quickly, so once the edges begin to form, you gently pull them towards the middle letting the uncooked eggs run onto the pan to cook. The process is repeated and edges are pulled away from the sides to the middle until desired doneness is reached.
We enjoy ours a little on the runny side, and the beauty of this preparation is that you can have it as runny or as done as you like. Once you're done, slide it onto a plate and sprinkle with salt and pepper to taste. You'll love how simple it is to make without worrying about broken yolks or dry egg whites.
Bayd Mi'li is best served with fresh, warm pita that's heated on a gas stove top. Tear off a piece of the fresh bread and use it to scoop up a bite of the delicious, slightly underdone eggs. One bite and you'll be hooked.
Bayd Mi'li – Syrian Fried Eggs
2 Servings
4 Eggs
Butter
Salt & Pepper, to taste
Pita Bread
Crack the eggs into a bowl and season with a bit of salt. Beat until completely blended.
Heat an 8-inch skillet* with a dab of butter over medium-high heat until the butter has melted.
Pour the eggs into the heated skillet. The eggs will begin to cook quickly. Once the edges begin to cook, gently pull one side towards the middle using a spatula or wooden spoon. The uncooked eggs will run onto the pan and once those begin to cook, pull gently towards the middle. You may need to slightly tilt the pan to help the uncooked eggs run off onto the skillet. Repeat until desired doneness is reached (video to follow).
Slide the eggs as one 'pie' onto a plate. Sprinkle with black pepper and adjust salt to taste. Serve with fresh pita bread and enjoy!
Watch the following video for a better understanding of the process.
*Note: Skillet size is something to consider because you don't want the beaten eggs to spread out too much or else they will dry out too quickly. For 4 eggs, yours can be one or two inches larger, but you don't want to use one that is too big. Adjust the size of the skillet depending on how many eggs you are using.