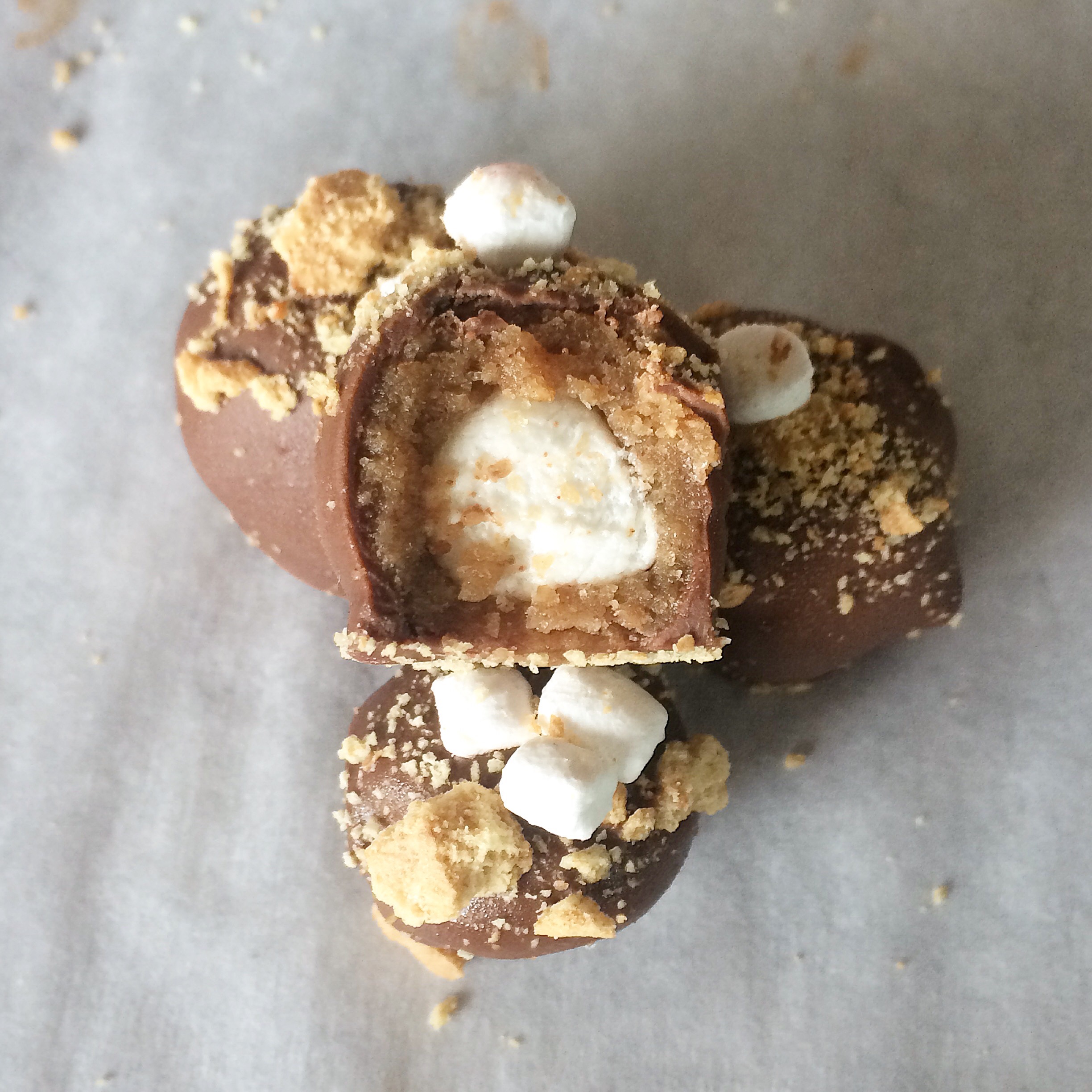 Who doesn't think of summer when they think of s'mores?
Or is it that we think of s'mores when we think of summer?
Either way, they go together like fall and pumpkins, meaning when summer comes, we have to satisfy our s'mores craving whether it's around a campfire, over a gas burner or from the oven.
Luckily for you, this recipe doesn't require any of those and it gives you a special take on the classic flavors making it a perfect warm weather treat.
For these sinful bites I made an addictive graham cracker center that I wrapped around a mini marshmallow. The whole thing was then enrobed in milk chocolate and garnished with graham cracker crumbs and tiny mallow bits for texture and flavor.
I made these for my family and I watched happily as even the toughest critics of them couldn't stop popping the truffles into their mouth. I could see all of them fall more and more in love with every bite they took, which is probably going to happen to you as well when you try these…
You have been warned.
S'mores Truffles
Makes about 80 Truffles
1 cup Graham Cracker Crumbs
1 cup Flour
1/2 tsp Salt
1 tsp Cinnamon
1/2 cup Butter
1/2 cup Brown Sugar
1 tsp Vanilla
2-3 tbsp Milk
1 cup Miniature Marshmallows
2 cups Milk or Dark Chocolate
2 tsp Coconut Oil
Crushed Graham Crackers, for garnish
Mini Mallow Bits, for garnish
Stir together the graham cracker crumbs, flour, salt and cinnamon until combined. Set aside.
In the bowl of your mixer, beat the butter, brown sugar and vanilla until fluffy. Add the graham cracker mixture and stir to combine. The mixture will be crumbly.
Slowly add in the milk as needed, then knead it a few times with your hands to get the dough to come together.
To form the truffle centers, use about 3/4 of a teaspoon of the dough and wrap it around a mini marshmallow. Roll between your hands to smooth it out. Refrigerate the balls for 10-15 minutes so they hold their shape.
Melt the chocolate and coconut oil together and dip the cooled centers into the chocolate. Using a fork, tap any excess chocolate off the truffles. Set the dipped truffles on a parchment lined baking sheet or plate.
Garnish the truffles as desired with graham cracker crumbs and the mini mallow bits then refrigerate until the chocolate has set.
Serve cold or at room temperature and enjoy!