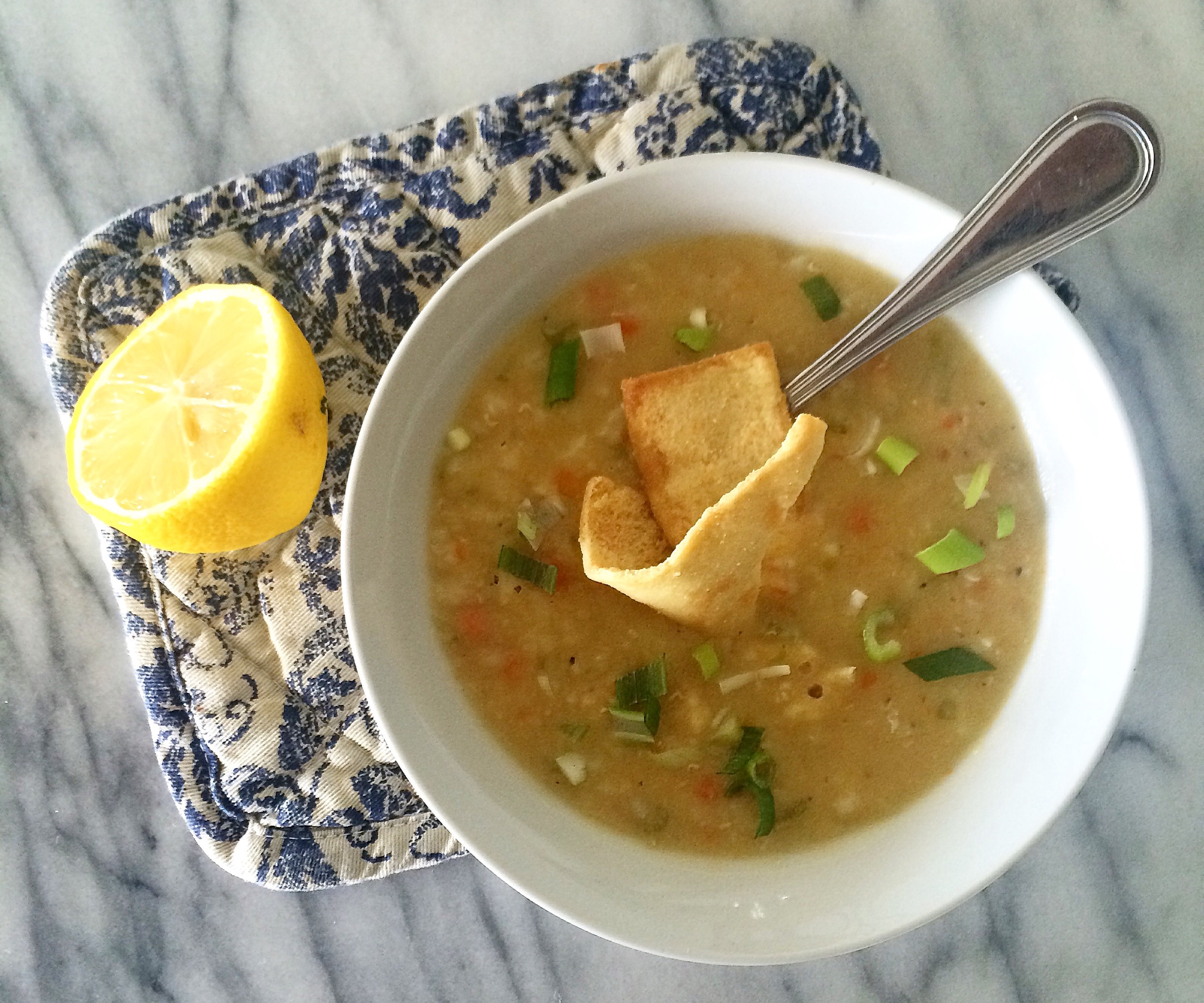 A belated Ramadan Mubarak to all those observing! We're already over a week in and I can't believe how fast it has flown by.

There are certain dishes that are staples in Ramadan whether it's based on cultural traditions, what you grew up loving or your favorite foods to enjoy during the month. For me, one of those staples is soup, and specifically, this red lentil soup. There are so many varieties of lentil soup out there, and while they're all delicious, I look forward to this hearty, filling version during the month of fasting because of its fresh flavors and almost porridge-like consistency.
It's a simple recipe made of onions, carrots, celery and potatoes along with the lentils and a bit of rice, and seasoned simply with sea salt. I love it because you really taste the flavors of the vegetables against the lentil-y background.
I let this soup simmer for at least 45 minutes to cook the lentils (no pressure cooker required, yay!) and for everything to meld together without having to purée. This ends up giving the soup a slightly creamy texture with bits of potato and carrots throughout for some textural contrast.
If you would like to add a meat component, you can sprinkle some sautéd ground beef on top which ends up making the soup a complete meal. A squeeze of lemon can change it up a bit, adding a nice tang that until now, I can't decide which way I enjoy it more! Sprinkle some pita chips over the top for a bit of crunch or combine all the different topping options for an entirely different soup the next day. It is a blank canvas thats delicious as is or transformed.
Red Lentil Soup
Makes about 6 cups
2-3 tsp Butter or Oil
1 small Onion, finely diced
1 large Carrot, finely diced
2 stalks Celery, finely diced
1 medium Potato, finely cubed
1 cup Red Lentils
1/4 cup Rice
6-8 cups Water
2 tsp Sea Salt, plus more to taste
Heat butter or oil in a pot over medium heat.
Add the onions, celery and carrots and sauté for 2-3 minutes. Add the potato and 1 teaspoon of the salt and sauté until soft, about 4-5 minutes.
Mix the lentils and rice then rinse 2-3 times until the water runs clear. Drain and add them to the pot. Season with 1 more tsp of salt and sauté for another 2-3 minutes.
Add 6 cups of water and bring everything to a boil. Once the water comes to a boil, cover the pot and reduce the heat.
Allow the soup to simmer for about 45 minutes to an hour, stirring occasionally the first 20 mins and more frequently during the second half of cooking until everything breaks up and it becomes a thick soup.
Add more water 1/2 a cup at a time to achieve desired consistency. Adjust salt to taste. The salt really brings out all the flavors so be sure to season well without over salting.
Serve with a squeeze of lemon, sautéed ground beef or pita chips and Enjoy!
*The soup thickens once cooled so add a bit of water when reheating leftovers to thin it to your desired consistency.