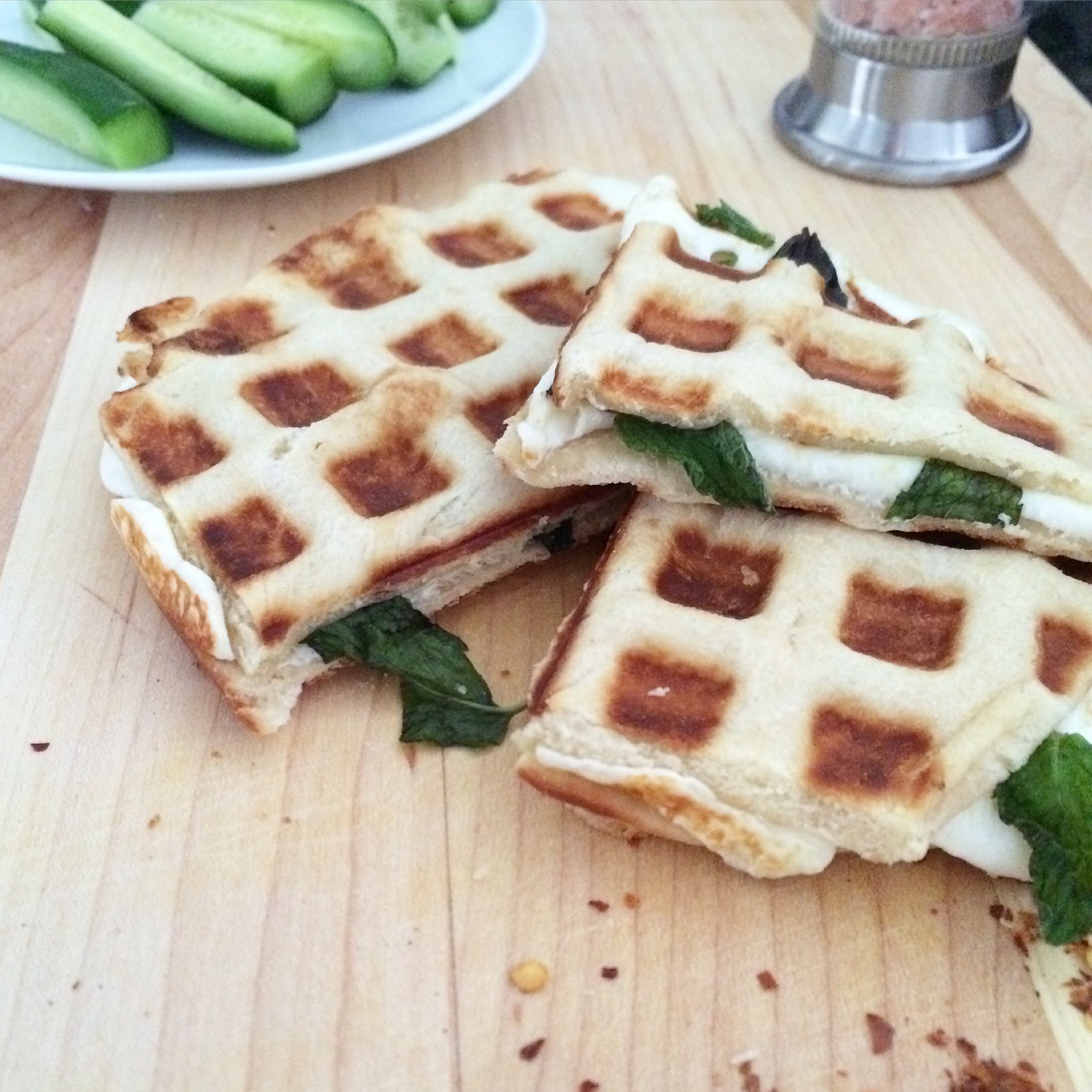 You can never go wrong with a good grilled cheese.

Never.
The crispy, toasty bread and melty inside are just too hard to deny. It's one of those things that is so simple and comforting yet so versatile.
The version I'm sharing with you today is one my mom used to make us on late nights when we weren't quite hungry for a full dinner but wanted something to satisfy us for the night and believe it or not, she would make it in the waffle iron wayyyy back before this amazing trend of waffling everything!
Sandwiches in the waffle iron were a go-to for her before the panini press even became popular. The bread would crisp up perfectly and everything inside would come together making these sandwiches ideal for road trips and those unfortunate mornings when we would wake up too late on a school day for our regular breakfast. She would hand each of my siblings and I a perfectly sized half of a sandwich and a cucumber as we rushed out the door to make it to school on time.
I made this with Akkawi cheese, a Middle Eastern white brine cheese with a smooth texture and slightly salty taste that is similar to Queso Blanco (a great, easy to find alternative if you can't get Akkawi, btw). It's paired with mint leaves for a pop of freshness and a sprinkle of crushed red pepper for a spicy kick. For this particular grilled cheese, I like the salt flavor to be prevalent so I ground a bit of course sea salt over the top for an added bite.
As with any grilled cheese, it's perfect when you want something quick and satisfying without lots of prep. What's even better about this version is making it in the waffle iron requires no flipping, temperature control or uneven browning.
Just layer everything up, pop it on a preheated waffle iron and in just a few minutes you'll have this…..
Perfectly golden.
Perfectly melty.
Perfectly delicious grilled cheese.
Now all you have to do is enjoy!
Just cut it up and serve with cucumbers and tea. If you're going to choose just one, DON'T skip the cucumber… It should actually be an ingredient on the ingredient list because that's how amazing it is with this cheesy delight. I just LOVEEEEE the added crunch of a Persian cucumber and the contrast between its cool crispness and the warmth of the grilled cheese. I can say with conviction that the cukes are a must for me with this sandwich.
Waffled Akkawi & Mint Grilled Cheese
Servings Vary
Flatbread such as Naan or Pita Bread
Akkawi Cheese or Queso Blanco, sliced
Fresh Mint
Crushed Red Pepper
Sea Salt
Olive Oil, as needed
Persian Cucumbers and Tea for serving
Preheat your waffle iron* to desired heat setting. If needed, oil your waffle iron with olive oil.
I don't think I really need to tell you how to make a sandwhich, but here it goes ;). Layer the cheese over the bread. Top with mint leaves and sprinkle with crushed red pepper and sea salt. You can drizzle a bit of olive oil oil for added flavor. I usually do this when using a drier bread or even pita bread to give it some moisture.
Top with second piece of bread and grill in the preheated waffle iron until desired doneness is reached. For my waffle iron, I set it to the lowest setting for one cycle to achieve my results.
Serve with cucumbers and tea and enjoy!
*Don't have a waffle iron? No worries! You can still enjoy this grilled cheese by preparing it in a panini press or the traditional grilled cheese way. Heat a nonstick skillet and oil the outside of the bread with a bit of olive oil. Toast for a few minutes on each side until cheese has melted and bread has toasted.
Related Links
More on Akkawi Cheese
Special Equipment: All-Clad 2-Square Belgian Waffle Maker