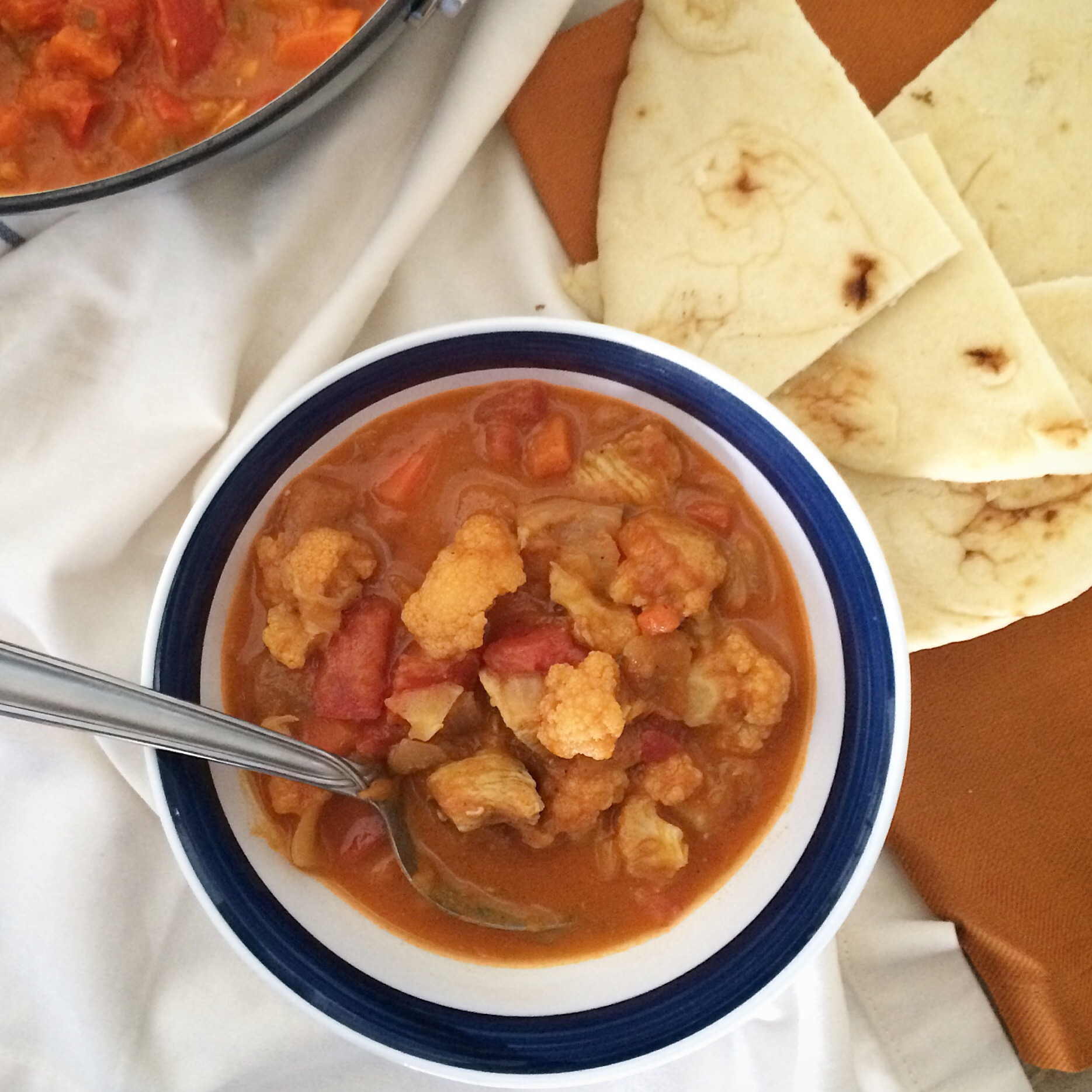 I am SO excited to finally be sharing this recipe with you! I made it the first time back when I had that cream of coconut mix-up that resulted in this amazing Salted Coconut Caramel, and ever since have made it once every few weeks. It was so easy to fall in love with and everyone who's tried it has become an instant fan.
At the time, I had a head of cauliflower and some chicken on hand and after some searching on the internet, couldn't really find any recipes with the two ingredients that appealed to what I was in the mood for. I turned to my pantry and spice cabinet and was inspired by them to go with a curry.
This delicious curry has so much going for it. It's super easy to make, it's fairly light and very satisfying, and is packed with tons of mouthwatering flavor. The cauliflower is such a great addition because it adds a bit of starchiness without making the dish too heavy. My husband and I actually fish around for the curry coated cauliflower florets more than the chicken!
Because of the vegetables in this curry, we also don't feel that we must have rice and it's just as satisfying. Of course it goes so well with basmati rice on the side but if you're trying to control your carb intake or simply don't want to get another pot dirty (Yeah… I can be that lazy sometimes…), you will still enjoy it on its own.
I have made it both with the potato and without for awesome results each time. Adding the potato gives another textural element to the whole dish but more times than not, I have left it out and loved the way the cauliflower shines. In regards to the seasoning, the spice level can obviously be adjusted to your liking, but I do love the extra kick the serrano pepper adds.
I can't wait for you to make this and let me know how much you love it! ? It's the perfect one-pot meal to throw together on those nights when you want a quick something that's hearty and filling, so next time your at the market, grab a head of cauliflower and plan for this.
Cauliflower Chicken Curry
6 Servings
Coconut Oil
1 small Onion, chopped
1 large Carrot, chopped
1 Potato, diced (optional)
1 Serrano Pepper, minced (optional)
2 Chicken Breasts (about 1 lb), cubed
2 tsp Garahm Masala
1 tsp Curry Powder
1 1/2 tsp Sea Salt
2 cloves Garlic, minced
1 1/2 tsp grated Fresh Ginger or Ginger Paste
2 14-oz cans Crushed Tomatoes
1 cup Coconut Milk
1 head of Cauliflower, chopped
In a medium pot, heat a few teaspoons of coconut oil. Add the chopped onions and saute until soft, about 2-3 minutes. Add the carrots, pepper 1/2 tsp of salt and sauté for another 4-5 minutes.
Add the chicken, curry powder, garam masala, remaining 1 tsp of salt, garlic and ginger and sauté until the chicken has browned. Add the crushed tomato and bring everything to a boil. Reduce the heat and simmer for 5-7 minutes.
Add the coconut milk and cauliflower and stir to combine, making sure all the cauliflower is coated in sauce. Adjust salt and spice to taste and allow to simmer for another 10-15 minutes or until the cauliflower is cooked to your preference.
Serve on its own or with basmati rice and enjoy!