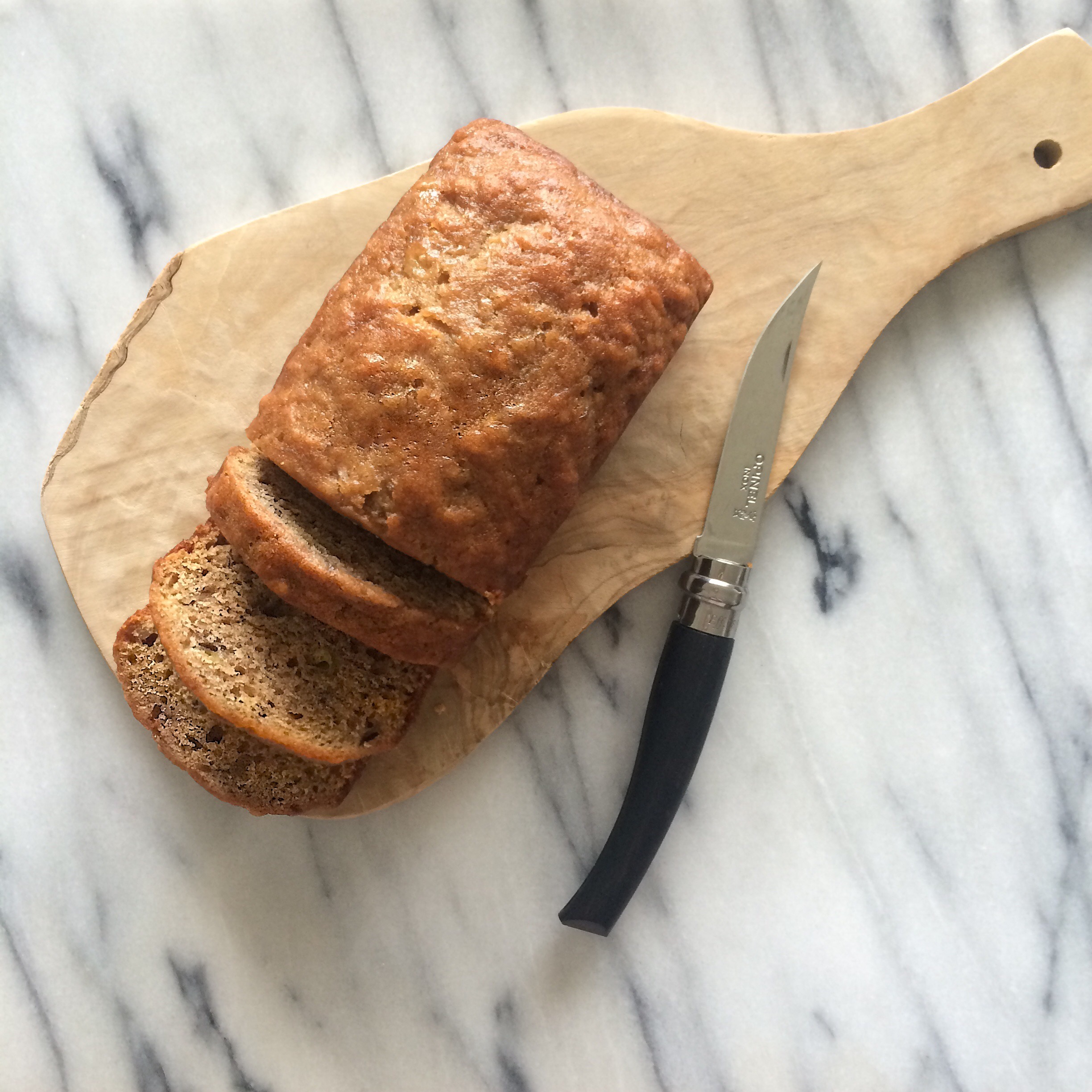 Wow! Where have I been?? Or even, where did August go??
I think we can all agree that the last month of summer always flies by! I'm thankful to have had a memorable one meeting up with family in Yellowstone and baking cakes for friends, and gathering lots of yummy recipes along the way. Now I just need to prep them for sharing with you :).
This particular one came about when we had tons of ripe bananas at the cabin that needed to be used ASAP. Limited access to groceries and ingredients forced us to use the baking basics but really, you can never go wrong with the basics. No buttermilk or sour cream required for this one and you still end up with a super moist and flavorful, can't-have-enough banana bread.

This recipe is also great because it truly is a 1-bowl recipe with no mixers required. I would measure everything straight into the bowl and stir it all up as each ingredient is added. Pour it into a prepared pan and in less than 10 minutes, you have a flavorful, moist banana bread baking in the oven.
Of course this recipe is versatile enough to where you can add as many or whatever mix-ins you would like. Walnuts, pecans, chocolate chips, peanut butter, a Nutella swirl, or a combination of your favorites. Everyone loved it as is but I will definitely be playing around with this as a base for future banana breads.
We made it a few times while on the trip using a normal 8X4 inch loaf pan and I also tried it with mini loaf pans (5 3/4X3 1/4 inch) to make 3 mini loaves, with great results. Whatever you decide to use, just make sure you don't overbake to keep the bread moist.  Try this out the next time you have some very ripe bananas and I think it will be one you keep coming back to!
The Best 1-Bowl Banana Bread
1 8X4in Loaf or 3 Mini Loaves
3 Very Ripe Bananas
6 tbsp Salted Butter, melted
1/2 cup packed Brown Sugar
1/2 cup Sugar
1 Egg
1 tsp Vanilla
1 1/2 tsp Cinnamon
1 tsp Baking Soda
1/2 tsp Sea Salt
1 2/3 cups Flour
Preheat oven to 350° F and butter desired nonstick loaf pan(s).
In a large bowl, mash the bananas with a fork. Add the melted butter and stir to combine.
Add the sugars and again stir to combine. Crack the egg into the bowl and beat slightly with a fork then combine with banana mixture.
Stir in the vanilla, cinnamon, baking soda, salt and flour and combine until smooth.
Pour into prepared pan(s) and bake* according to pan size, or until toothpick inserted in cake comes out clean. If using the mini loaf pans, divide the batter evenly among the 3 pans.
Baking Time
8×4 inch loaf pan: 50-60 mins.
5.75×3.25 inch mini loaf pan(3): 35-40 mins.
* Baking times vary depending on many factors. The baking times listed are suggestions. It is best to start checking for the cakes doneness a few minutes prior to the suggested times to ensure best results.