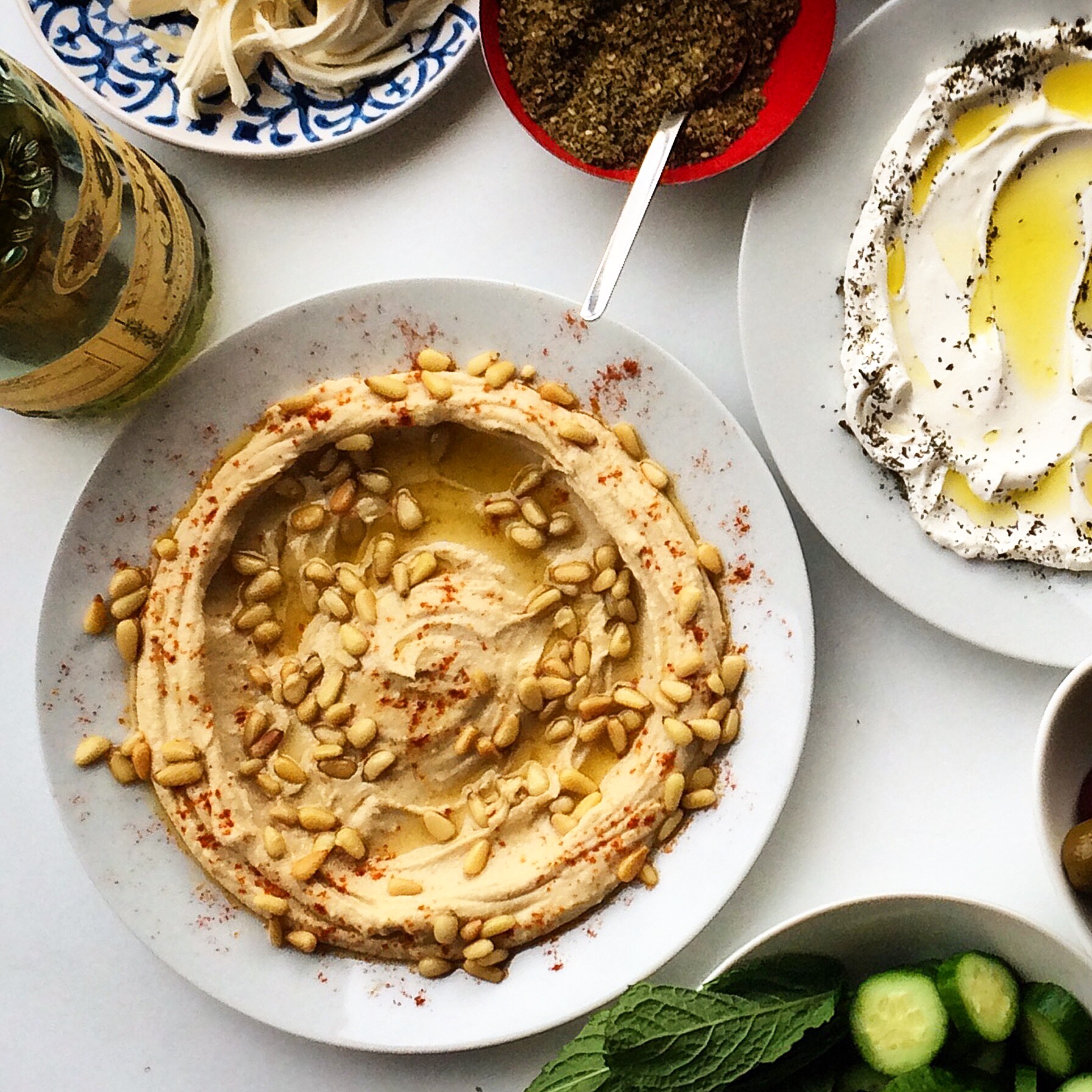 Smooth, creamy, delicious hummus.

It's a Middle Eastern staple that is now found on restaurant menus across the US, in pretty much any grocery store you go to and on blogs all over the Internet.
There are so many creative renditions of the infamous chick pea dip, but no matter how many different ways I try it, the original style is (and forever will be) my favorite. It could have something to do with nastolgia, or growing up in an Arab household,  but a lot of it has to do with how satisfying it is.
I LOVE when the tahini flavor is pronounced and it has just the right amount of tang from the fresh lemon juice. I love scooping it up with bits of torn up, fresh pita bread and getting  the nuttiness and crunch of the toasted pine nuts on top. I love sopping up the bite-to-be in the olive oil that's been generously drizzled on top for an added depth of flavor. I love how it pairs with grilled meats, salad or rice to add just the right amount of creaminess to the meal.
While it is found all over the Middle East with slight variations, in Syrian tradition, the pine nuts are sautéed in ghee, or clarified butter, that is heated until bubbly and then poured on top of the msabbaha as we call it, producing the most satisfying sizzle. I remember when we would be in Syria for the summer and my uncle would make us a fresh batch of hummus for Friday's obligatory brunch and everyone waiting to hear that sizzle go off, telling us that not only the hummus, but the whole meal is ready, as that would be the last step before serving.
It really is as amazing as it sounds….
So, I'm sure you're here more for the tip than my babbling about hummus, but even that has a backstory. Growing up, whenever my mom would make hummus or a dish called Tis'iyeh (a layered brunch dish of pita bread, garbanzo beans and yogurt sauce which I plan to share with you soon) she would boil the hummus and add a white powdery substance called illi, that turns out to be Calcium Carbonate, which she would always bring back with her from Syria. She would tell me she adds it to soften the garbanzo beans so that they have that melt-in-your-mouth quality…

Do you see where I'm going with this? All you need to do is boil you garbanzo beans with a bit of calcium carbonate and you'll have smooth, delicious hummus in a flash.
But really…How many of us keep calcium carbonate on hand or have even heard of the stuff??! I didn't even know that that's what it was called in English until I called up my mama and asked her, who in turn asked my brother because he had found out from my uncle that illi = calcium carbonate.
Ok, I really need to get to the point now…
So if you don't have any illi in your pantry, your secret weapon to get that smooth, perfect texture will be BAKING SODA! You can thank the Arabic blogs who use illi as well as "bikarbonat al sodium" or sodium bicarbonate aka baking soda, interchangeably when they boil their garbanzo beans. ??
Now that's more like it.
Smooth & Creamy Traditional Hummus
About 2 cups
2 15-oz cans Garbanzo Beans
1 tsp Baking Soda
1 tsp Sea Salt
1-2 cloves Garlic, crushed (about 1 1/2 tsp)
1/4 cup Tahini
1/2 cup Lemon Juice
For Garnish
Extra Virgin Olive Oil
Sauteed Pine Nuts*
Paprika or Cayenne Pepper
Drain and rinse rhe garbanzo beans. Add them to a pot with 3-4 cups water and the baking soda and bring the water to a boil. Once the water reaches a boil, reduce the heat and simmer for 5-10 minutes until the garbanzo beans are soft and creamy.
Drain the garbanzo beans and reserve some of the boiling liquid. Add the beans, salt and garlic to the bowl of your food processor and process until smooth. With the motor running, drizzle in the tahini and lemon juice. Season with additional salt to taste (I added another 1/2 tsp).
If you feel your hummus is too thick, you can add some of the reserved boiling liquid a little bit at a time until desired consistency is reached.
Plate the Hummus, drizzle with olive oil, sprinkle with a bit of cayenne pepper or paprika and top with the pine nuts. Serve with fresh pita bread, chips or anything you love hummus with and enjoy!
* For the pine nuts, heat some butter or oil in a pan and sauté the pine nuts until golden, being careful not to burn them as they turn very fast.