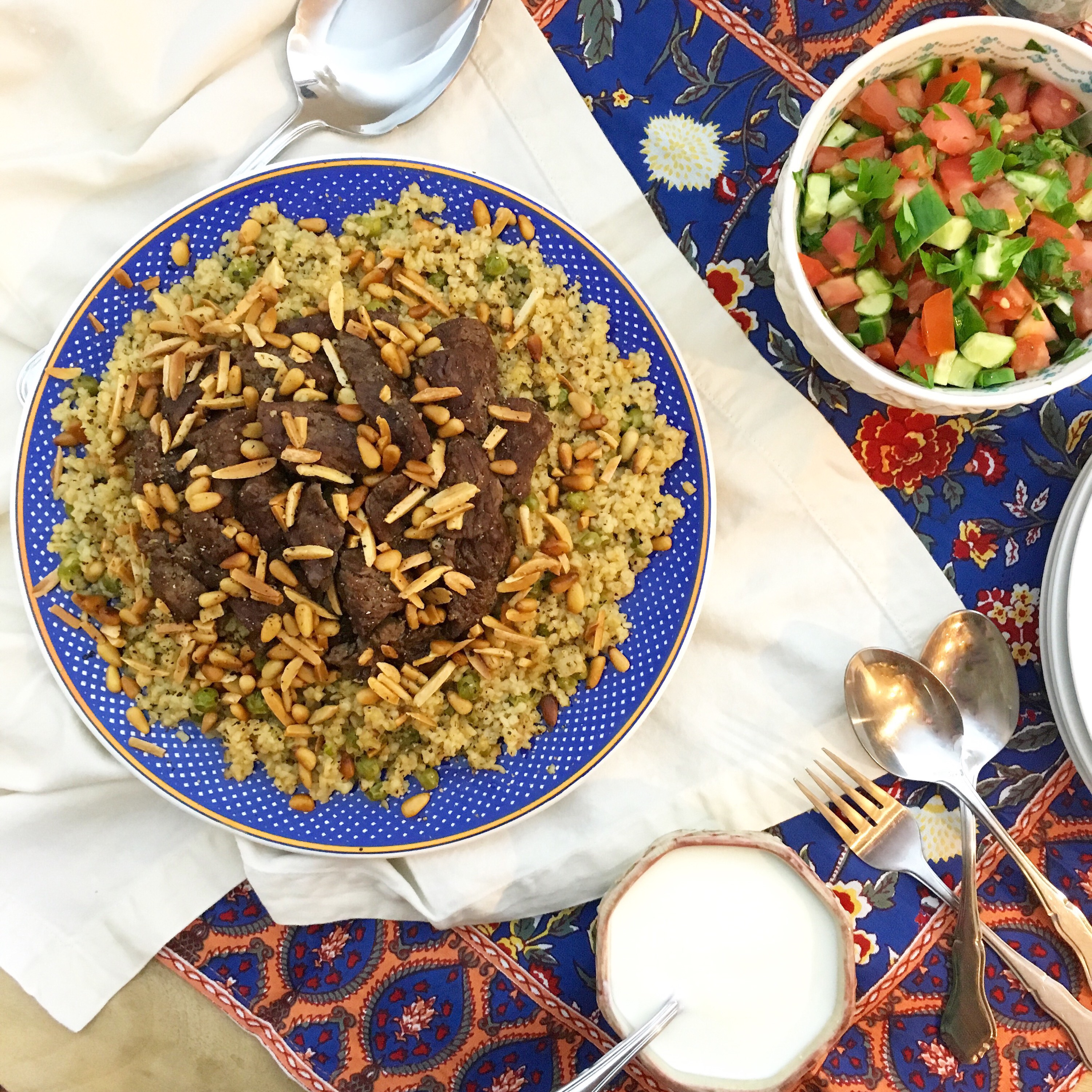 One of the first recipes I posted (and made a video for ? ? ?) on my Instagram was for Freekeh. The posts are pretty embarrassing (I debated if I should tag them or have you scroll for miles to get to the actual post ?. I decided I'd be nice ?.) The video quality is horrible, the sound is all bits and pieces of background noise (I really liked the sound of the sizzling and steaming so I didn't want to hide that. #artisticlicense LOL!) but hey, it is definitely a learning process!
I remember finding the bag of Village Harvest's Organic Freekeh at Costco and getting so excited that I could find it at a local store without having to ship it from overseas! I took it home and attempted it for the first time, with numerous calls to my mom to replicate her dish. Thankfully the results were great and my husband and I really enjoyed it.
A few days ago I was scrolling through my feed and was inspired by that video to make this hearty dish. I decided I'd follow my own recipe and see how it comes out.
Well, it turns out I don't know how to follow my own recipes. I was planning on making it in the same quantities and started out by melting two tablespoons of butter as the recipe called for. Then without checking, I thought to myself, "Oh, the recipe said 5 tbsps not 2," so I added an extra three tablespoons of butter and dumped in one cup of Freekeh….
As it turns out, the recipe did call for 5 tbsps, it just wasn't all for sautéing the freekeh. It smelled amazing but I needed to balance the whole thing out, so I doubled the amount of Freekeh. The rest of the recipe I followed proportionally as I had written and I'm happy to report the results were just as delicious as I remembered! The first night I made it with beef and the second with chicken, and to be honest, I don't know which I prefer! That's better for you though, because it means you can just use what is more easily accessible at the time.
For us, freekeh is not complete without a side of plain yogurt and a diced simple salad to add freshness, tang, flavor and textural contrast and complete the dish. I feel like these components really take it to the next level and make it all that much more satisfying.
In regards to cooking the freekeh, there are a few things to consider. The freekeh that can be found in the US does seem to be a bit different from the one brought from overseas or purchased in Arabic stores. For example, the one I'm using is a quick cooking freekeh and gets that quality from being a cracked variety of the grain, and although I cook it for longer than the instructions provide, it is faster to cook than the more authentic variety, which is usually whole grain and can take up to an hour and a half to fully cook. When making this dish for yourself, after adding the initial measurement of broth or water, it is important to add the rest a little bit at a time and wait for it to be fully absorbed as well as testing for doneness along the way. Some people enjoy their freekeh a little more dry while others may like it a bit more moist, and those are all things that can be achieved with a little bit of patience.
The last thing I will say: DON'T skip the toasted almonds and pine nuts sprinkled over the top. In my opinion, that's as necessary to the success of the dish as the freekeh itself ;).
 Note: The quantities for the recipe below are double those found on the Instagram video. Also, the ingredient list is not as complicated as it might look, I just included options for making it with either beef or chicken and additional spices that can be used for each.
Freekeh – Roasted Green Wheat Pilaf
4-6 Servings
5-6 tbsp Butter
2 cups Freekeh, very well cleaned
Salt & Pepper
4-8 cups Broth or Water (broth adds more flavor, but you can also do a combination)
1 cup Green Peas (optional)
For the Meat (Chicken or Beef)
2-3 tbsp Butter or Oil
2 lbs Chicken (can be a mix of cuts) or Beef (Top Sirloin or Ribeye)
2 tsp Sea Salt
2 tsp Black Pepper
Water
Optional Spices for Chicken:
2 tsp Allspice
1 1/2 tsp Cinnamon
1/4 tsp Ground Ginger
Optional Spices for Beef:
3/4 tsp Cardamom
1/4 tsp Ground Ginger
1/4 tsp Cinnamon
For Garnish
Butter or Oil
1/3 cup Almonds, can be slivered or halfed
1/3 cup Pine Nuts
In a medium pot, melt the butter and add the freekeh. Season with salt and pepper to taste (I used about 1 tsp each) and sauté over medium heat until golden brown, about 10-15 minutes, stirring constantly. You can also go longer for a deeper flavor.
Add 4 cups broth or water and bring to a boil. Reduce the heat and allow to simmer until all the liquid is absorbed. Add 1/2 cup of broth or water at a time, stir gently and cover, allowing the freekeh to fully absorb the liquid after each addition. Repeat as needed until desired doneness is reached. Depending on the type of freekeh (cracked or whole) and desired texture, you may use up to 4 additional cups of broth.
Once the freekeh is cooked to your preference, stir in the peas if using, adjust salt and pepper to taste, cover and allow to steam for a few more minutes, until the peas are cooked through.
For the meat, it can be prepared in advance and you can use the broth from that to cook the freekeh for tons of delicious flavor, otherwise, it can be prepared while you are cooking the freekeh. Cut the chicken or beef to desired size pieces. In a pot, heat a few tablespoons of butter or oil and add the meat. Season with salt, pepper and desired spices and sauté until browned. Add enough water to fully submerge the meat and bring it to a boil. Reduce the heat and simmer for 30 – 40 minutes until the chicken or beef is flavorful and tender.
For the nuts, heat a tablespoon or two of butter or oil in a sauté pan. Add the nuts and sauté until golden brown, being careful not to burn them as they begin to change color very quickly once they begin to brown. Remove from heat and set aside.
To serve, plate the freekeh and top it with the meat. Sprinkle the nuts and some fresh cracked pepper over the top. Serve with a side of plain yogurt and a simple salad and enjoy!