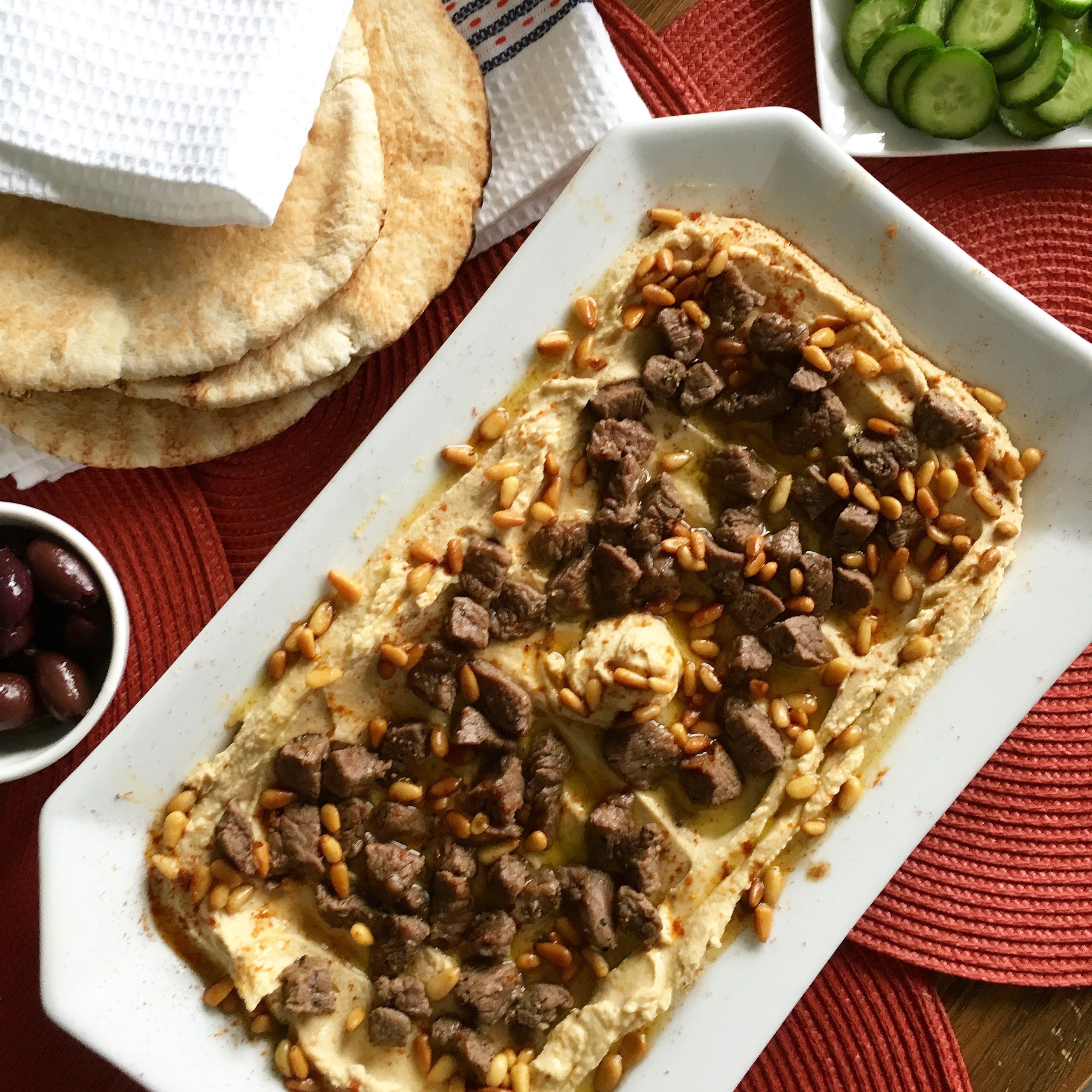 Hummus and meat. Meat and hummus.
It's one of those C. L. A. S. S. I. C. food pairings. Like, I really wouldn't be surprised if hummus was originally invented by Arabs just to be eaten with meat, they're that perfect together. Of course, now hummus is paired with anything and everything, which is great, but let's be real, classics are classics for a reason.
This dish is super simple and you don't need an actual recipe for it, especially if your hummus is ready (you can use my traditional Hummus recipe if you need a good one!). It's a favorite of my husbands for brunch, or any meal, to be honest with you, and I love how quickly it comes together while being so satisfying.
It's sure to be a crowd pleaser and you'll love it because most of the work can be done in advance then just assembled once you're about ready to serve.
Hummus bil Lahmeh
4-6 Servings
1 part Traditional Hummus Recipe (recipe follows)
1/2 lb Filet Minion or Ribeye, cut into small bite size pieces
1/2 tsp Sumac (optional)
Salt and Pepper to taste
Optional Garnishes
Sauteed Pine Nuts*
Extra Virgin Olive Oil
Paprika or Cayenne Pepper
Garbanzo Beans
Pomegranate
Prepare hummus as directed and plate.
Sauté the beef in butter or oil and season with the sumac and salt and pepper to taste. Top the hummus with the beef.
Garnish with toasted pine nuts, olive oil, and desired garnishes. Serve with fresh pita and enjoy!
*For the pine nuts, heat some butter or oil in a pan and sauté the pine nuts until golden, being careful not to burn them as they turn very fast.
Traditional Hummus
About 2 cups
2 15-oz cans Garbanzo Beans
1 tsp Baking Soda
1 tsp Sea Salt
1-2 cloves Garlic, crushed (about 1 1/2 tsp)
1/4 cup Tahini
1/2 cup Lemon Juice
Drain and rinse the garbanzo beans. Add them to a pot with 3-4 cups water and the baking soda and bring the water to a boil. Once the water reaches a boil, reduce the heat and simmer for 5-10 minutes until the garbanzo beans are soft and creamy.
Drain the garbanzo beans and reserve some of the boiling liquid. Add the beans, salt and garlic to the bowl of your food processor and process until smooth. With the motor running, drizzle in the tahini and lemon juice. Season with additional salt to taste (I added another 1/2 tsp).
If you feel your hummus is too thick, you can add some of the reserved boiling liquid a little bit at a time until desired consistency is reached.
Continue as desired.