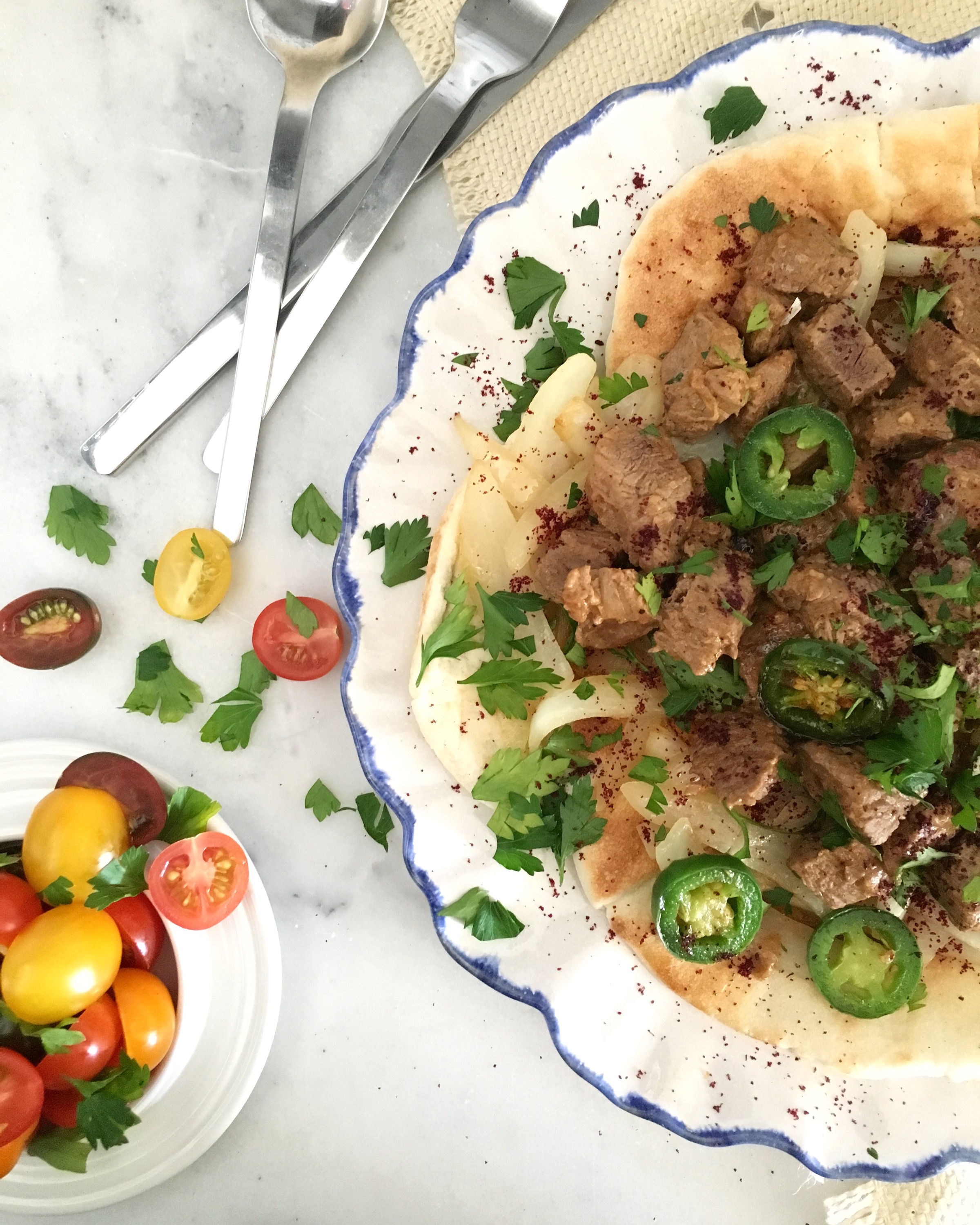 Ok, so I'm totally cheating here.
I'm using the same exact recipe that I've previously posted and changing just one ingredient. It's a pretty major ingredient, but does that warrant its own post?
Considering that the ingredient is filet minion, I guess it does deserve it. I can't deny the king of meats that honor ?.
Also, I'll be completely honest, I really liked the pictures (which hasn't been the case lately) and felt they also deserved their own post, so combined, that's definitely reason enough.
I posted the recipe for Stovetop Chicken Shish in the summer of last year and it was such a hit, it became the most popular recipe of 2014 on à la Susu (here is the full list of the Top 10!). It's so simple and full of yummy flavor without being too heavy so I can see why it's a favorite.
Today, my husband was describing what he was craving and it sounded just like the chicken shish except that he wanted beef. That resulted in this variation and it's amazing! I love dishes that aren't fussy about what type of meat you can use and this is definitely one of them. Pair this with homemade Hummus or a Tahini Sauce (recipe can be found in the Falafel Pie post) and you've got a satisfying meal that you can have any day of the week.
Stovetop Beef Shish
3-4 Servings
Marinade
1/2 cup Plain or Greek Yogurt
1 tsp Paprika
1/2 tsp Cumin
1/2 tsp Coriander
1/2 tsp Ginger
1/2 tsp Cinnamon
1/2 tsp Black Pepper
1/2 tsp Crushed Red Pepper
1/2 tsp Salt
1/4 tsp Cardamom
1 large clove Garlic, crushed or minced
1 Lemon, juiced
1 lb Beef, cubed (I used filet minion, any good quality beef would be great)
For Serving
Pita Bread or Flatbread
1/2 an Onion, thinly sliced
1 Jalapeño, thinly sliced (optional)
Sumac (optional)
Parsley, chopped
Tomato, sliced
Lettuce
Whisk together all the ingredients for the marinade. Stir in the meat and allow to marinate for at least 30 minutes or up to 24 hours.
Before cooking the beef, prepare the serving platter. Arrange the pita bread on the bottom. Lightly sauté the onion in a bit of oil until they are soft but still have a bite to them. Spread over the pita bread. Sprinkle with some sumac and chopped parsley. If using, sauté the jalapeño and set aside.
In a large skillet, heat some oil and add the beef, cooking to desired doneness. Plate over the bread and onion. Garnish with more parsley, sumac and jalapeño. Serve with tomatoes and enjoy!