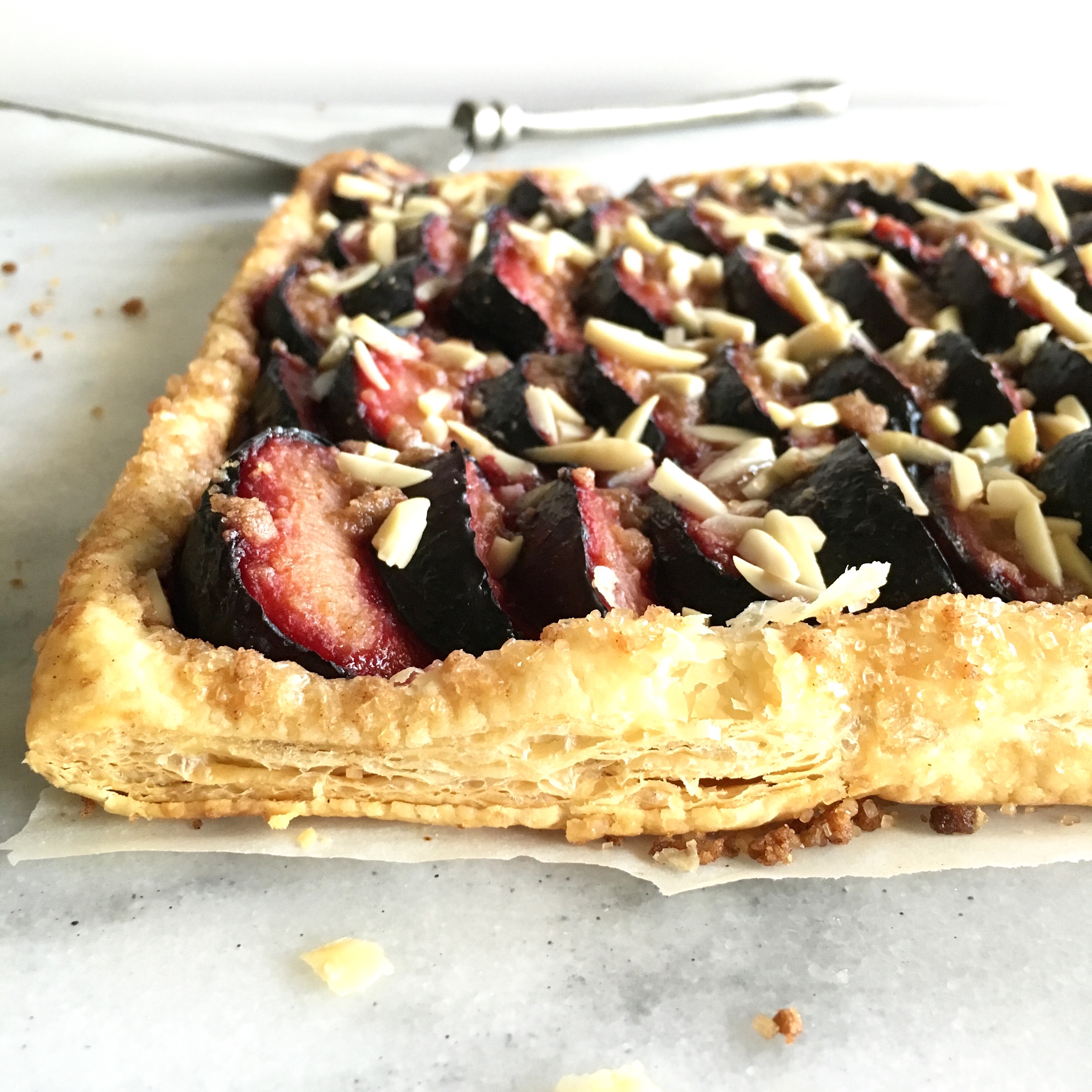 I'm going to keep this one short. 
Basically, this delicious almond plum tart is one you MUST try for yourself! I made it the first time completely on a whim and it was just so addictive, I had to remake it and share. It's one of those desserts that looks so impressive and like it took so much time to make, when really, it comes together fairly quickly (and is still impressive! ;)).
I think you can totally make this delicious tart without a recipe and can use different fruits for the filling, but I will have some rough measurements of what I used down below. It doesn't require a tart pan and is made of just a few ingredients, 10 minutes to assemble, a bit of chill time, then into the oven it goes.
I had initially thought I wanted to serve this tart warm, but I personally preferred it at room temperature, making this a perfect make ahead dessert. Even a few days later the crust was just as crispy, and the tart as a whole just as delicious as the day it was baked.
Serve it on it's own, with ice cream or with fresh whipped cream. The combination of the crispy puff pastry with the jammy plums and the crunch from the almonds is one you'll have to control yourself from finishing all on your own!
Almond Plum Tart
2016-03-16 20:45:09
Serves 12
A perfect make ahead tart filled with delicious plums and crunchy almonds.
Ingredients
1 sheet of Puff Pastry, thawed but chilled
1/4 cup Flour
1/4 cup Brown Sugar
1/4 cup Salted Butter, softened
1/2 tsp Cinnamon
1/2 cup Slivered Almonds
5-6 Plums, sliced
Turbinado Sugar (or white sugar)
Instructions
On a sheet of parchment paper, roll the puff pastry out, extending it about 1/2 an inch on each side. (From 9x9 to about 10x10). Transfer the puff pastry and parchment to a baking sheet.
Butter the puff pastry with 1 tbsp of the softened butter, making sure to get the edges.
Score the puff pastry along the edges, about 1/2 an inch in to form a crust. (See photo above)
In a bowl, stir the flour, sugar and cinnamon to combine. Cut in 2 tbsp of the softened butter and mix to form a crumble.
Reserve 1/4 cup of the crumble mixture for the top, and sprinkle the remaining evenly inside the score lines of the puff pastry. Top with half of the slivered almonds.
Arrange the plum slices over the almonds in desired pattern.
Sprinkle the remaining crumble mixture and almonds over the plums and dot with the last tablespoon of butter. If your plums are more sour, you can sprinkle a few tablespoons of the Turbinado or white sugar for a bit more added sweetness.
Sprinkle some Turbinado or white sugar over the exposed puff pastry edge.
Refrigerate for 10-15 minutes, or until dotted butter has chilled. Preheat oven to 350°F.
Bake in preheated oven, for about 35-40 minutes or until the puff pastry edges have risen and are a light golden color.
Serve with fresh whipped cream, ice cream, or on its own and enjoy!
à la Susu http://alasusu.com/