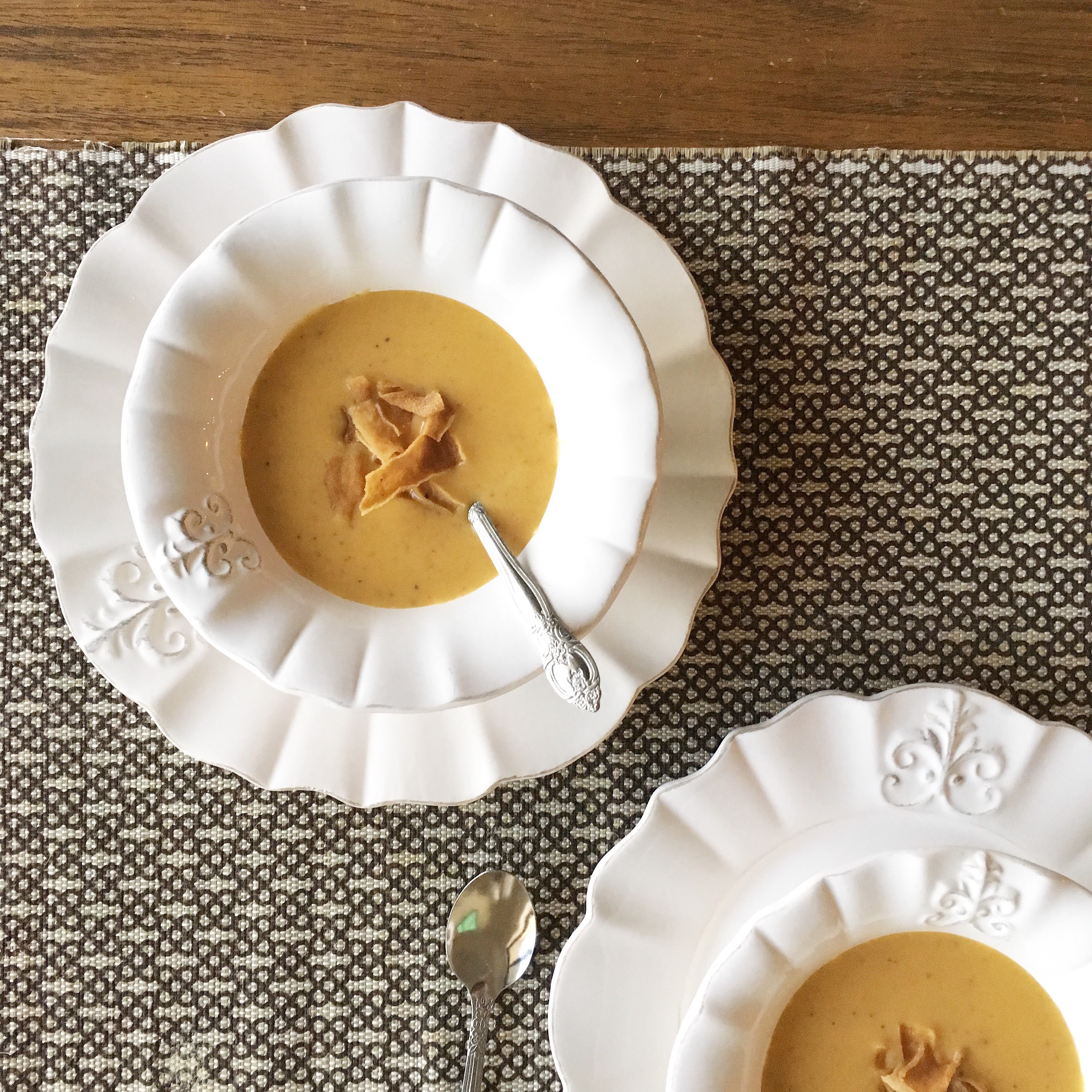 You know those times when you're fasting, and you haven't used up so much of the good food in your fridge because everyone thinks they are absolutely starving during the day but when it comes to Iftar time, they barely touch the spread you made?!!
That has been the story of my Ramadan this year.

I have basically only cooked once a week, and between Ramadan appetites and Iftar gatherings here and there, the food would last us a while. I had a variety of delicious veggies in my fridge that I just wasn't getting around to using and that's how this Summer Squash Soup came about. It was one of those spontaneous dishes that I was actually surprised at how much we all ended up loving and therefore had to share with you.

It's simple, flavorful, healthy, and if you decide not to add the cream, vegan! I used some yellow summer squash I had on hand and paired it with bell peppers, tomato, onion and celery. It reminded me of the Ratatouille soup I make, which you also need to try ;). A hint of cayenne and some tarragon with the cream added at the end gave the soup an overall delightful flavor and still kept it simple enough to pair with any meal.

Now I'm craving a big, warm bowl…. I guess I know what's for dinner tonight ;).
Summer Squash Soup
2016-06-26 16:39:20
A light and creamy Summer Squash Soup that pairs well with any meal.
Ingredients
Olive Oil
1 Onion, chopped
2 stalks Celery, chopped
5 medium Yellow Summer Squash, diced (about 4 cups)
1 Red & 1 Orange Bell Pepper, chopped
1 Tomato, chopped
2 cloves Garlic , minced
1 tbsp Cilantro
1 tsp dried Tarragon
3-4 cups Water
1/4 cup Cream
Salt, Pepper, Cayenne to taste
Instructions
In a large pot, heat a few tbsp of olive oil over medium high heat.
Add the chopped onion and celery and saute until soft and translucent.
Add the squash, bell pepper, tomato, garlic, cilantro and tarragon and season with 2 tsps of salt and 2 tsp of pepper. Allow the mixture to cook on low heat for about 10-15 minutes.
Add 3 cups of water and a pinch of cayenne. Bring the soup to a boil and allow to simmer for another 15-20 minutes.
Puree the soup using a hand blender (or stand up blender) until smooth. Allow to simmer for another 10-15 minutes. This is optional but highly recommended as it really gets the flavors of the vegetables to marry and become amazing.
Stir in the cream and adjust salt and spice to taste. Add more water if desired to get your preferred consistency.
Serve with croutons or fried wonton dough and enjoy!
à la Susu http://alasusu.com/