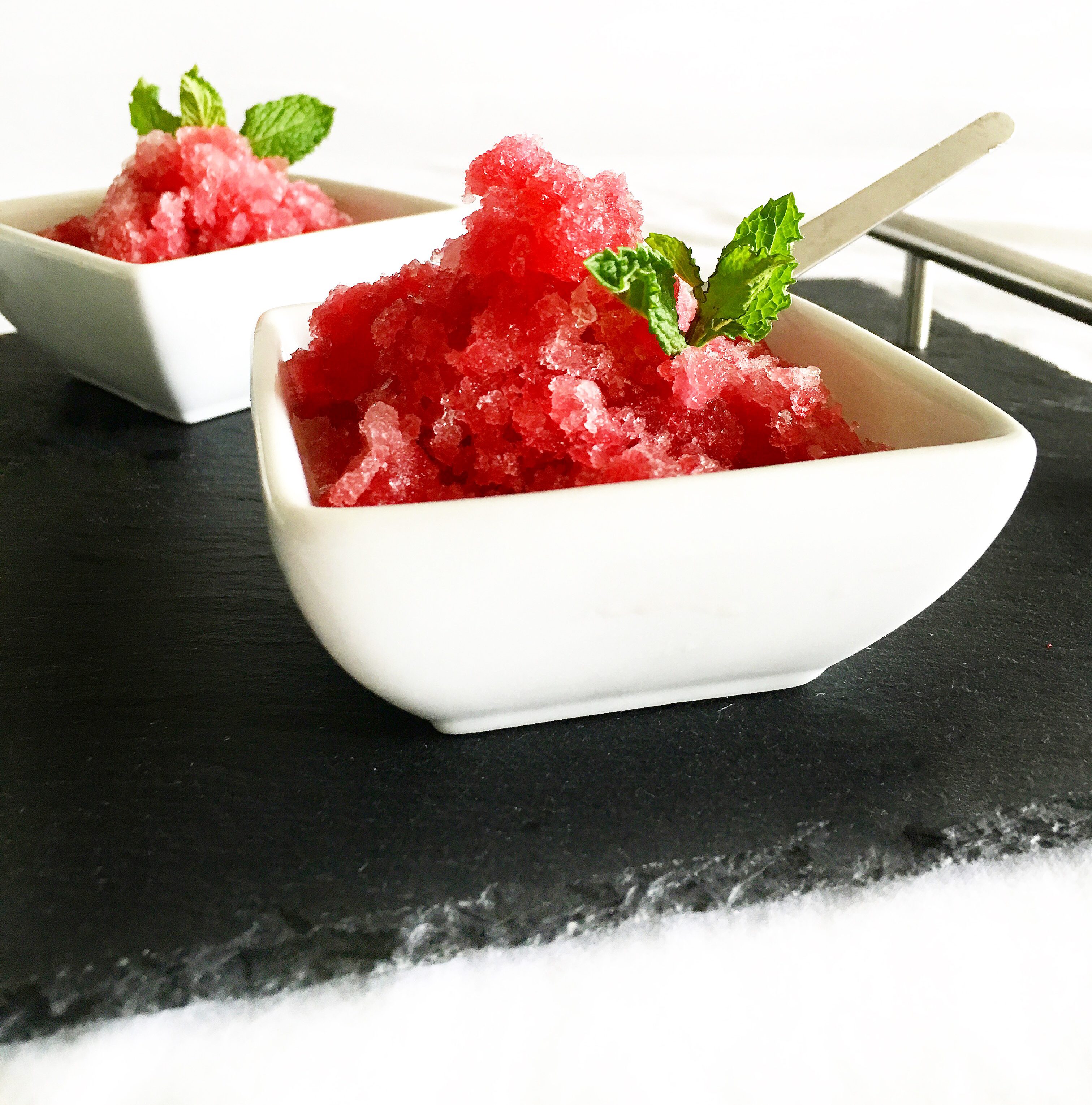 Summer time is alllll about the ice cream, popsicles, sorbets and..... GRANITA!
If you haven't yet tried granita, now is the time and this delicious Crimson Punch Tea Granita is the one you need to start with! As simple as the steps are, I had always put off attempting it at home because I thought it was so time consuming –and I never had room in my freezer for a large baking dish (#tinyfreezerproblems ?).
BUT!!!
After finally making it myself, I want to make room for a baking dish in my freezer all day, every day because that is simply not an excuse to deprive yourself of this refreshing, simple treat. It is actually so easy to make and the scraping every 20-30 minutes is so quick, I felt silly for having put it off for so long.
(Thank you Crimson Punch Tea Granita for teaching me the error of my ways.?)
I used Tavalon Tea's Crimson Punch for this and OMG did I love it!
From the minute I opened the can of this super fragrant, fruity, floral scented tea, I knew I wanted to make something sweet and cold with it. The name is so fitting and the color of the tea once steeped is my absolute favorite shade of red. It has a bit of tartness to it from the combination of the blood orange, cranberry, cherry, apple and hibiscus used in it, and really is reminiscent of a punch… Except that it's a tea, making this Crimson Punch Tea Granita a literal "iced" tea.
To make this refreshing treat, I first started off by steeping the tea and sweetened the Crimson Punch with sugar. I added some lemon juice at the end for a little extra tang, which was the perfect touch for the cold treat. Once the tea comes back to room temperature, you freeze it and then scrape the mixture with a fork every 20-30 minutes to break it up into little ice granules. It takes about 3-4 hours for the right ice granules to form for the granita, but it's so worth the effort (and wait). I think what I loved most about this granita is how light and refreshing the final product was. It's perfect for the hot summers (both preparing and eating it ;)) and is the definition of simple sophistication.
Try it ASAP. You really will love it!
You're probably craving this Crimson Punch Tea Granita right now, so make sure to get your Crimson Punch at Tavalon.com and enter code ALASUSU for a special discount!
Crimson Punch Tea Granita with Lemon
2016-07-13 14:26:11
Serves 6
A fun twist on Iced Tea made using Tavalon Tea's Crimson Punch for a light and refreshing summer treat.
Ingredients
3 cups Water
1/2 cup Sugar
2 tbsp Tavalon Tea Crimson Punch
Juice of 1 Lemon (about 1/4 cup)
Instructions
Bring water, sugar and the Crimson Punch to a boil.
Remove from heat and allow to steep about 10 minutes.
Strain and pour into a shallow freezer proof dish, a 9x13-inch** baking dish works well.
Bring to room temperature and stir in the lemon juice.
Cover with plastic wrap and freeze. After about 1 - 1 1/2 hrs, remove from freezer and run a fork through the mixture to break up any large pieces of ice.
Return to freezer and repeat scraping every 30 minutes or so until the mixture is completely frozen throughout.
Scoop into bowls or cups, top with fresh mint or basil and enjoy!
Notes
*You can adjust the sweetness and tartness to your liking by adding your preferred amount of sugar and lemon juice.
** You can use a smaller baking dish, but it will take longer for the granita to form the ice granules.
à la Susu http://alasusu.com/