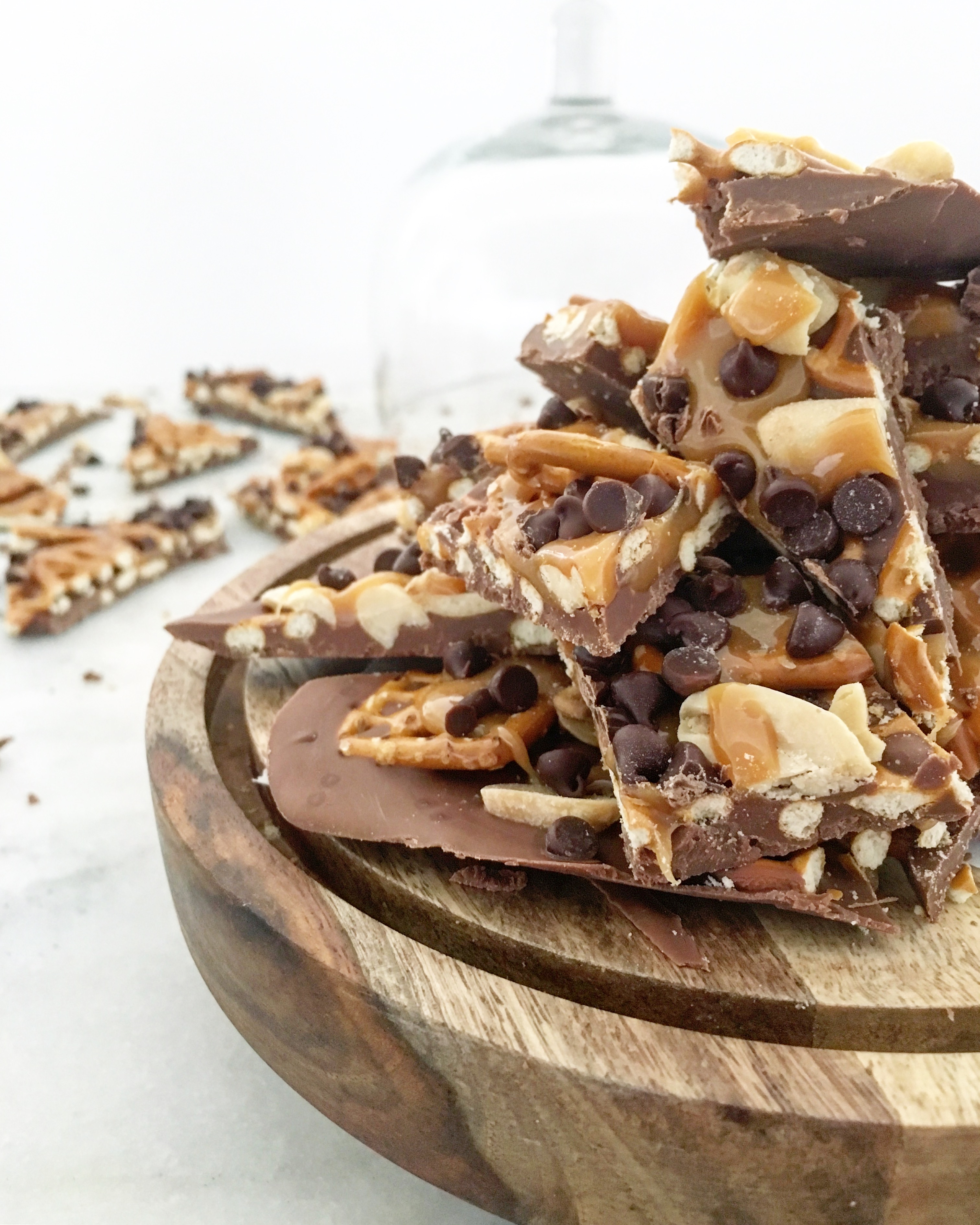 Chocolate and caramel and pretzels and peanuts and sea salt.
Is your mouth watering yet?
It should be because that is probably one of the most addictive combinations out there!!
This salted caramel pretzel chocolate bark is the best of all worlds. It is super quick to make, it's crunchy, creamy, and chocolatey with a touch of salt, making it perfectly satisfying. Plus, it is an undeniable crowd pleaser and will be gobbled up in minutes so you don't have to worry about eating it all yourself. 😉 I picked up all the ingredients to make something completely different (which I still plan to share with you) but ended up with this on a whim. I think you'll be very happy I did.
Oh, and this delicious snack/dessert hybrid also requires very minimal cleanup which is always a big win in my books. I hate to admit it, but no matter how hard I try, I always walk into a clean kitchen and within minutes (maybe a tinyyyy bit longer) it becomes a disaster zone.
Just ask my mom.
Or my husband.
That is probably their biggest complaint when it comes to me in the kitchen ?. I really try hard to keep things under control by prepping and reusing whatever I can, but in the end, it always gets a little wild. Anyway, that's not the point. The point is that I only had to wash a tiny pot, a whisk and a spatula once I was done which was pretty amazing.
I also have a great tip for you for melting the chocolate for this bark. You can avoid pulling out your double boiler or using the microwave in intervals and it only takes a few minutes. Just sprinkle the chocolate chips on a parchment lined baking sheet and pop the pan into a 200°F oven for a few minutes. When you pull it out of the oven, use an offset spatula to spread the perfectly melted chips evenly over the parchment paper and you're ready to begin layering the rest of the ingredients. If that's not the easiest way to melt chocolate, I don't know what is!
Ok, I really hope all those were compelling enough reasons for you to get the ingredients and make this addictive bark.
Like now.
Salted Caramel Pretzel Chocolate Bark
2016-10-31 10:45:31
Serves 20
An addictive chocolate bark with milk and dark chocolate, caramel, pretzels, peanuts and a touch of sea salt.
Ingredients
1 11.5 oz bag Milk Chocolate Chips
55-60 Snaps Pretzels (the ones that look like a grid)
2-3 tbsp Salted Peanuts, or to taste
20 Kraft Caramels, unwrapped
1 tbsp Whipping Cream (may be substituted with water or milk)
1/4 cup Mini Semisweet Chocolate Chips, or to taste
Sea Salt
Instructions
Preheat oven to 200°F.
Line a 13x9 inch baking sheet with parchment paper.
Sprinkle the milk chocolate chips evenly in the baking sheet, then pop the baking sheet into the oven for a few minutes until the chocolate chips have softened. Remove from the oven and spread the chocolate evenly with an offset spatula.
Add the pretzels and peanuts to taste. I overlapped the pretzels a bit in some areas.
In a small saucepan, heat the caramels with the whipping cream over medium heat and whisk until completely melted.
Once melted, allow to cool slightly then drizzle over the bark evenly.
Sprinkle the mini chocolate chips over the top, followed by a sprinkle of sea salt to taste.
Allow the bark to set completely, then chop it up into desired size pieces and enjoy!
Notes
You can leave the bark to set for a few hours at room temperature or in the fridge to speed up the process.
à la Susu http://alasusu.com/