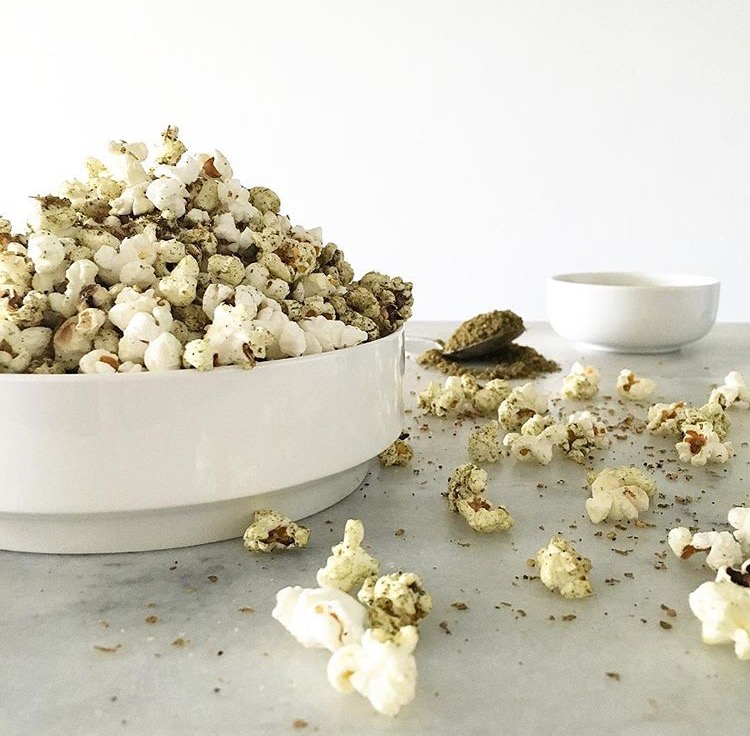 Last year, I was in the kitchen playing around with stove popped popcorn and had the idea to toss it with some Za'atar and Olive Oil. The result was this highly addictive Za'atar and Olive Oil Popcorn.
For those of you unfamiliar with Za'atar, it is basically the best herb blend EVER!! It's typically made of a mixture of dried thyme, sumac, oregano, toasted sesame seeds and salt. The word Za'atar is the Arabic word for thyme, but has also come to be known as the famous herb blend that is perfectly paired with olive oil. There are many variations based on the region of the Middle East it is sourced from, but any good quality Za'atar is a winner for me.
Anyway!!
I'm surprised I had never thought of Za'atar & Olive Oil as a seasoning for popcorn before because it just makes perfect sense. That could have something to do with the fact that I don't necessarily make popcorn that often, but I feel like it still should have crossed my mind much sooner.
Well, the good thing is, it did then and I think it is one of those popcorn combinations that I will always love. I had only posted the method on Instagram, but when #NationalPopcornDay popped up in my feed today, I felt this combo deserved it's own dedicated post, so here it is! It's definitely easier to search for it here on the site than scrolling for miles on IG, so here it is! 😉
Za'atar and Olive Oil Popcorn
2017-02-07 10:55:41
Light, flavorful, addictive, this is one popcorn combo you won't be able to get enough of.
Ingredients
4 cups Plain Popcorn
1 tbsp Olive Oil
1-2 tbsp Za'atar (to taste)
Sea Salt
Instructions
Toss together 3 cups of the fresh, plain popcorn, olive oil and Za'atar until evenly coated. Adjust salt to taste.
Add remaining 1 cup of the plain popcorn for a bit of contrast and enjoy!
à la Susu http://alasusu.com/