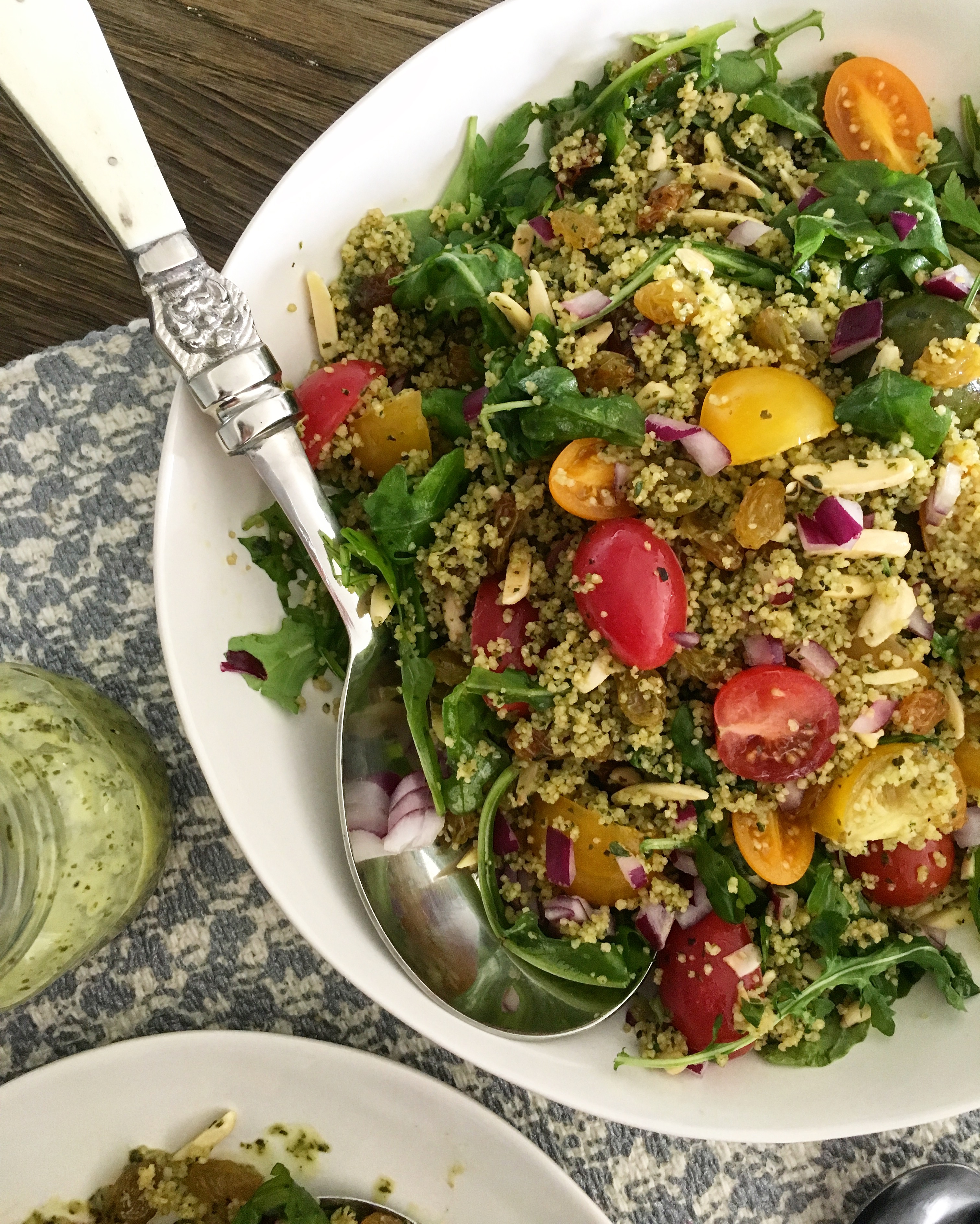 Do you ever take a bite of something so delicious and find yourself involuntarily shaking your head "no" because of how good it is?? No? Just me? Well, this Basil Couscous Salad is one of those dishes that I've caught myself shaking my head to… Sometimes, more than once for the same bite! ?
I have been wanting to share this with you for a very long time. This delightful salad has quickly become a favorite of mine and whoever ends up trying it. So many friends have requested the recipe and I'm really excited that it is finally ready to share! While it's not a difficult recipe, I wanted to make sure I was sharing the most flavor-packed version, which is part of the reason it took me so long to get it up.
It all starts out with this amazing basil lemon dressing that is so, SO good I just want to drink it. Fresh basil is blended with parsley, lemon juice, honey, dijon mustard and olive oil for a truly mouthwatering combination.
Then, and this is the most important part, instead of just cooking the couscous in water as is normally done, I soak it in the dressing until it's soft and fluffy and infused with as much flavor as possible.
O. M. G.
I could eat the couscous just like that and be happy.
And of course, you totally can too ;).
BUT!!!! I have a way to make it taste even better!
The Basil Couscous is so good, you won't even think it possible, but trust me, it becomes even more addictive. To make the salad, the basil-infused couscous is tossed with baby arugula, red onion, some basil and parsley. This lovely mix is topped with toasted almonds, golden raisins, and mini heirloom tomatoes making every bite a party in your mouth.
I love the crunch and nuttiness that comes from the toasted almonds. Pair that with the sweetness and chew of the raisins and you already have a great textural combination that plays so well with the couscous. The sharpness from the arugula and the red onion come in and complete the bite. Initially, I would make this salad without the tomatoes. While still great, I found that I love the burst of freshness and color that comes from the mini heirlooms. Basically, this salad is so well-rounded and it doesn't even need cheese or a protein to make it one of the most satisfying salads you can have.
Try it out and see for yourself!
Basil Couscous Salad with Arugula and Mini Heirloom Tomatoes
2017-10-10 16:12:06
Serves 4
Basil-infused couscous, arugula, mini heirloom tomatoes, toasted almonds and golden raisins come together to make this super satisfying, flavor packed Basil Couscous Salad.
For the Basil Dressing
3/4 cup Lemon Juice
3/4 cup Fresh Basil
1/4 cup Parsley
2 tbsp Dijon Mustard
2 tbsp Honey
1 - 1 1/2 tsp Sea Salt
1 - 1 1/2 tsp Pepper
1/2 cup Olive Oil
For the Couscous
1 - 1 1/4 cup Basil Dressing
1 cup Couscous
To Assemble*
2 cups Baby Arugula
1 cup Mini Heirloom Tomatoes, halved
1/2 cup Slivered Almonds, toasted
1/2 cup Golden Raisins
1/4 cup diced Red Onion or Shallots
1/4 cup Parlsey, roughly chopped
1/4 cup Basil, roughly chopped
For the Basil Dressing
In a blender or using a large jar and hand blender, blend all the ingredients except the olive oil until combined.
With the blender still running, stream in the olive oil until the dressing comes together.
For the Couscous
Stir the couscous and 1 to 1 1/4 cup of the dressing together until all the couscous is saturated with dressing. Set aside for about 15-20 minutes to allow the couscous to soak up the dressing and become soft and fluffy. Fluff with a fork as needed. Quick Note: I usually start off with one cup of the dressing, then add more as needed. You don't want the couscous to be too soggy and you can always add more dressing to the final salad if need be.
To Assemble
Toss the prepared couscous with the remaining salad ingredients. Adjust salt to taste and dress with remaining dressing as needed. Enjoy!
Notes
*As with any dish, and specifically salads, you can add as much or as little of the salad ingredients as you like. What I'm sharing is an approximation of how much I like to use.
à la Susu http://alasusu.com/