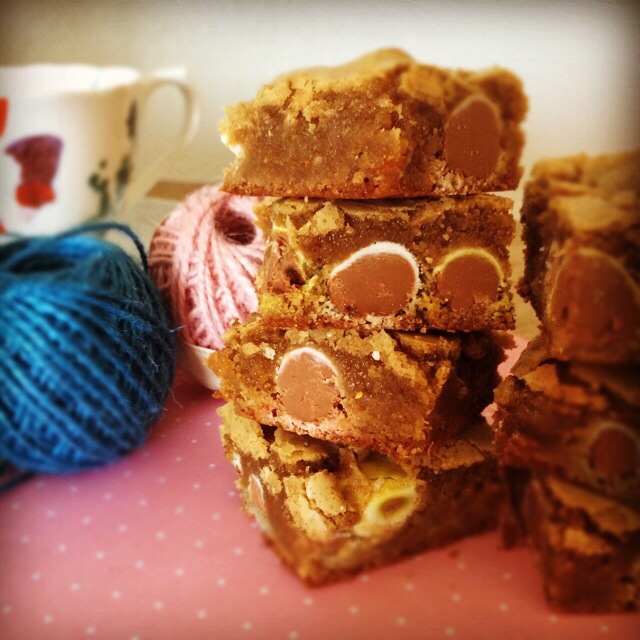 You've never had Blondies like this before!!
They are a beautifully luscious combination of some of my favorite dessert ingredients that you just can't go wrong with. The salted caramel notes from the brown butter playing with the luscious Cadbury chocolate flavor from the Mini Eggs is PHENOMENAL!
I will tell you that I have an obsession with those little nuggets of goodness known as Mini Eggs, but you don't even need to be a fan of them to love these Blondies. You can add any mix in you like to the delicious caramel-y base in place of the chocolate eggs, or even along with them.
Chocolate chips, nuts, dried fruit, sprinkles, the possibilities are endless, making this recipe the perfect base for all your Blondie cravings!

I hope you find these delightful blondies as scrumptious as I did!
Salted Brown Butter & Cadbury Egg Blondies
1 13×9-inch Pan
1 1/2 cups Flour
1 tsp Baking Powder
1/2 tsp Sea Salt
3/4 cup Salted Butter
1 1/2 cups Light Brown Sugar
2 Eggs
2 tsp Vanilla
3/4 to 1 cup Cadbury Mini Eggs, whole or crushed
Preheat oven to 350 degrees. Line a 13×9 inch pan with parchment paper and butter the bottom and sides.
Whisk together flour, baking powder, and salt, set aside.
Melt butter in a sauce pan on medium heat and allow to brown, being careful not to burn. It will foam and become fragrant.
Add the brown sugar and whisk to dissolve. Transfer to a bowl and let it cool.
Add the eggs and vanilla and beat until combined.
Whisk in the prepared flour mixture.
Fold in the Cadbury Mini Eggs.
Pour into the prepared pan and spread evenly. You can sprinkle some more mini eggs over the top if you like.
Bake for about 25 minutes or until toothpick inserted in center comes out clean. Do not overtake.
Allow to cool, cut and enjoy!
Check out our fun recipe video on Instagram @a.la.susu!