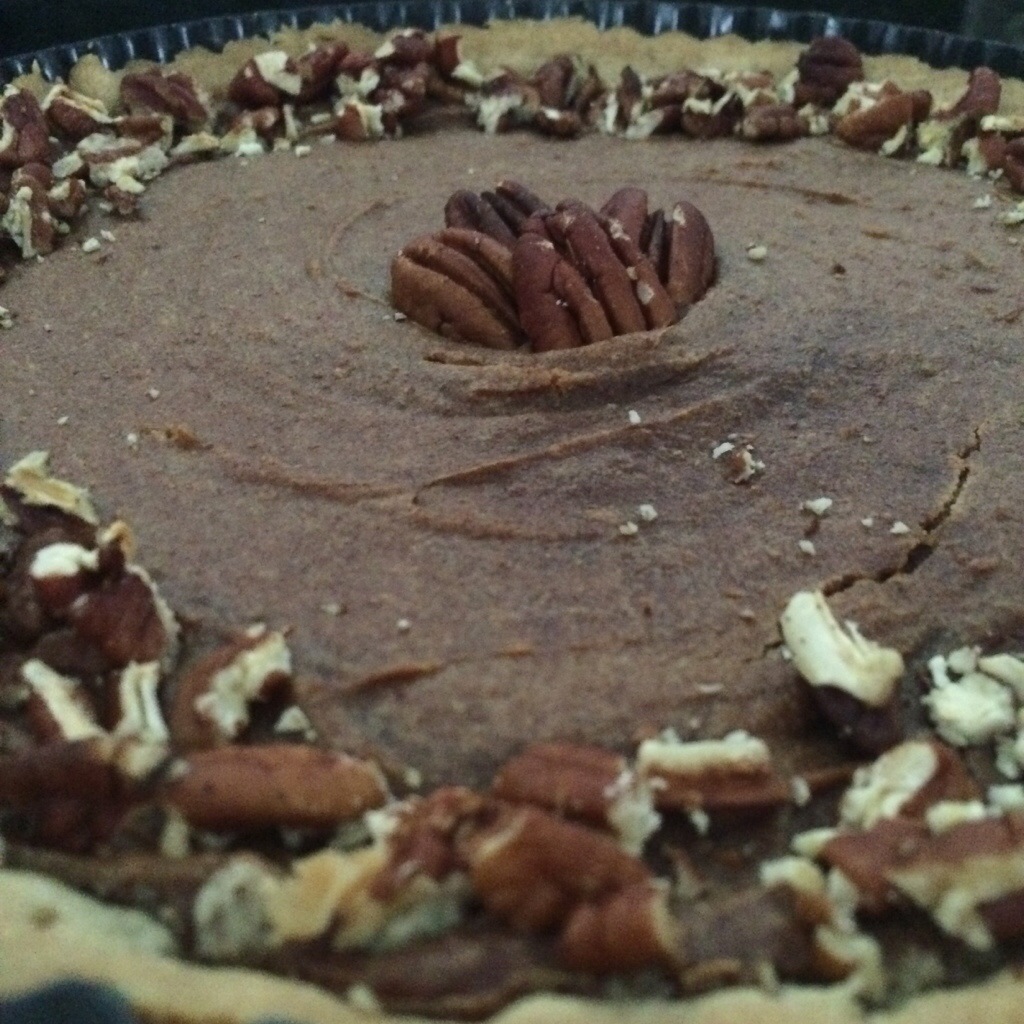 I grew up on dates (the edible ones of course) and really appreciate all the different varieties out there. From the large, soft Medjools to the chewy, candy-like Ajwas (my favorites) to the drier, caramel colored Sukkaries, each has it's own, unique appeal. Although in the Mideast they have been a staple for thousands of years, they have gained popularity in the states over the past few decades and in the last few years have become famous for their superfood qualities.
Dates on their own are delicious, but when you start experimenting with them in desserts, the possibilities are endless! Many times, you won't even need to add sugar because they bring enough natural sweetness which ends up simplifying the process… Who would say no to that?
This tart is especially simple with a crust that you just press into the pan, and only two necessary ingredients for the filling: Dates and Cream. I love cardamom and even more, love how it pairs with dates so I like to add cardamom to the crust and the filling. It's subtle, but adds a pleasant depth of flavor to the tart, which I favor. I've made the tart with a thick shortbread cookie crust and a generous but thin layer of filling. It mimics the ratio of a good Ma'mool Cookie where there is neither too much dough nor too much filling.
It's important to note that for this recipe I use a thickened, canned cream by PUCK which is a product of Denmark. There are similar thickened cream products by Nestle and Carnation which I have not tried yet but will update on their appropriateness when I do try them out. I usually get this cream from Middle Eastern Markets, but it can be found on Amazon here.

Lastly, I made this for a dinner party and wasn't able to take a perfect shot of the finished product, but hope this is tempting enough ;).
Cardamom Date Tart
Crust
1 1/2 cups Flour
1/2 cup Sugar
1/4 tsp Salt
1 tsp Cardamom
3/4 cup Butter, cubed
Filling
1 cup Medjool Dates, pitted
1 6-oz can Puck Cream
1 tsp Cardamom
1/4 cup Pecans for garnish
Heat oven to 350 F.
For the crust, whisk together the flour, sugar, salt and cardamom. Add in the cold, cubed butter and with a fork (or your fingers) pinch together until it begins to form a dough. This can be done in a food processer, pulsing a few times until the dough comes together.
Using a 10″ nonstick tart pan with removable bottom, press the dough into the bottom and up the sides of the pan until it is even. You can also roll out the dough to form a disk that will fit more evenly into the pan, then transfer and even out the edges. Using a fork, pierce the bottom and sides of the dough to prevent it from bubbling while baking.
Place the tart pan in the freezer for about 10 minutes before baking so the dough firms up. Bake for about 20 minutes or until golden brown. Remove from the oven and allow to cool slightly.
Meanwhile prepare the filling. In a food processor, process the dates until they form a paste. Add the cream and cardamom, if using and blend until smooth. Pour into prepared crust and spread evenly. Garnish with pecans if desired. Return the tart to the oven and bake an additional 15-20 minutes, until the filling is set.
If you would like the tart to have a deeper color, put it under the broiler for a few minutes watching it carefully. Remove from the oven and cool to room temperature.
Serve with fresh whipped cream and enjoy!