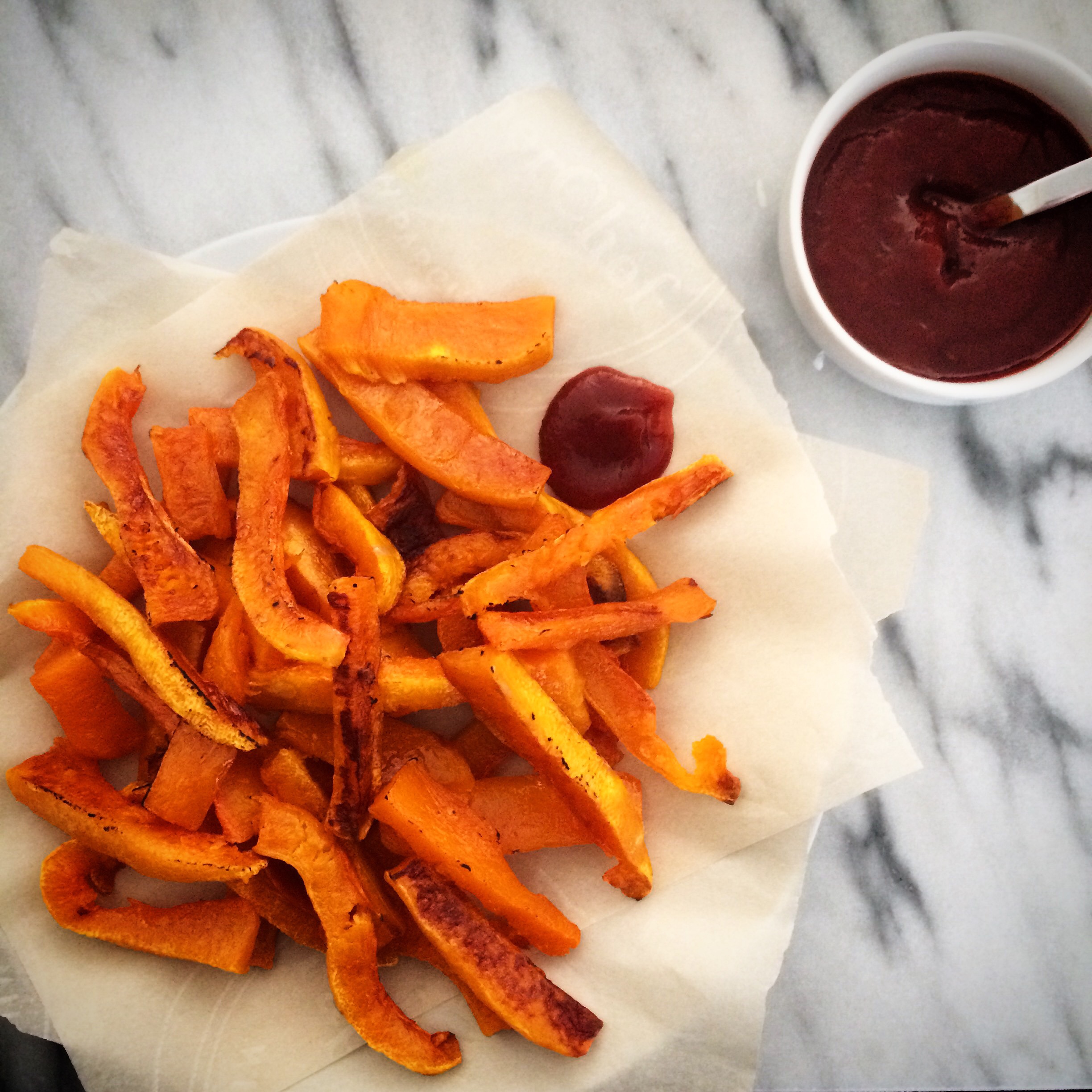 I made these butternut squash fries for the first time a few years ago, and every time I come back to them, I'm always surprised by how much my husband and I love them!


They're simple, healthy, and delicious, so there isn't much not to like about them. You get the sweetness of the squash, a bit of starchiness to mimic potato fries, and yet they are still light because they don't absorb tons of oil as you would get from frying. I paired them with a quick Chipotle Honey Ketchup, and the combination was addicting.


It's a great time to try these fries out as butternut squash is a winter squash, and although you can probably find it year round, it is currently at its peak. Roasting is typical of butternut squash and really brings out its sweet flavor, but cutting it into the thin, elongated shape of fries makes it the perfect size for dipping into your preferred condiment.


Don't take my word for it, try it for yourself and be surprised :).
Baked Butternut Squash Fries
3-4 Servings
1 Butternut Squash
1 tbsp Olive Oil
Sea Salt
Preheat oven to 425° F.
Peel the squash and cut off both ends. Cut into quarters (one cut widthwise and one cut lengthwise) and deseed. I did this because it was easier for me to cut the butternut squash in half widthwise first and then in half lengthwise. This also made the pieces the length I wanted for the fries.
Cut into French fry shaped pieces. Drizzle with olive oil and sprinkle with salt, then toss to coat. Arrange on a nonstick baking sheet in one layer (you do not need parchment paper).
Bake for about 35-40 minutes, depending on the size of your pieces, gently flipping halfway through the baking process.
Remove from oven* and allow to cool slightly. Serve with the chipotle honey ketchup and enjoy!
*They are also delicious with some freshly grated Parmesan grated over the top as soon as they come out of the oven. Yum!!