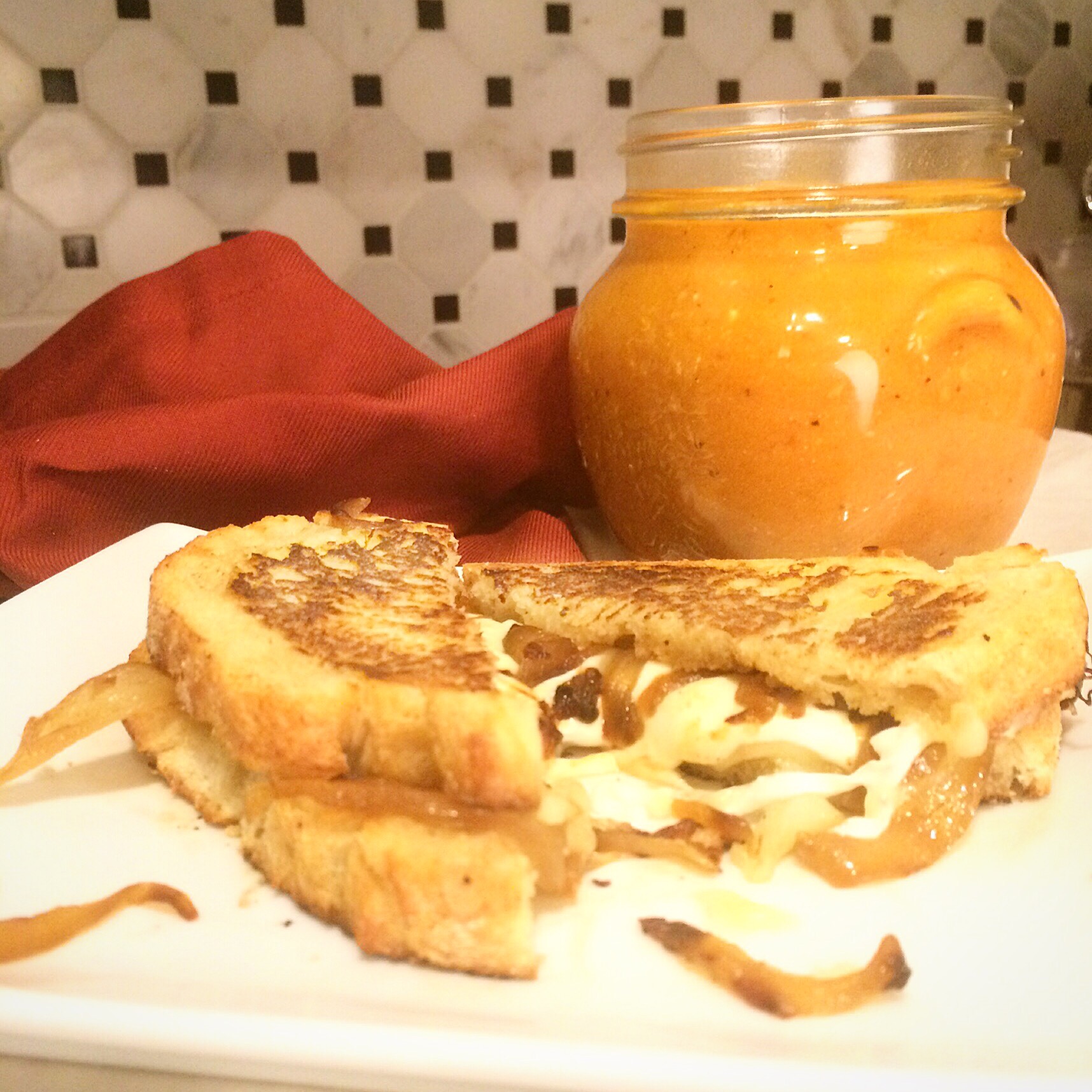 I have for you a Roasted Garlic & Tomato Soup with Creamy Goat Cheese and a crispy, melty Grilled Cheese of White Cheddar, Fresh Mozarella & Caramelized Onions .
Did you just fall in love?
Instantly, right?
See, exactly what I promised.
This recipe came about as a result of a special request from a fellow Susu and dear friend, The Aristochick (follow her on Instagram @aristochick for stunning style tips that are easy to implement and will benefit even the blandest wardrobes, #SusuFash). One of her favorite winter treats is a delicious grilled cheese and tomato soup and she messaged me asking for a unique combo, à la Susu, for these cooler winter days. Caramelized onions and a hearty, chewy bread were her only criteria. I got super excited about this request and may have gone a little overboard, but I hope she's getting more than she bargained for.
For the soup, I started out with caramelizing the onions until they were golden and jammy. Half of the caramelized onions were used for the soup, and the other half for the grilled cheese (my mouth is watering just writing about all this… Eeek!). During that time, I took huge, ugly ripe tomatoes and large, aromatic cloves of garlic and roasted those until they were charred and mellow.
Once they were ready, I added the garlic and tomatoes to the onions along with water, some oregano, crushed red pepper and of course, sea salt. After the base reached a boil, I pureed everything together and added fresh, tangy goat cheese to melt into it all and cream it up a bit. Oh, and don't forget the fresh chives and goat cheese crumbles to top it all off…
Am I allowed to geek out over all the flavors going on right now?! #SorryNotSorry
And if you thought this couldn't get any better, you were wrong because the grilled cheese ended up being the PERFECT compliment to this bowl of deliciousness. I used a crusty Italian loaf that I sliced up at home and almost took off a finger for. It was definintely worth it though. Seriously.
I buttered both sides of the bread with slightly salted butter and once I grilled off the inside, topped the slices with aged white cheddar, fresh mozzarella (for that extra melty, stringy affect) and the caramelized onions and let all those flavors marry and be happy.
I'll stop rambling now and just give you the recipe. I think you'll be very satisfied. And once you've filled up on soup and sandwiches, you can thank The Aristochick ?.
Roasted Garlic Tomato Soup with Goat Cheese and Caramelized Onion Grilled Cheese
4 Servings (2 if you're like me ?)
For the Soup
1 large Onion (1lb), sliced (about 4 1/2 cups)
1 tsp Butter
1 tsp Olive Oil
2 large Ugly Ripe Tomatoes (2lbs), about 4 regular tomatoes
5 large Garlic Cloves, peeled
Olive Oil
1 tsp Oregano
1/2-1 tsp Crushed Red Pepper
3 cups Water
4 oz Fresh Goat Cheese*
Sea Salt
Black Pepper
Fresh Chives & Goat Cheese Crumbles for garnish
For the Grilled Cheese
Salted Butter, at room temperature
8 1/4-in slices of a Crusty Italian Bread
4 slices Aged White Cheddar
4 thin slices Fresh Mozzarella
1/2 of the Caramelized Onions from above
Preheat oven to 425°F.
Start by caramelizing the onions. In a stock pot with a large surface area, heat the tsp of butter and tsp of olive oil over medium-low heat. Add the sliced onions and stir occasionally. It will take about 40-45 minutes for the onions to become jammy and caramelize completely. Once the onions have caramelized, set aside half of them for the grilled cheese sandwiches.
Meanwhile, roast the tomato and garlic. Line a baking sheet with foil. Stem the tomatoes for easier handling once they're roasted. Drizzle the tomatoes and garlic cloves with olive oil and a sprinkle of salt and pepper. Roast in preheated oven until the tomatoes have charred and the garlic is golden brown, about 30-35 minutes.
Once the onions, tomatoes, and garlic are ready, add the tomatoes and garlic to the pot with the onions. Get all the yummy juices and oils from the foil into the pot as well. Turn your heat setting to medium, and crush the tomato and garlic using a wooden spoon. Add the oregano, crushed red pepper, and salt and pepper to taste (I used about 1 tsp each). Stir for 1-2 minutes to combine and get the juices from the tomatoes flowing.
Add the water, increase heat to high and bring the base to a boil. Once the soup has reached a boil, adjust heat to low and purée using a hand blender
until smooth. Add the goat cheese and stir until smooth and creamy.
To serve, top with the fresh chives and crumbles of goat cheese.
For the grilled cheese, heat a skillet over medium heat. Start by spreading a thin layer of butter onto each side of the toast. Grill one side until it begins to crisp up and brown. Flip over and add a layer of aged white cheddar, a thin layer of mozzarella, and a tablespoon or so of the caramelized onions. Top with the grilled side of the second slice of bread and heat until golden brown. Flip over and grill the other side until golden brown and the cheeses have melted.
Serve with the tomato soup and enjoy!
*Note: Some of you may not like the flavor of goat cheese, but you can definitely still enjoy this delicious soup. Simply swap out the goat cheese with 1/4 cup heavy cream or to slightly tone down the goat cheese flavor, use 2 oz of goat cheese and 2 tablespoons of heavy cream.
If you have any special recipe requests you would like to see "à la Susu," you can submit them in the comments below, by emailing me through the contact me page or on Instagram. Looking forward to hearing your ideas!
Related Links
Special Tools
Cuisinart Smart Stick Immersion Blender
– One of my favorite and most useful kitchen tools! It makes puréeing soups and sauces fun, quick and easy without the hassle of a stand blender. This one
is great and comes with a whisk and chopper attachment that are also very useful.