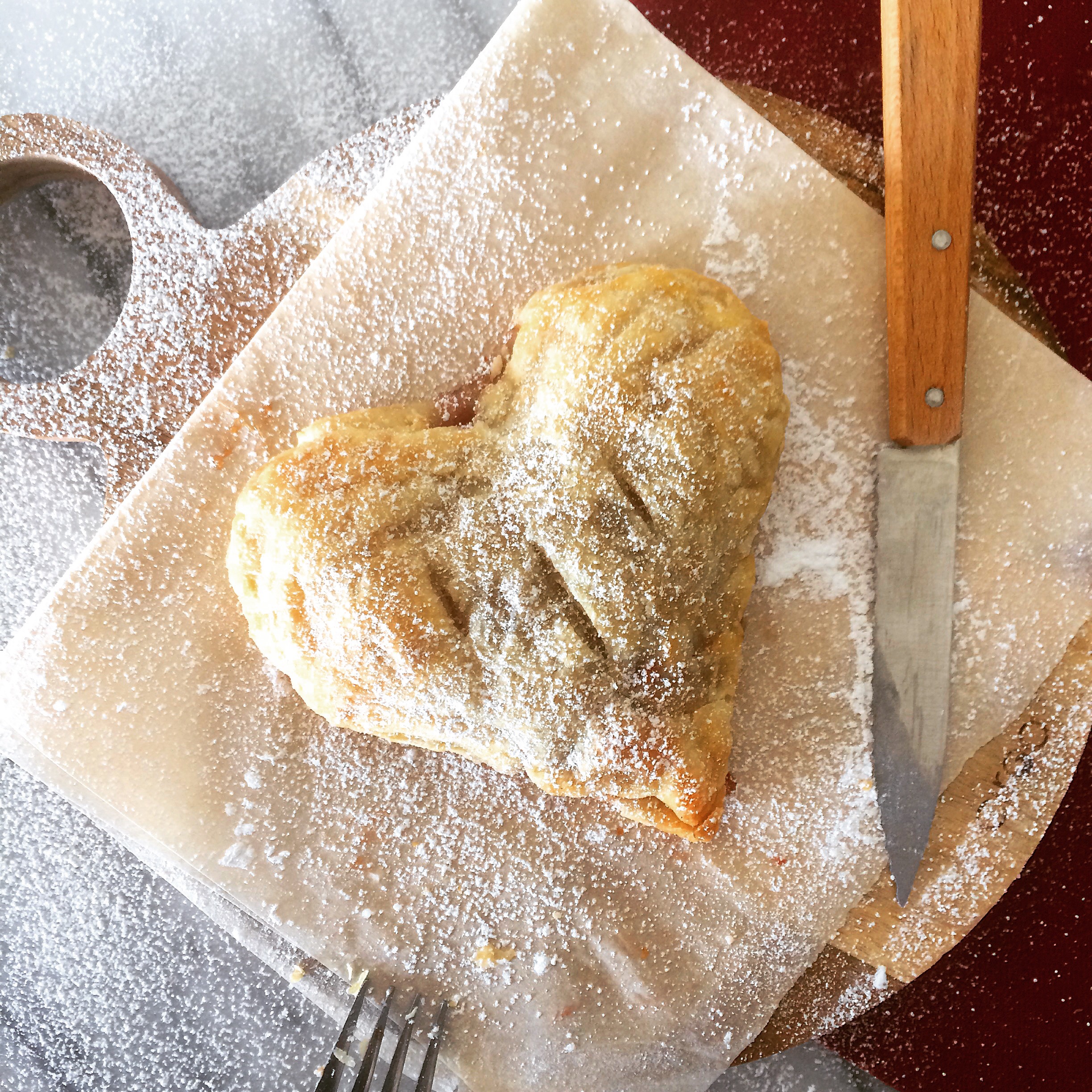 For today's monthly brunch, I have a simple breakfast pastry that my husband and I love. Puff pastry, jam, ricotta cheese, and a quick prep are all you need to enjoy it yourself!
I can't ignore that today is Valentine's Day and for that reason, I chose to go with heart shapes for these delicious pastries. I usually prepare them as triangles, turnover style, but really, it's up to you what shape you make them.
These were a result of one of those times that I went into my kitchen and came up with a treat based on what I had on hand, and now they're a sweet treat we look forward to for breakfast and even as a quick dessert. The ricotta cheese with the jam is the perfect balance of creaminess and sweetness with the flaky puff pastry being a great vessel for it all.
Just try them once, and I'm sure they will become a go-to for breakfasts, brunches and dessert!
Strawberry Ricotta Pastries
4 Heart, 8 Triangle Pastries
1 17.3 oz package Puff Pastry (2 sheets)
1/4 -1/2 cup Strawberry Jam, or your favorite flavor
1/4 – 1/2 cup Ricotta Cheese
Preheat oven to 350 F and line a baking sheet with parchment paper.
Using a paper towel or dish towel, pat the ricotta cheese to remove excess water.
For heart shaped pastries, use a cookie cutter or stencil to cut out hearts about 4 inches wide. Each sheet will make four hearts, you will need one heart for the bottom and one for the top, therefore one sheet will make two pastries.
Lay four heart shaped pieces on your prepared baking sheet. Spread 1 heaping tablespoon onto the puff pastry leaving a bit of an edge. Top with one heaping tablespoon of jam and spread to cover the ricotta. If you would like a sweeter pastry, use a bit more jam.
Top with the heart shaped puff pastry and press the edges to seal tightly. Score the top with three slits to allow steam to escape.
Bake in preheated oven for about 20-25 minutes or until golden brown.
Dust with powdered sugar, serve warm and enjoy!
For turnover style pastries, cut each sheet of puff pastry into four sheets, you will get 8 pieces from 2 sheets. Place the ricotta and jam diagonally on one half of the sheet, leaving a small border. Fold one half over the other and pinch to seal. Score the top and bake as above.
These can be made with any size or shape of puff pastry, just make sure to adjust the amount of ricotta and jam according to the size. Also, any flavor of jam or preserves can be substituted for the strawberry jam. Get creative with it and share you're creations on Facebook or Instagram!