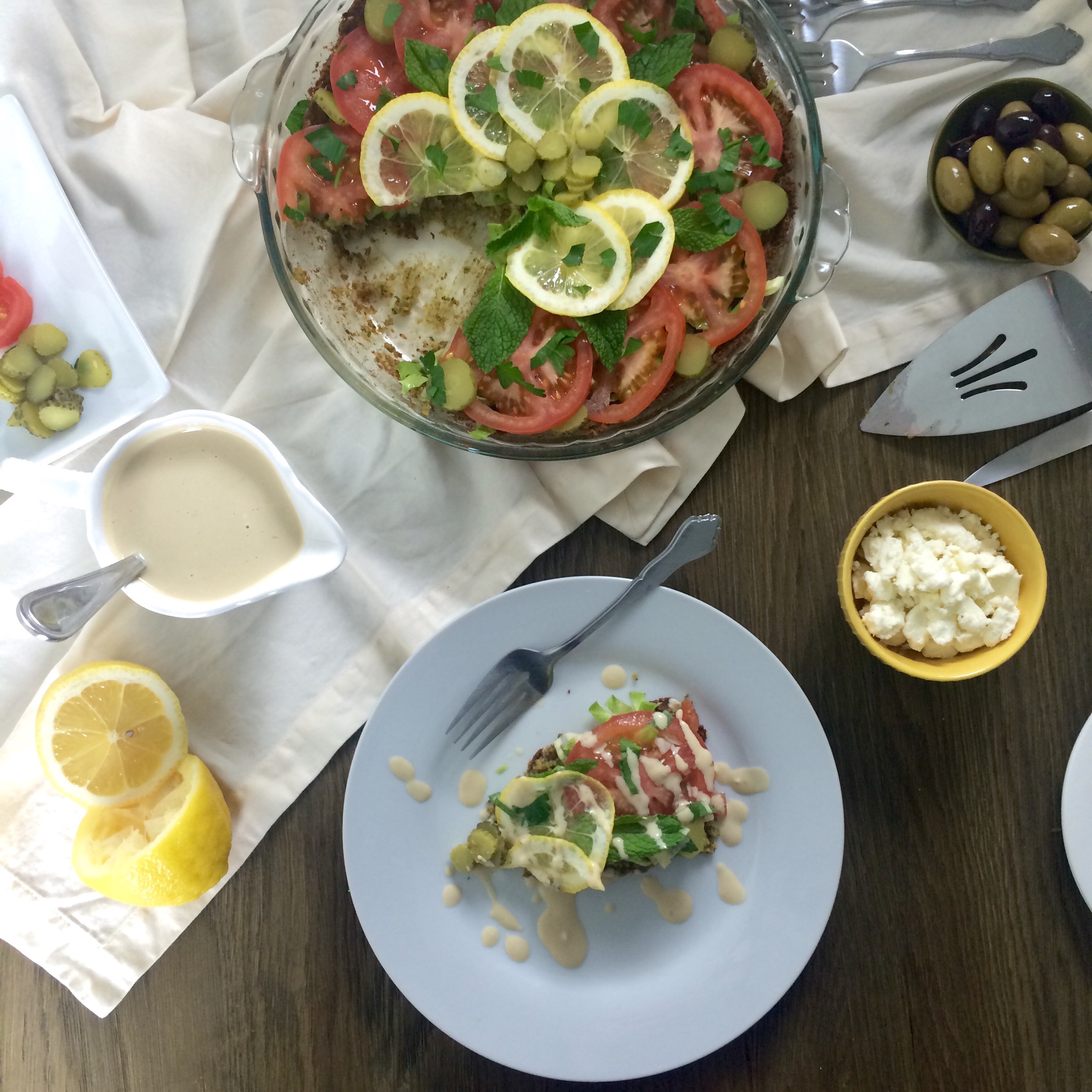 Last month's monthly brunch fell on Valentine's Day and for this month it falls on March 14 also known as 3.14 also known as Pi Day (which we all know is really Pie Day… A day dedicated to eating delicious pies).
Had it not been a Monthly Brunch day, I would have definitely gone the dessert route for the Pi Day post, but I felt brunch was calling for something savory this time and that lead to this flavorful Falafel Pie.
I had seen similar ideas floating around the internet but a lot of them were made using falafel mixes and topped with hummus which I knew could definitely be improved upon. I decided to go the 'from scratch' route (which is surprisingly SO simple and worth the extra few steps!!) as well as keeping it traditional to Syria in flavors and toppings.
For the falafel "crust" I stuck to traditional flavors and seasoned the ground chick peas with fresh cilantro and parsley, onion, garlic and a mix of spices. The dough came together in just a few minutes in the food processor and then I simply pressed it into a pie pan coated with olive oil and baked it.
Once baked, the falafel crust was topped with fresh veggies, herbs and a homemade tahini sauce, and the flavors were spot on! I will say that if you're looking for authentic, crispy falafel, this isn't quite the recipe for that, but if you're looking for a healthy, flavorful dish that tastes exactly like the fried nuggets, then you'll love this simple take on the popular Middle Eastern classic.
Falafel Pie
6 Servings
Crust
1 cup roughly chopped Onion
1-2 cloves Garlic
1/4 tsp Cayenne Pepper (optional)
Tahini Sauce
1/4 cup Tahini
2 tbsp Water
2 tbsp Lemon Juice
2 tbsp Yogurt
1 small clove Garlic (optional)
1/2 tsp Pomegranate Molasses (optional)
Salt to taste
Toppings
1 1/2 cups Shredded Lettuce
1 large Tomato, thinly sliced
1 Lemon, very thinly sliced
Pickles, Parsley, MintPreheat oven to 375°F and grease a 9.5 inch pie pan with olive oil.
Rinse and drain the chick peas then set aside.
In the bowl of your food processor, pulse all the ingredients for the crust except for the chick peas, olive oil and baking soda until finely chopped, about 15-20 pulses. Add the chick peas, olive oil and baking soda then pulse until everything comes together. Adjust salt to taste if needed.
Press the falafel dough into the prepared pie plate. For this, I used paper towels to absorb the excess water and form the dough up the sides of the pan. You will need to switch out the paper towel for a new one a few times until the dough holds its shape and is fairly dry to the touch.
Bake in preheated oven for about 35-40 minutes, until a toothpick inserted in the center comes out clean.
While the crust is baking, prepare the Tahini Sauce. Whisk together the tahini, water and lemon juice until smooth. Add in the yogurt, garlic and pomegranate molasses, then season with salt to taste, whisking to combine.
Once the crust has baked, allow it to cool slightly then top with the shredded lettuce, spreading it evenly over the crust (this will act as a barrier between the crust and the juicier toppings). Decorate with the remaining toppings as desired. Serve the pie with a drizzle of Tahini sauce and enjoy!