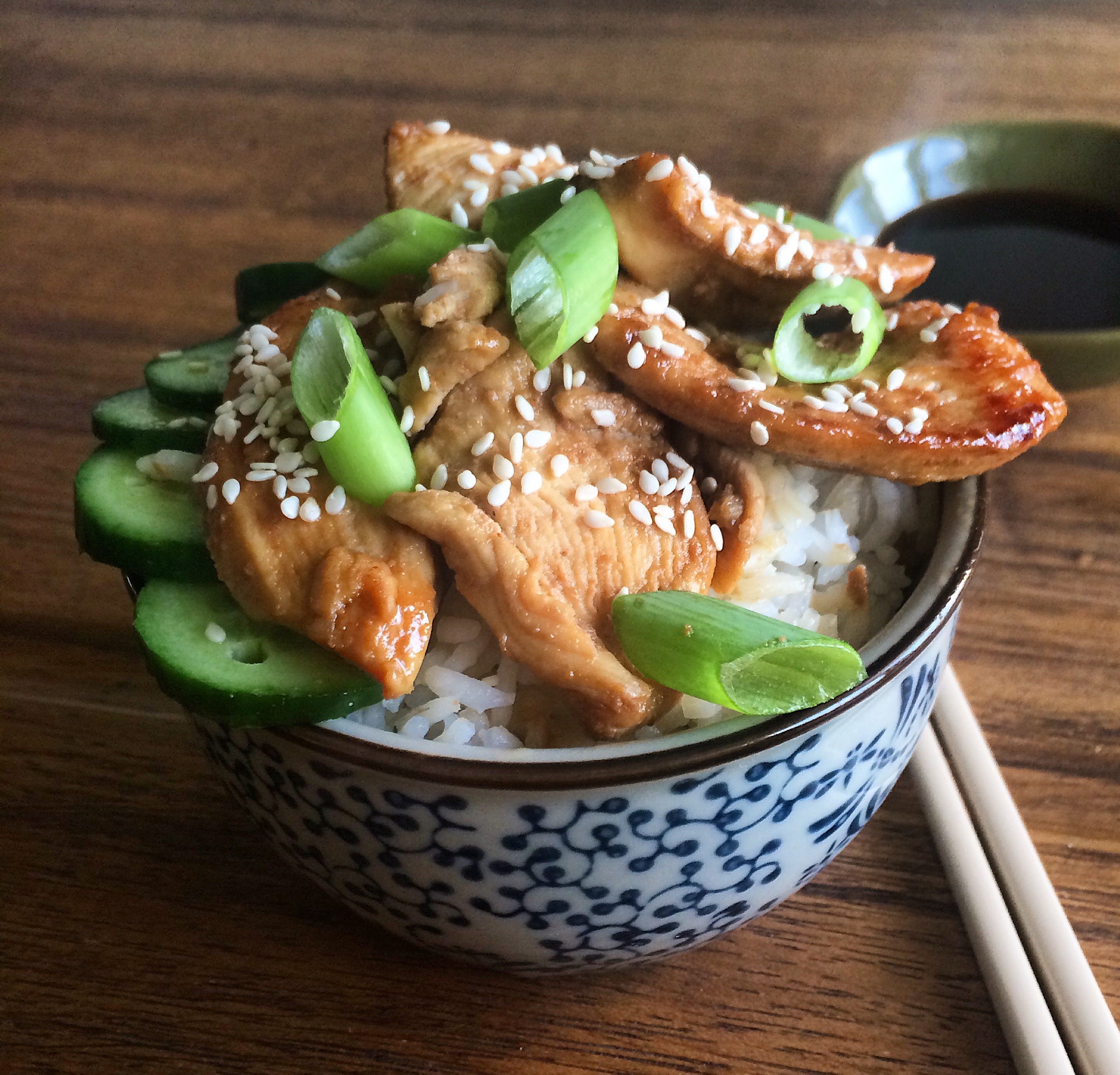 I came about this recipe one night when I needed a quick dinner and didn't want to pull out too many ingredients. It ended up being so good and since the first time I made it, we've had it for dinner every other night….
That means we've had it on three different nights this week alone! Why do I keep coming back to it? It's super easy, requires ingredients I pretty much always have on hand, is healthy and fairly light and sooooo yummy!
All you need for the marinade is soy sauce, rice wine vinegar and some sugar. Toss in the chicken breast and let it sit for about 20 minutes to marinate and absorb all the delicious flavors. Meanwhile I start cooking the rice and by the time that's ready, I sauté the chicken and I'm all set! A delicious, flavorful meal ready in under 30 minutes.
I top the chicken with sesame seeds and sliced scallions and like serving it with thin slices of cucumber for a bit of freshness. (Is the cucumber a weird addition??) Obviously, you can add any vegetables you like to this, but I'm really loving the refreshing contrast of the crunchy cucumber with the chicken and rice dipped in a bit of extra soy sauce.
The chicken itself can be served with noodles, grilled vegetables, in a sandwich, on an Asian inspired pizza or atop a simple tossed salad (with cucumbers of course??) if you want to change things up a bit. As always, it's up to you what you enjoy it with.
Once you try this and see how simple and delicious it is, it will become a go-to on those nights when you want a satisfying dinner without too much effort.
Simple Teriyaki Chicken with Steamed Rice
2-3 Servings
For the Chicken
2 Chicken Breasts, thinly sliced
2 tbsp Soy Sauce
2 tbsp Rice Wine Vinegar
2 tsp Sugar
Sesame Oil
Sesame Seeds, for garnish
For the Rice
1 cup White Rice
1 tsp Sea Salt
1 1/4 cup Water
For Serving
Cucumber, thinly sliced (or vegetables of choice)
Scallions, sliced
In a medium bowl, whisk together the soy sauce, vinegar, and sugar. Add the thinly sliced chicken breast and toss to coat with the marinade. Allow to marinate for about 20 minutes.
Meanwhile, in a pot with a fitted lid, bring the rice, water and salt to a boil. Cover and reduce the heat to low, allowing the water to simmer. Cook for about 15 minutes or until the rice is tender. Remove from heat and allow the rice to sit covered for 5 more minutes to continue steaming.
In a skillet, heat a teaspoon or two of sesame oil. Add the chicken along with the marinade and cook over medium heat until the chicken is cooked through and the sauce has caramelized on the chicken.
Plate the chicken over the rice and sprinkle with sesame seeds and scallions. Serve with the sliced cucumbers and some soy sauce and enjoy!