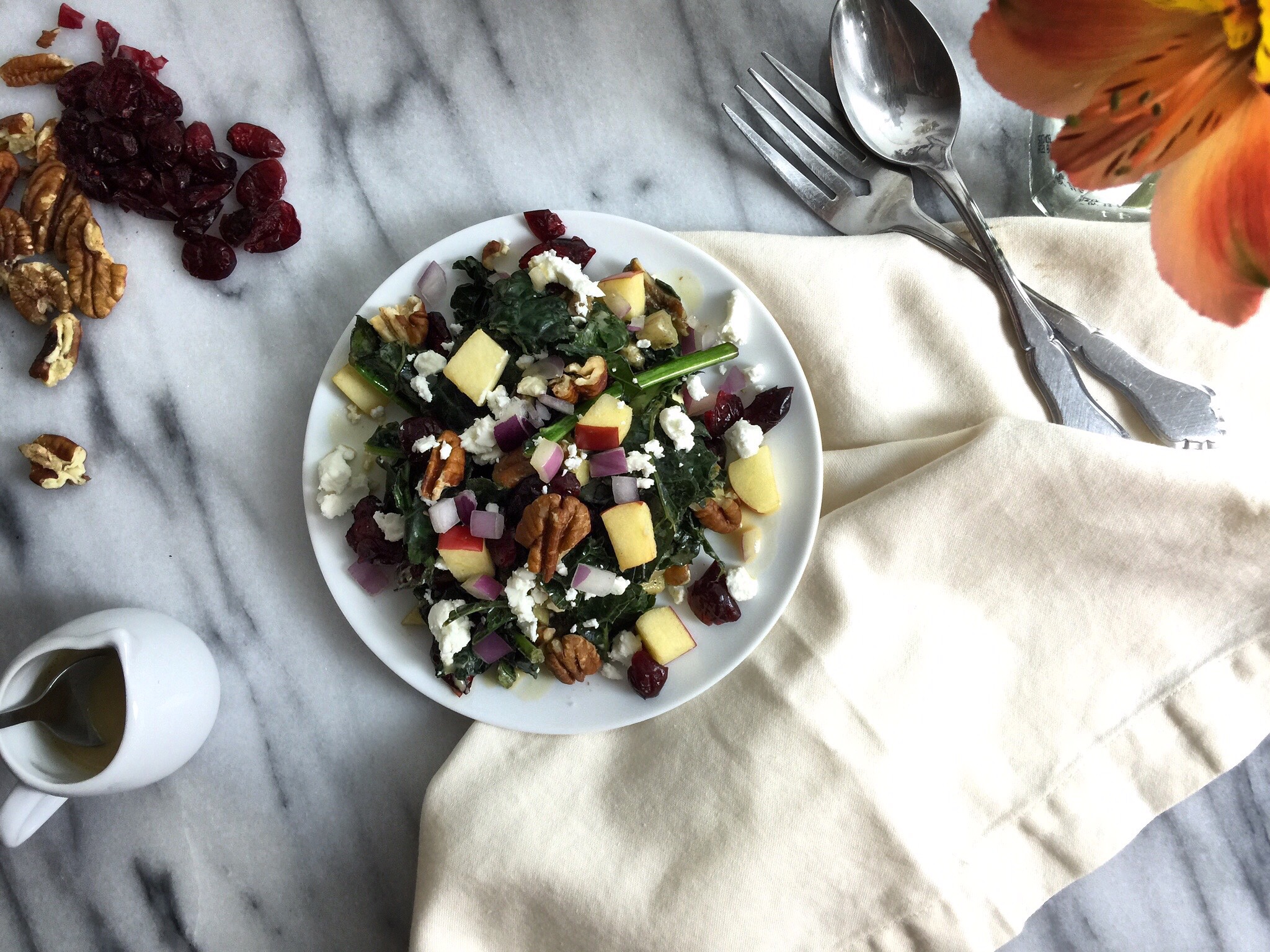 It's the first day of fall and what better way to celebrate it than with this kale salad all fallish and delicious?!
I mean, I guess we could celebrate with my Brown Butter Pumpkin Chocolate Chip Cookies or this Dark Chocolate Espresso Pumpkin Bread Pudding  (WHAT?!!)  or a Butternut Squash Lasagna, but I thought we were trying to be healthy.
And I don't want to be an enabler of unhealthy tendencies for people with no self control (a.k.a. me). At least not right now.
The first time I made this salad I had some kale in the fridge and as I  started adding flavors, it began whispering fall. By the end it had dried cranberries, diced apples, and pecans and I couldn't stop thinking about pumpkins and Thanksgiving and pies and just all things fall. (There's no pumpkin in the salad, but it still reminded me of them.) (Now I want something pumpkin-y).
This salad became a favorite pretty quickly around here…
I only had to have one bite to fall in love with it!
That's actually not very surprising because I haven't met a salad I didn't like, BUTTTT for my husband to love it right off the bat is a different story. I kind of don't blame him though with all the yummy  things coming to play here. You have the sturdy kale leaves with a slight bitterness, the dried cranberries for tartness, diced apples for freshness and a bit of sweetness, and nutty pecans for crunch. The spice from the red onion and the Dijon mustard dressing complement all those flavors and then to take it to the next level, the tang and creaminess of the goat cheese.
Yup.
It's pretty amazing and oh so fall-y!!
A Fall-y Kale Salad
2-3 Servings
6.5 oz Kale, roughly chopped (about 3-31/2 cups)
1 tbsp Olive Oil
2-3 tbsp diced Red Onion
1/2 cup Dried Cranberries
1 medium Apple, diced (1 cup)
1/2 cup Pecans, chopped
1-2 tbsp Dijon Mustard
2 tbsp Red Wine Vinegar
2 tbsp Orange Juice
2 tbsp Goat Cheese
Salt & Pepper
In a medium bowl, massage the kale with the olive oil and some salt and pepper. Add the red onion, cranberries, apples, and pecans and toss to combine.
In a small bowl, whisk the Dijon mustard, red wine vinegar and orange juice until combined. For the Dijon, I like to use 2 tablespoons, but I recommend adding it to taste.
Toss the salad with the dressing and season with salt and pepper to taste. Allow to sit for 5-10 minutes.
Crumble the goat cheese on top and enjoy!