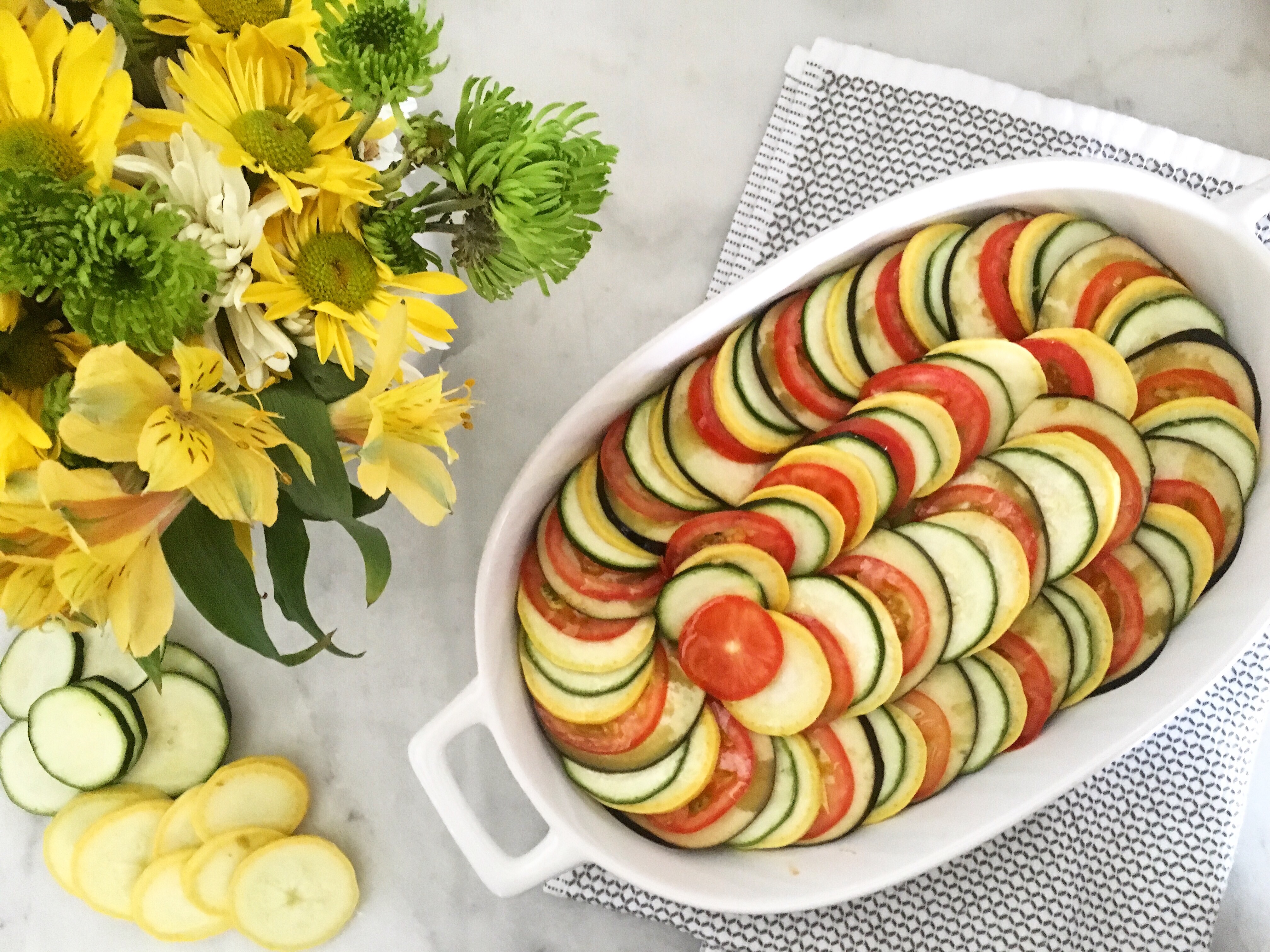 I can confidently say my favorite subject in high school was French. I had the most amazing teacher all four years (Hi Mme. Charles!!), awesome classmates and LOTS of fun throughout. While I love so many things about the French language itself and would have enjoyed learning it no matter what, I think Mme. Charles was 90% of the reason we all loved her specific class so much. I still remember walking into her 6th period French I class on my first day of Freshman year of high school after a draining day and actually not wanting it to end! She was always so creative and made learning a new language one of the best experiences of my high school career.
Loving the language, the instructor and my fellow French class classmates, I obviously joined French club and one of our activities was a day of French cooking. On the menu was Coq au Vin, Ratatouille, and Chocolate Mousse, all of which we prepared. We split up into groups and I was in the Ratatouille group. I was a bit apprehensive at first because this was during the period I was converting from hating eggplants, to tolerating them (and eventually, absolutely loving them) and the star of this dish was the eggplant. We chopped and sauteed and seasoned and simmered the ratatouille and ended up with a delicious stew of tomatoes, eggplant, zucchini, onions, garlic and herbs.
We served it with fresh baguettes and from the first bite, I fell in love. It reminded me so much of a Syrian dish my mom would make in which a similar set of ingredients was cooked together in the oven.
When the movie Ratatouille came out, I thought the concept was just so adorable despite my dislike/fear of the little creatures, especially in relation to food. Recently my husband and I re-watched part of it and got the urge to make our own version of Ratatouille's Ratatouille. A quick search proved how simple it was, and after finding the right veggies, into the kitchen we went.
We loved the results so much, we ended up making the dish three different times in one week! The flavors of the vegetables all complimented each other and thinly slicing them made the whole dish so perfectly delicate. It's light and satisfying, and goes well as a side dish to any protein, and depending on how hungry you are, can even stand on it's own.
It is a really simple dish with the most time consuming portion being the layering of the veggies which I actually found to be a bit therapeutic. It may require a bit of patience but is by no means difficult. I also made this as a side dish for a lunch I was hosting, and ended up prepping it the night before. The day of, I drizzled it with some olive oil and seasoned with a bit of rosemary, salt and pepper, then popped it into the oven, making it a perfect prep ahead dish for any occasion. It is incredibly customizeable so feel free to use my recipe as inspiration. I'd love to hear your thoughts and takes on this hearty, satisfying dish, so please do share!
Confit Bayaldi - A Layered Ratatouille
2016-03-31 13:30:58
Ratatouille Style Ratatouille - A delicate, flavorful version of a French favorite.
For Layering
1 small Eggplant (chinese variety will give you a long thin one)
1 Yellow or Green squash
1 Zucchini
3-4 Roma Tomatoes
Fresh Rosemary
Olive Oil
Salt and Pepper
For the Puree
Olive Oil
1 small Onion, roughly chopped
1-2 cloves Garlic, roughly chopped
1 Tomato, roughly chopped
1 Red Bell Pepper, de-seeded & roughly chopped
Vegetable scraps from layering portion
1 tbsp Fresh Rosemary
1 tbsp Parsley
1 tsp dried Thyme
Crusher Red Pepper to taste, optional
Salt and Pepper
For Layering
Choose the eggplant, squash zucchini and tomato so that they are relatively close in diameter, about 1 1/2 - 2 inch). For the eggplant, squash and zucchini, you will need them to be about 9-10 inches long, or you could get a few shorter ones.
Using a mandolin, thinly slice the vegetables to form little disks. We found that the eggplant and tomato were a bit difficult to do with the mandolin so we did those with a knife. Reserve the scraps for the puree. You will need about 3/4 of each vegetable for the layering portion for a 9 1/2-inch pie dish or a 12x8 inch oval casserole dish.
For the Puree
Saute the onion in a tablespoon or two of olive oil for 3-5 minutes, until soft.
Add the bell pepper, tomatoes, garlic, vegetable scraps and herbs. Season with salt and pepper and cook another 7-10 minutes until the vegetables are cooked through.
Blend the vegetables using a hand or stand blender, adding water 1/4 cup at a time as needed to make a thick, smooth puree. Adjust salt and pepper to taste.
To Assemble
Preheat oven to 350°F.
In an ovenproof dish of your choice*, spread a thin layer of the puree** all over the bottom, making sure to cover it all without it being too thick.
Start layering the sliced vegetables in a shingle pattern, alternating between the eggplant, squash, zucchini and tomato and layering it so that most of the slice underneath is covered (as pictured). We found that tighter layering gave it a much prettier appearance.
Continue until the whole surface of your baking dish is covered.
Drizzle with some olive oil, and season with salt and pepper. Sprinkle some fresh chopped rosemary or your choice of fresh herb over the top.
Cut a sheet of parchment paper to fit your baking dish adding a steam vent in the center. Cover the ratatouille with the parchment paper and bake in the preheated oven for an hour and a half (90 mins).
Serve with a fresh baguette and enjoy!
Notes
*You can make this in any size baking dish. The vegetable amount above will be enough for one 9 1/2 inch pie plate, a 12x8 inch casserole dish or anything in that vicinity. To use a larger dish, simply double the vegetables called for in the layering portion and you will have enough of the puree for that. The recipe as is will make enough puree for about 3-4 portions. I usually estimate how much of the vegetable disks I will need by roughly placing them in the baking dish then using the extra trimmings for the puree.
**You will have extra puree left over. I usually make a delicious soup with the puree by adding water or broth to desired consistency. Season with herbs, salt and pepper to taste, then add a bit of sour cream or yogurt to give it a touch of creaminess. Its delicious with a bit of spice to it as well which can be achieved by adding a splash of your favorite hot sauce, some cayenne pepper or red pepper paste. I just keep tweaking it to my liking :).
Adapted from Remy
à la Susu http://alasusu.com/
P.S. Each time I've made this, I haven't been able to get a proper after baking picture because we end up diving into it so quickly! I'll definitely try to get one and share it soon :).