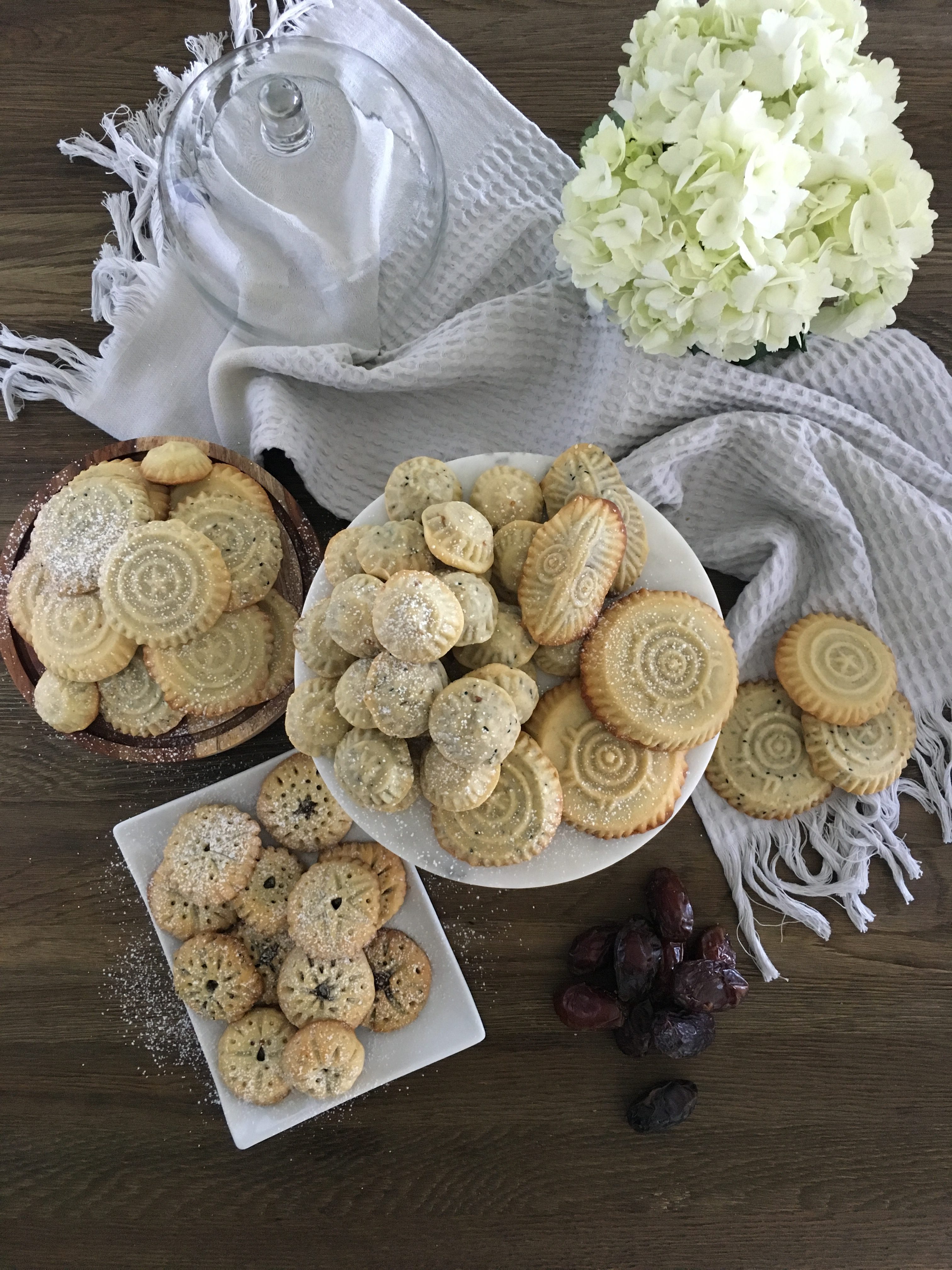 Eid is only a few days away! I say this every year, but man did Ramadan fly by this year. It seems like every time it comes around, the month is racing by even faster than the year before. There's always a certain sadness that comes with the end of this blessed month of fasting, like saying good bye to a dear friend.
The exciting part is that now we have Eid to look forward to and lots and lots of Maamoul!
Maamoul is a traditional holiday cookie for Muslims and Christians all over the Middle East. It is made of an orange blossom scented,shortbread type dough that is stuffed with a variety of fillings. I think it's safe to say the three most popular fillings are date, also known as Ajwa, walnut and pistachio, the most widely common one being date Maamoul. There are SO MANY variations of the dough and fillings out there, but when you see those beautifully shaped, sugar dusted cookies, you know it's going to be delicious.
Growing up, we knew Eid was right around the corner when my mom would start preparing the dough for these delicious cookies and that was always exciting. The best part (aside from eating them of course!) was when all the fillings and the dough would be ready and we would get to form the Maamoul. As with the variations in doughs and fillings, there are so many ways to form them. In our house, it was always done using a Maamoul mold. My mom had specific molds for each of the three fillings. A round, thinner one for the date Maamoul, an oval one for the walnut stuffed Maamoul and a deeper round mold for the pistachio ones. We would roll the dough into balls, stuff them with the filling, and press them into the hand carved, wooden molds. The whole reason we would want to help is for the last bit, when you flip the mold over and tap it on the counter to release the beautifully shaped cookie. The Maamoul always looked so pretty lined up on the baking sheets ready to go into the oven.
You definitely don't need a Maamoul mold to form the cookies. Sometimes, special pastry pinchers are used to crimp the dough after it has been stuffed, for those that want to add their own personal, creative touch. The Maamoul can also be formed freehand and kept plain or you can add designs using the tines of a fork, a knife, toothpicks, whatever you feel will give it the look you're going for. There is no right or wrong way to shape Maamoul, and I think what makes it so special is that each cookie is a bit unique and has its beautiful imperfections.
The recipe I am sharing with you is an adaptation from my mom's Maamoul recipe. I love hers so much but I had to majorly scale down the recipe since hers made enough cookies for an army ?. I also tweaked it slightly to make the recipe a little simpler and to form a bit of a sturdier dough by adding semolina, and the results are just as amazing. It took me three attempts to finally get the right texture in the dough and then another few attempts to make sure the success wasn't just a fluke, but hopefully my testing will give you delicious Maamoul on your first try. I stuck to just a date filling this time, but if you have a favorite filling, it can definitely be used as well.
Continue your family's tradition or start your own with these delicious Date Maamoul cookies that can be enjoyed any time of year!
P.S. Thanks to everyone who requested these and motivated me to finally get the recipe up!
Date Maamoul
2017-06-23 08:51:11
A Middle Eastern Holiday staple, these date stuffed, orange blossom scented, shortbread cookies are one that should make your holiday baking list!
For the Dough
1 cup All-Purpose Flour
1 cup Wondra Quick Mixing Flour*
1 cup Semolina Flour (Fine Semolina)
1-1 1/2 cups Powdered Sugar
1 tsp Mahlab (optional)
1/2 cup Butter, at room temperature
1/2 cup Ghee
1/4 cup Orange Blossom Water**
1 tsp Yeast
1 tsp Sugar
2 tbsp Warm Water
For the Date Filling
2 packed cups Medjool Dates, pitted (about 40 Dates)
1/2 cup Butter
2 tsp Cardamom (optional)
For the Dough
In a large bowl sift the flour, wondra, semolina, powdered sugar and mahlab and whisk to combine.
Add the softened butter and ghee. Mix everything together gently with your fingers to form a crumb.
Sprinkle the orange blossom water and continue to mix the dough with your fingers keeping it crumbly but well combined. Cover and let the mixture rest for 4-6 hours.
Once the dough has rested, dissolve the teaspoon of yeast and sugar in 2 tbsp warm water and let sit for 10 mins to activate.
Sprinkle over the crumb mixture and mix again with your finger tips, keeping the mixture crumbly. Cover and let sit at least 1 more hour.
After the mixture has rested, knead together a few times to form a dough. It will come together quickly at this point.
For the Date Filling
In a medium pot, heat the butter and dates, stirring and slightly mashing with a wooden spoon, until the dates begin to soften, about 5-10 minutes.
Transfer to a food processor along with the cardamom ,if using, and blend to form a paste. Transfer to a bowl and allow to cool.
To Form the Maamoul
Preheat oven to 350°F.
Roll the dough into balls by the tablespoon. This recipe will form about 30-32 tablespoon size balls.
Roll the date paste into balls, about the size of two teaspoons. This amount will form about 40 2-tsp size date balls. I found that the ratio of 1 tbsp size dough and 2 tsp size filling worked well for me in a medium size Maamoul mold. You can adjust to your liking and your specific mold or shaping process as this varies greatly.
Flatten out a ball of dough slightly and place a date ball in the center. Wrap the dough around the filling and roll to form a smooth ball.
Press into the maamoul mold or shape using desired method. If using a mold, tap to release and place the cookies on a baking sheet.
Bake in preheated oven for 10-15 mins, watching carefully! Baking time greatly depends on your oven and the size of your cookies. I had variations in baking times in my own oven ranging from 8 minutes, up to 16 minutes so be sure to watch the Maamoul as it bakes so as not to overbake them. They are ready once the tops barely start to turn a light golden color.
Remove from oven and allow to cool.
Dust with powdered sugar if desired and enjoy!
The cookies keep well in an airtight container for up to one month.
Notes
*Wondra can be found in a blue can in the flour section of most big box grocers.
**You can also use a mixture of Orange Blossom and Rose water if desired equal to 1/4 cup. It is possible to substitute water, but that will take away the unique Maamoul flavor.
I used salted butter, but either salted or unsalted works fine.
I like my Maamoul to have a pronounced sweetness, you can cut the sugar to anything between 1and 1 1/2 cups based on your liking. I personally prefer 1 1/2 cups :).
Any leftover dough or filling can be wrapped up tightly and refrigerated for up to a month.
Watch your Maamoul in the oven carefully!!
The amount of Maamoul this recipe makes varies depending on the size and shape of your mold. You may get more or less based on what you choose to use it with.
Variation
Stir 2 tbsp Black Seed, 2 tbsp Sesame Seed, 1 tsp fennel, 1 tsp anise and 1/4 tsp ground cardamom into the flour mixture for a flavorful and crunchy twist!
Adapted from My Mama's Amazing Maamoul
Adapted from My Mama's Amazing Maamoul
à la Susu http://alasusu.com/