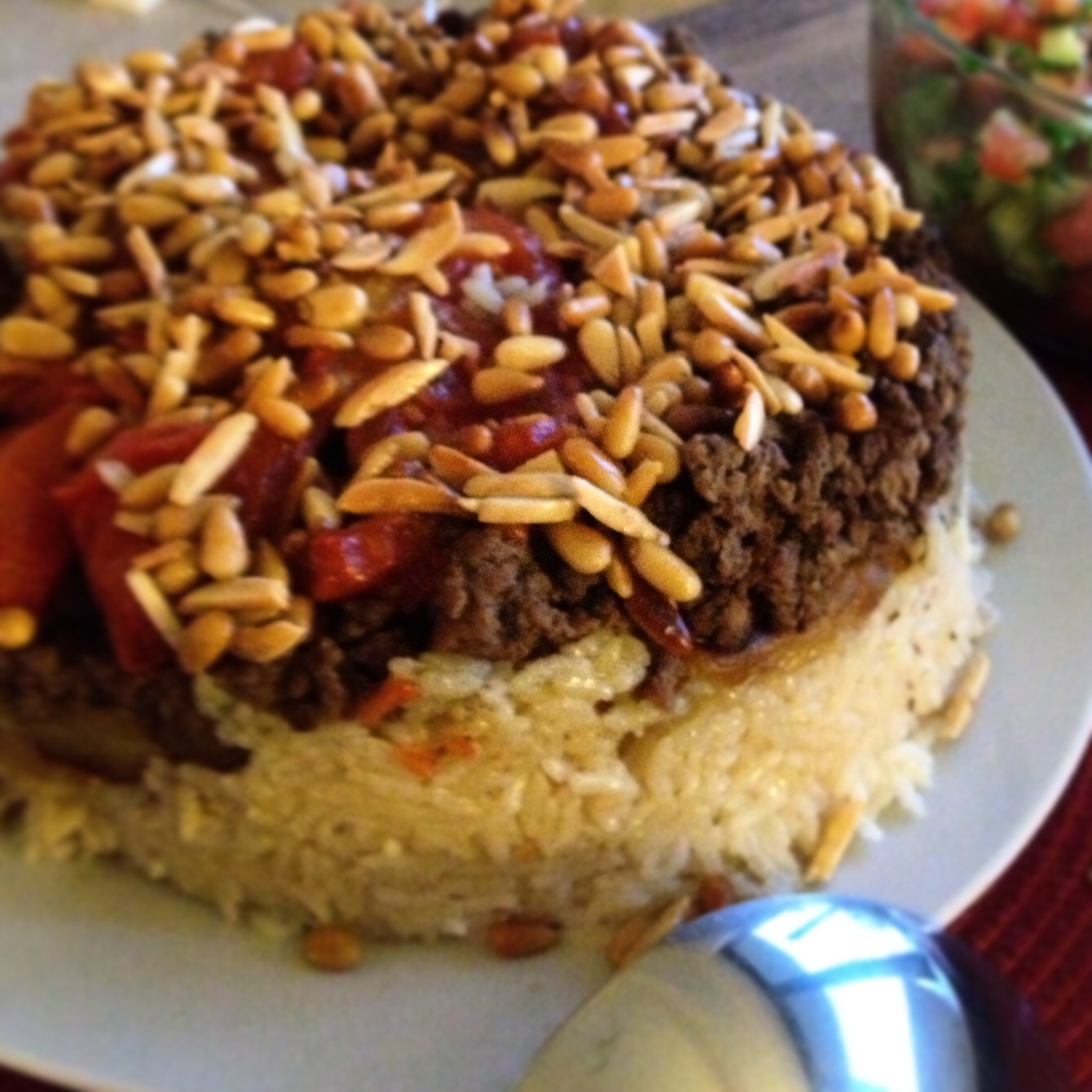 Ma'louba is a traditional Middle Eastern dish that literally means "flipped" or "upside down."
The ingredients are layered in a pot and cooked without stirring. It gets its name from the last step before serving when you flip the whole pot over onto a flat plate and slowly pull up the pot to reveal a beautiful "cake" of rice, meat and vegetables that's topped with toasted almonds and pine nuts… AMAZING!!
There are many different variations using different vegetable and meat combinations throughout the Arab world but the Syrian version (possibly the best version ?) is just eggplants, meat, and rice. I like to use slices of bell pepper and tomato, something my mama always does, to add a bit of flavor, but also prevent the meat from over browning and sticking to the bottom of the pot.
When I want a quick meal on a weeknight that will be ready in about an hour, I opt for the ground beef version (hence the "easy") as the ground beef cooks in just a few minutes and then you're ready to start layering.
For more formal dinners, and traditionally, Ma'louba is made with slices of ribeye or your favorite cut of beef or lamb, that are cooked until tender beforehand.
As for the eggplant, pretty much any type of eggplant can be used. I like slicing mine into rounds, but they can also be sliced lengthwise. You start off by sautéing the eggplant in enough oil or butter to cook it through to the point where it begins to brown and melts in your mouth.
It's so sweet and buttery, you'll have to stop yourself from eating them all up before you're ready to layer.
To cook the Ma'louba you will need a sauté pan with a lid. A sauté pan has straight sides, and is usually a bit deeper, which allows for layering and gives you that cake look once you flip it over. For a comparison on skillets vs sauté pans, check out this article by The Kitchn.
I have used many different pot sizes and the dish can easily be adjusted for them, just make sure you're using one with straight sides. You also don't want one that is too deep so that when you flip it over, it keeps it's shape.
Once you have soaked the rice, cooked your meat and sautéed the eggplant, you can begin with layering.
If you have never had Ma'louba before, please give it a try. You will not be disappointed. Growing up I was not a fan of eggplant, but this dish is what made me fall in love with it. It's one of my husband's favorites that we can't go too long without having!
I usually try not to use too many pictures as sometimes it may be cumbersome to get to the actual recipe but for those who have never made it, I felt a step-by-step visual would be helpful on this post.
Easy Eggplant Ma'louba
About 6 Servings
2 large Eggplants, peeled and sliced into 1/2 inch rounds or slices
1 1/3- 1 1/2 lb Ground Beef
1 large Green Bell Pepper, sliced
2-3 large Tomatoes, sliced
1 1/2 cup Calrose Rice*
1 1/2 cups Water
1 tsp Allspice (optional)
Salt & Pepper
1/4 cup Slivered Almonds, sautéed
1/4 cup Pine Nuts, sautéed
These measurements were cooked in a 5-qt sauté pan that is 3 1/2-in deep and 11-in in diameter.**
Start by rinsing and soaking the rice for at least 15 minutes. I usually let it soak while I prep the rest of the ingredients.
Heat about 1 tablespoon of oil and 1/2 tablespoon of butter in your sauté pan. Add the eggplant and sprinkle with a bit of salt. Cook the eggplants until they are tender, flipping halfway to brown both sides and adding a bit of oil as needed. The eggplant will absorb the oil but will also let some out towards the end. Remove from pan and set aside. This will take a few batches.
In the same sauté pan, brown the ground beef and season with 1/2 tsp allspice and salt and pepper to taste. I used about 1 1/2 tsp salt and 1 tsp black pepper. Once the ground beef is cooked through, set aside.
Begin layering the ingredients, starting with the bell pepper. Add one layer of sliced tomatoes then sprinkle or arrange the meat evenly over that. Layer the eggplants on top. I usually do two layers of eggplant as a lot of it will cook down and almost dissolve. You can definitely add more if you like. Drain the rice and distribute it evenly over the eggplant.
In a measuring cup, dissolve 1 1/2-2 tsps salt in 1 1/2 cups water. Pour over the Ma'louba. For added flavor, you can also use 1 cup meat broth and 1/2 cup of water, adjusting the salt accordingly depending on the salt level of your broth. Cover and bring it all to a boil. Once it's boiling, reduce the heat to a medium low setting and allow to steam until the rice is cooked through, about 45 minutes. The cooking time depends on the thickness of your dish so check every once in a while to make sure it is cooking properly. Do Not Stir! Fluff the rice with a fork without reaching the eggplant. If you feel the rice needs a bit of salt, sprinkle some over the rice as you fluff it.
While the Ma'louba is cooking, sauté the pine nuts and slivered almonds until golden brown and fragrant. Set aside to garnish after you have flipped the dish.
Once the rice is fully cooked, get a large serving platter that will fit the top of your pot with at least 1-inch of excess. Align it with the pot and flip over as you would a cake. Lift the pot slowly to reveal the Ma'louba. Garnish with the sautéed nuts.
Serve with yogurt and Diced Simple Salad or Yogurt & Cucumber salad. Enjoy!
Notes:
* Calrose rice
is a medium grain rice, and I typically go for medium grain rice even when not using Calrose. Ma'louba can be made with most varieties of rice, but cooking times and water amounts may vary.
**Ma'louba is very versatile and can be adjusted to any pot size. My general rule is 1 layer of sliced bell pepper, 1 layer of sliced tomatoes, 1 layer of meat, seasoned to taste, 2 layers of eggplant, slightly salted, and enough rice to cover the eggplant evenly. For the water or liquid of choice, I use the same amount as rice (ie. 1 cup water for every 1 cup of rice) and about 1 tsp salt for every cup of rice, adjusted to taste.