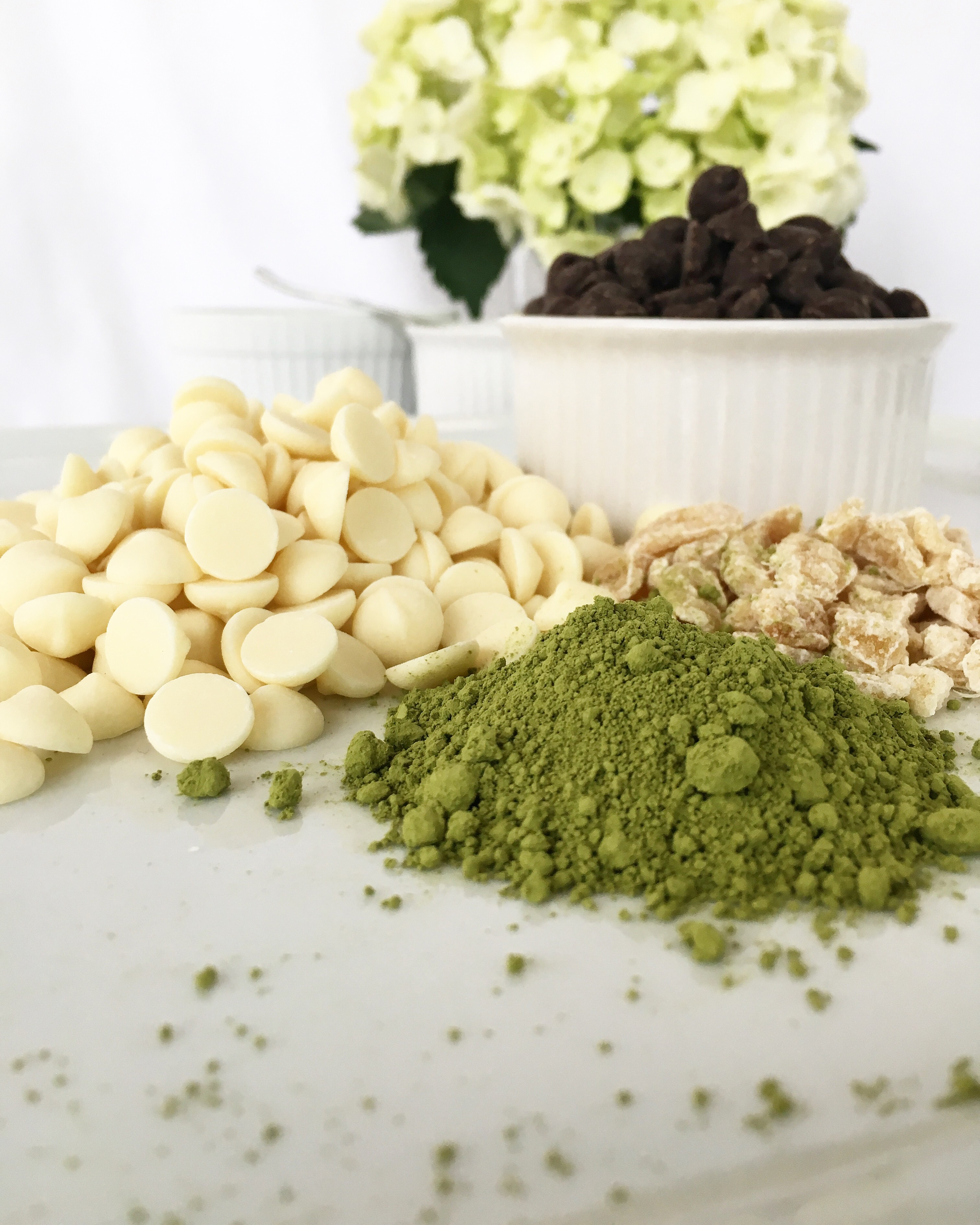 There are so many foods and ingredients that I read about or see on tv or on Instagram or anywhere on the internet, that I start craving right away. Some I end up making myself, some I try at some restaurant or another but so many I just don't get the chance to, whether it's due to accessibility, watching calories ?, or just being too full to enjoy it when I come across it.
Matcha Green Tea has been one of those foods.
I've always loved green tea and green tea desserts, so I knew I would like it, but I hadn't thought that Matcha would be so different from the loose leaf varieties I'd had before. I had heard so many amazing things about this superfood whether it's in drink form, hot or cold, or in desserts. I remember the first time I saw a Matcha whisk, before knowing what it even was and immediately being intrigued by the ingredient. I mean come on, any ingredient that has its own special whisk is going to be one I love…
All that intrigue, but for some reason or another, I never got around to trying it. Because of that, when Tavalon Tea told me they were sending me Matcha Green Tea to experiment with for some recipes, I was so excited and had ideas for what I would do with it running left and right through my head.
When I first opened Tavalon's Matcha package, I was surprised by three things right off the bat. The lovely scent of the Matcha which had sweet and slightly sour notes as well as a deep, green tea aroma which I loved. The second thing that caught my attention was how beautifully fine the powder was, which comes from the great processing technique used by Tavalon Tea. It was silky when I rubbed it between my fingers and so light that little particles floated inside the bag as they settled. The third thing was the vibrant green color of the Matcha. Of course, I had seen matcha products so many times before but seeing that stunning, natural color of the raw powder firsthand gave me a different appreciation for the tea.
I made some Matcha green tea for myself according to the directions, whisked with hot water and sweetened with a touch of sugar and fell in love with this ceremonial version of green tea. I couldn't wait to use it in my first recipe, but choosing which one I wanted to experiment with proved to be harder than I thought. I could just imagine it working so well in so many different desserts. Cookies, cakes, custards, ice creams, candies, tarts and so much more, the flavor just lent itself to versatility.
I was getting ready for a trip to California when I got the idea for this bark. With all the packing and planning, I made it to the store and got the ingredients I needed to try it out and see how I liked it. I made my first batch in between loads of laundry and packing, and just while preparing it, I could tell I already loved it.
The bark is made of three layers of chocolate: dark chocolate, Matcha white chocolate and white chocolate. I went with a combination of dark and white chocolate for this one to balance the sweetness coming from the white chocolate. I paired it with candied ginger to add a bit of spice and because I felt like the ginger would compliment both the chocolate and Matcha flavors. When I made it the first time, I left it at that. I really loved it, but also wanted something more from it. For the next batch, my Mom (who you may already know I think is a culinary genius 😉 ) suggested adding the pretzels to add a bit of saltiness and crunch.
The results?!!
You MUST try it for yourself!
Even my family members who don't like green tea or green tea flavored desserts became addicted to this rendition. The Matcha adds a unique flavor that pairs so well with everything else playing with it in this bark. I loved the Matcha green tea layer so much, I had to stop myself from eating it with a spoon before it set! I was surprised at how easily the Matcha powder "dissolved" into the white chocolate and became one homogeneous, luscious mixture, making this one of those recipes I would make when I want something quick, impressive and satisfying.
Now, you'll find the recipe for this deliciously unique bark down below but before you run off to make it for yourself, Tavalon Tea is offering à la Susu readers 15% off any order using the code ALASUSU at checkout, so make sure you get yours while the offer lasts! They have an amazing variety of quality teas and some which I'll be sharing recipes for as well. Happy reading, shopping and candy making!
Matcha Green Tea Pretzel Bark with Candied Ginger
2016-05-19 15:41:32
A luscious pairing of Tavalon Tea's Matcha Green Tea, white chocolate, dark chocolate, candied ginger and pretzels.
Ingredients
1 cup Dark Chocolate Chips
2 cups White Chocolate Chips, divided
1 tbsp + 1 tsp Tavalon's Matcha Green Tea
3 tsp Coconut Oil
3-4 tbsp Candied Ginger,
15-20 Pretzels
Additional Tavalon Matcha Green Tea for garnish
Instructions
Line a 9x13 inch baking sheet with parchment.
In a heatproof bowl, melt the dark chocolate chips and 1 tsp of coconut oil until smooth over a double boiler or a pot of simmering water (the water should not touch the bottom of the bowl). Pour the melted chocolate onto prepared baking sheet and spread using a spatula into a thin layer to the edges of the parchment. Sprinkle with about 1 tbsp of the candied ginger. Allow to set on your countertop, about 15 minutes.
Once the dark chocolate has set, heat 1 cup of the white chocolate chips with 1 tsp of coconut oil until smooth in a heatproof bowl over the pot of simmering water. Once melted, remove from heat and stir in the Matcha Green Tea powder. I used 1 tbsp + 1 tsp, but this can be adjusted to taste. Pour the Matcha chocolate over the dark chocolate and spread with a spatula to the edges of the dark chocolate. Sprinkle with another tbsp of the candied ginger, if desired. Allow to set on your countertop, about 15 minutes.
Once the Matcha chocolate has set, heat the remaining 1 cup of the white chocolate chips with 1 tsp of coconut oil until smooth in a heatproof bowl over the pot of simmering water. Once melted, remove from heat and stir to cool slightly. Pour the white chocolate over the Matcha chocolate and spread with a spatula to the edges of the Matcha chocolate. Lightly press the pretzels into the white chocolate, just enough to hold them in place. Sprinkle with another tbsp or so of the candied ginger and garnish with a sprinkle of the Matcha powder. Allow to set completely.
Once the bark has cooled, cut or break into desired pieces and enjoy!
Notes
The chocolate can also be melted in the microwave in a microwave safe bowl. Heat for 30 seconds, stir, then heat at 10 second intervals, stirring in between each one until the chocolate is completely melted.
The quality of ingredients for this bark is very important. Along with the Tavalon Matcha Green Tea, I used Guittard dark and white chocolate.
I found that it is best to let the chocolate set on the counter because when I place the bark to set in the refrigerator, the layers separate once you try to break them. Once all the layers are set though, you can store it in the fridge for up to three weeks.
à la Susu http://alasusu.com/