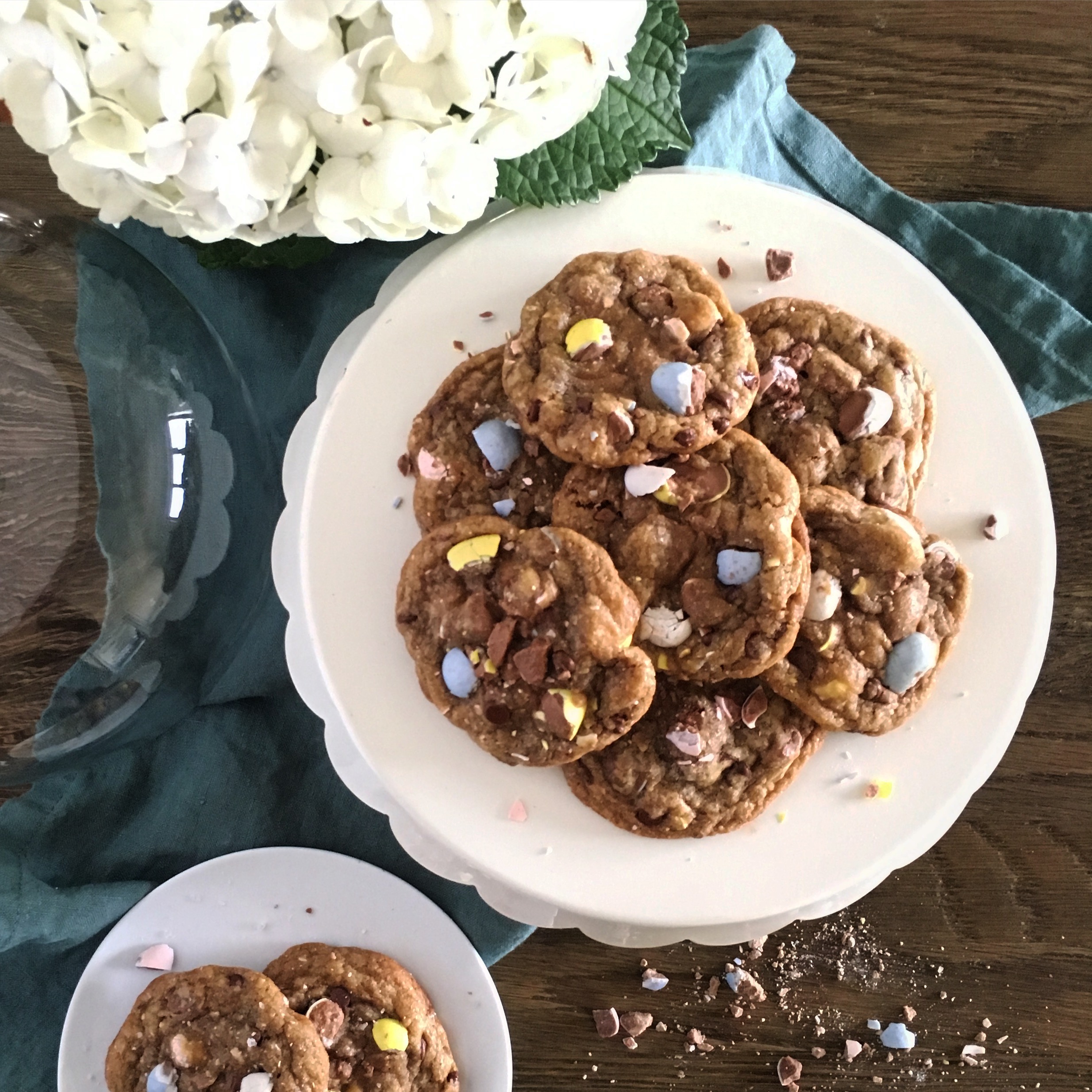 I have an abnormal obsession with Cadbury's Mini Eggs.
Once I open a bag, they seem to keep calling at me until, before I know it or even understand how it happened, they are GONE. This year is an anomaly for me in that the season is almost over, and I only bought 1 bag…ONE!! It was one of the larger bags, but that's still a feat for me. The main reason for that is my "once I start, I can't stop" addiction and trying to control myself before it's too late (anyone else experience that??). I do see a few more bags making their way into the house pretty soon though, because having to wait a WHOLE YEAR to have them again is just too hard to bear. 😉
Another obsession of mine is brown butter, something I have to control myself with year round or I would be having it every other day. The combination of brown butter and Cadbury Minis?? You can imagine what that does to me. It is tried and true (ie: My Salted Brown Butter & Cadbury Egg Blondies from three years ago!!) and even more reason to experiment with the combination. Sometimes you want cookies, sometimes you want blondies, so why not have an option for both??
The base of this cookie is loosely based on the famous Chocolate Chip Cookie recipe from the original, ring-bound, Better Homes and Gardens cookbook, which I have adapted quite a bit over time. It was the first from scratch cookie recipe I ever attempted growing up, and I would always come back to it because of its amazing results. As I played around with it, I found there were certain substitutions and additions I preferred and that resulted in this delicious, addictive, melt-in-your-mouth with a bit of a crunch cookie.
It all starts with some good quality salted butter (always salted in my humble opinion) that gets melted down and brought to a boil until it browns. The process results in a fragrant, slightly nutty butter that you can use in almost anything that calls for butter to add an extra layer and depth of flavor that I find absolutely addictive. I let the browned butter cool to room temperature and then cream it with the brown and granulated sugars before adding the egg and vanilla. Once all those delicious ingredients are playing together happily, I add a bit of sour cream and the dry ingredients and stir it all up until it forms a dough.
At this point, the brown butter cookie dough is ready for any mix-in you might like. I usually use a combination of dark, semi-sweet and milk chocolate here, but for this delicious variation, I crush up the Cadbury Mini Eggs and fold them in with some mini semi-sweet chocolate chips.
aaaaaaahhhhhhhhhhhhhh!!!!!!!!!!!!!!!!!!!!!
This is the most dangerous point in the whole process for me because I can literally eat the whole batch as is. I'm not even joking. I guess I do have some self control which is what gets me to wrap it up and refrigerate the cookie dough for a few hours or even over night. So many sources say this is a must-do for chocolate chip cookies since it allows the flavors to come together even more. I have to say I've tried both, baking right away and waiting a few hours, and both come out amazingly delicious, so I'll leave that part up to you. Sometimes you need your cookies right away, and this recipe works wonderfully for that. And sometimes you want to have the dough ready ahead of time, and this recipe works wonderfully for that as well. 🙂 🙂 🙂
Once they are ready to bake, I drop heaping tablespoons of the dough on a parchment lined baking sheet and sprinkle the cookies with a touch of salt. Since we used salted butter and a bit of salt in the dry ingredients, it may seem like it might be too much, but the salt in the dough just enhances the rest of the flavors and the salt on top adds a lovely contrast to the sweetness of the cookie. Another one of those things that depends on your preference but I really love.
SO! The reason you're here, the final product, are these delicious, brown butter infused chocolate chip cookies that are made even better with the Cadbury milk chocolate and the crunch from the pastel egg shells that I highly recommend you make NOW. You can thank me later. 😉
Cadbury Mini Egg Brown Butter Chocolate Chip Cookies
2017-04-14 12:18:33
A melt-in-your-mouth chocolate chip cookie with a bit of crunch.
Ingredients
1 cup Salted Butter
2 1/2 cups Flour
1 tsp Baking Soda
1/2 tsp Sea Salt
1 cup Brown Sugar
1/2 cup Sugar
2 Eggs
2 tsp Vanilla
2 tbsp Sour Cream*
2 cups Cadbury Mini Eggs, crushed
1 cup Mini Semisweet Chocolate Chips
Instructions
Melt the butter in a sauce pan over medium heat and allow to brown, being careful not to burn. It will foam and become fragrant. Once it has browned, remove from heat and allow to cool to room temperature.
In a bowl, whisk together the flour, baking soda and salt until combined and set aside.
Pour the cooled brown butter into the bowl of your stand mixer. Add the sugars and cream until smooth, about 1-2 minutes
Add the egg and vanilla and beat 1-2 minutes more.
Add the flour mixture and the sour cream and stir on low until the dough comes together, scraping the sides of the bowl as needed.
Stir in the crushed mini eggs and chocolate chips until combined.
You can bake them right away or refrigerate the dough up to 3 days.
When ready to bake, preheat oven to 375°F**.
Measure out one heaping tablespoon per cookie and place them onto a parchment lined baking sheet 2 inches apart. Sprinkle with a bit of course salt if desired.
Bake in preheated oven for 7-9 minutes. Remove from the oven and allow them to cool slightly on the baking sheet.
Serve with a glass of cold milk and enjoy!
Notes
*Yogurt (Regular or Greek) may be substituted for the sour cream.
**You can also bake the cookies at 350°F for 8-10 minutes. This will give a slightly thinner cookie and a different texture but is also so good.
à la Susu http://alasusu.com/