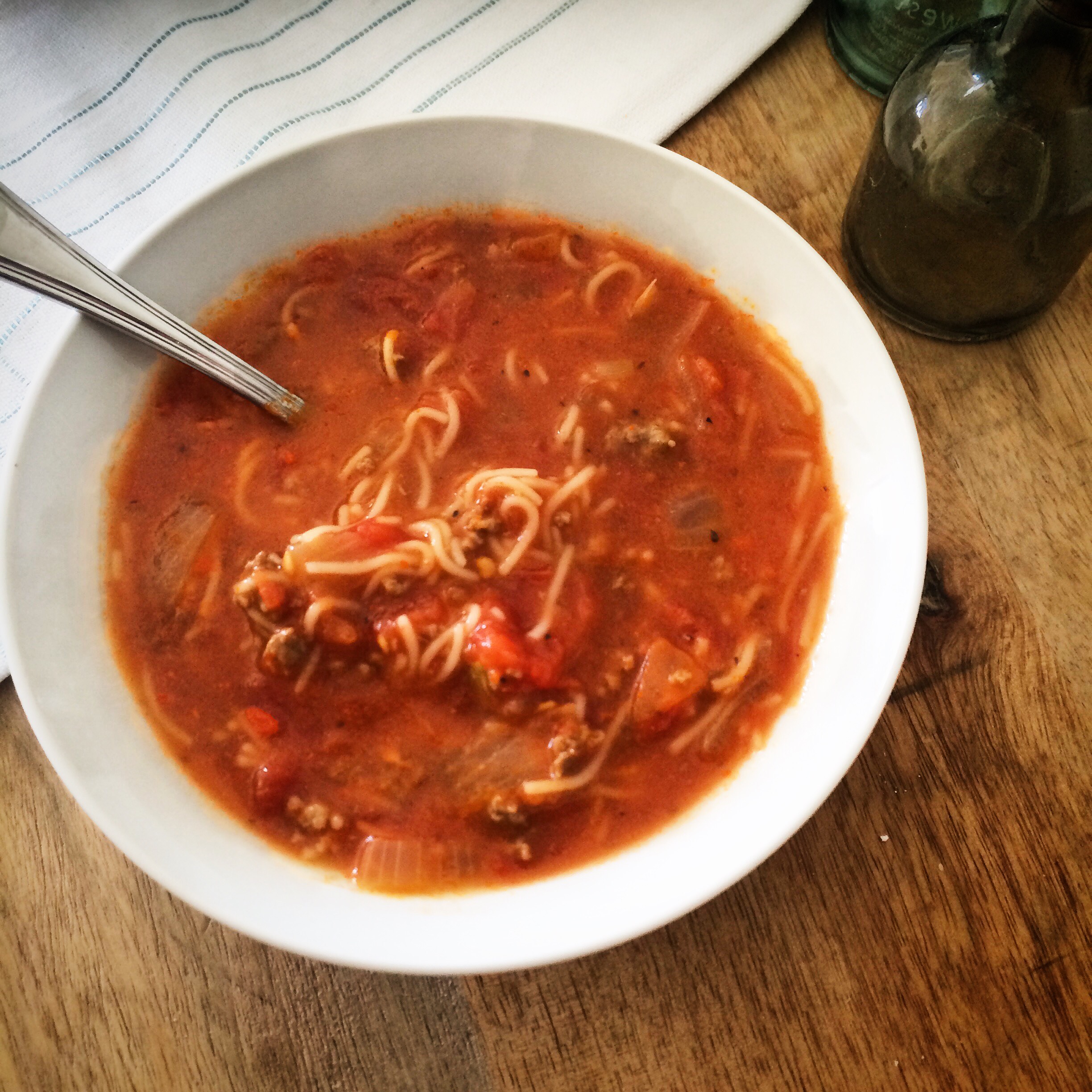 Tomatoes, beef, and carbs.

A classic combination that is oh-so versatile and here, we have it in soup form.
In Arabic this is called Shorabet Sh'ariah (not to be confused with Sharia 😉 and is what I crave when I want a comforting bowl of soup to warm me up on a chilly winter night.
Maybe it's because I grew up on it, and it brings back memories of more carefree days.
Or maybe, it's that combination of little noodles and bits of ground beef dancing around in a quick tomato broth that is just so satisfying.
Or maybe, it's as simple as it being so easy to make and that I can have a delicious, homemade soup in about 20 minutes!
I think it's more like all of the above, but they are all strong enough reasons to hold their own.
As I mentioned, the combination of flavors and textures paired with cooler evenings make a warm bowl of this soup a top contender in the comfort department. Once you get the hang of it, you won't even need a recipe, and it can be customized to your liking with various herbs and spices. This soup can easily be 'veganized' by omitting the ground beef for a leaner option that is just as satisfying.
The vermicelli noodles used in this recipe are the same thin, short ones used in the recipe for vermicelli rice. They can usually be found in your local grocery store or on Amazon here
.
For a complete meal, pair this (with or without ground beef) with Mama's Sfeeha, a favorite accompaniment of mine with Vermicelli Soup.
So… before I give you the recipe, I just wanted to say, that this soup has been SO hard to photograph! I've tried on three different occasions, different lighting, different serving vessels, different props, and I'm still not completely satisfied. I just had to let out my frustration so I can move on… lol. Enjoy!
Vermicelli Soup
About 8 Servings
1 medium Onion, chopped
1/2 lb Ground Beef
1 tsp Sea Salt
1 medium Tomato, diced (optional)
1 tsp Black Pepper
1 tsp Crushed Red Pepper
1 28-oz can Tomato Sauce
6 cups Water
1/2 cup Vermicelli Noodles
Sea Salt & Black Pepper to taste
Heat 1 tsp of oil in a pot. Add onion and sauté over medium heat until soft, about 1-2 minutes.
Add ground beef and salt and cook about 2-3 minutes, until beef is browned, breaking up the ground beef into small pieces.
Add the diced tomato, black pepper and crushed red pepper and cook one minute more.
Pour in the tomato sauce and water. Bring soup to a boil.
Once the soup has come to a boil, add the vermicelli noodles and simmer for 10-15 minutes.
Adjust salt and pepper to taste. Serve on its own or with Mama's Sfeeha for a complete meal and enjoy!
Vegan Alternative: To make it vegan, prepare as above, but cook onions a few minutes longer and omit the ground beef before adding the diced tomato. Continue as directed.